Oh, hello, there. Usually this is the day of The Princesses Read…or the Princes Read…or the Villains Read…or, like, any Disney character ever. But lately my creativity has been RIP (I even held a little funeral for it where I basically just went man, I have none, so I'mma binge watch 3 Buzzfeed Unsolved episodes – as you can see, it was very moving). So what is a book princess to do when she has no princess or book creativity?
She goes back to the basics – the fairytale basics. I had made a quick decision to purchase these gorgeous Barnes and Noble leather fairytale collections because, um, they were pretty and sparkly and I JUST NEEDED TO HAVE THEM, OKAY. Anyway, I had bought them, and when princess morale was running low, I decided I needed to go to one of the greats – Hans Christian Anderson aka The Little Mermaid and Snow Queen guy before Walt Disney took the crown.
Only, my brain somehow blocked out the memory of just how UN-Disney the original Little Mermaid was??? I mean, the story is DARK. It's SAD. It's so unhappy that I would be hiding this from my children. And the Barnes and Noble Edition involved creepy mermaid children pictures.
CREEPY.
MERMAID.
CHILD.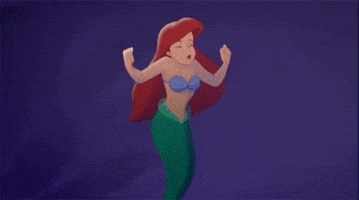 There are some things one does not need to see and creepy mermaid children is one.
Anyway, if you've never read the original Little Mermaid, it's a delight…in all the ways you can pinpoint how weird is it and how it's totally not like the adorable, fluffy, feel good Disney version. Shall we count the ways in one of Mandy's legendary bullet point rants?
Okay, this Little Mermaid has no name. Literally, she is just The Little Mermaid. Not beautiful Ariel. No dashing Eric. NO MANDY KING TRITON. The sea witch doesn't even have a name. Everyone is nameless, and Mandy was crushed because she had to imagine creepy mermaid child with Ariel's name.
UM, NO SINGING CRABS OR FISH FRIENDS OR EPIC DANCE NUMBERS.But seriously, there's no sea creature friends just chilling.
When Fake-Ariel agrees to make the decision with Fake-Ursula, her tongue gets straight up physically cut out. I mean, Fake-Ursula is all like, "omg, time to begin!" and then sneak attacks Fake-Ariel with snipping the tongue out with a knife. UM, TRAUMATIZING.
Pseudo-Ariel's legs aren't just new and uncomfortable to get used to – they're PAINFUL. PAINFULLLLLLLLLLLL to walk on. Every step is like glass cutting up her feet into tiny pieces. And since Pseudo-Ariel can't talk, she's expected to win Pseudo-Eric's affection by her epic dance moves WITH THE PAINFUL LEGS (seriously, did anyone check on Anderson? I think he might have been going through something.)
On a brighter note, Little Mermaid's sisters are pals and actually love their sister and want to hang out and be her friend and even give her a magical knife to kill someone because they're actually ~cool~ sisters unlike the girl hate in the Disney version.
Um, The Little Mermaid isn't a hoarder???? She's not all like, I'mma find a fork and exclaim, isn't this neat? She finds nothing and doesn't find human things neat in catchy songs.
Um, Fake-Eric is a CREEPER. I mean, he talks about how young and cute Fake-Ariel is, and the moment he sees her, he's like, you know, you're so charming and shy and a really good dancer, I'm going to make a little bed for you outside my chamber and basically make you come with me everywhere WHILE STILL CALLING YOU ADORABLE IN THE CONDESCENDING CHILD WAY. Omg, it was CREEPY. ~forever shuddering~
The Sea Witch was a lot harsher than Ursula with the deal (as if you hadn't gotten that already with the straight up knifing her tongue off). Instead of just getting a magical first kiss, LM has to get PE to put a ring on it.
The story itself is very religious as well with a lot of talk about souls and God and how supernatural creatures have no souls. Um, moral of the story? I'm pretty sure it's that supernatural creatures = pretty bad and we just all appreciate the fact we have souls??
And now for the last two bullet points that Disney did NOT prepare us for. Hold on to your dinglehoppers.
The Little Mermaid loses her chance to marry her prince when her prince falls in love with fake-nun-but-real-princess and marries her. Since she loses, she will turn into sea foam and lose any chance at getting a soul. Her pal sisters bring up that knife and let her know that she can kill the prince, bath in his blood, and then she will turn back into a mermaid. That's right – she has TO MURDER THE PRINCE.
Thankfully, for all of our childhoods, Fake-Ariel can't kill him, and throws herself the sea. Since she took the noble route, she doesn't turn into sea foam (let's all throw a party now), and she turns into some kind of breeze? IDK. Eventually she can have a soul or something.
Happily ever after?
Well, um, on the OTHER bright side: Both Little Mermaids had a cool statue of their princes? So at least they kept that?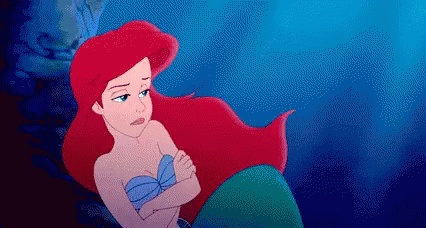 If you're like me, you are asking yourself what you just read. The real question is, though: how did the people at Disney read this and be like, yup, that's it! That's the one! We're going to make a movie off that!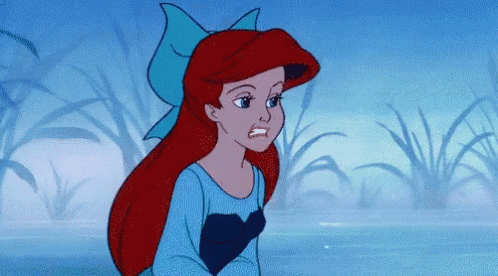 So, um, I was concerned, sad, and not very pleased with the story I just read. I mean, I get Disney makes things happy and fluffy, but dear gosh, Anderson's story had some STRUGGLES. I was going to pick her books for the princesses read, but I just had to go sit myself in a corner and give myself a princess time out and a few deep breaths.
I actually did a speech in college about the differences between some of the real fairytales behind the Disney stories, and trust me, this is definitely not the first fluffy spin that Disney took. While I usually love the book version a lot more, I have to say I'm firmly in the belief of letting Disney Disney-ify whatever fairytale they want.
UN Right #17
17. The Right to Your Own Things. Everyone has the right to own things or share them. Nobody should take our things from us without a good reason.
I'm not entirely sure how we got to Little Mermaid for this one, but I'm pretty sure it was Sha that pointed it out. The Sea Witch/Ursula takes away Ariel's voice and her ability to walk. Yes, The Little Mermaid willingly agrees to have her voice taken away, but she doesn't quite understand the terms of the agreement. She basically loses her voice, her chance for a soul, and more. Poor Fake Ariel, since no one deserves that.
What do you think? What fairytales did you read when you were older that made you lose your book mind like me? Did you prefer the original fairytale story or the Disney version? Let's discuss in the comments below!