Title: All the Stars and Teeth
Author: Adalyn Grace
Pages: 384
Release Date: February 4th 2020
Publisher: Imprint
Format: ebook
Genre: Fantasy
Goodreads Rating:  4.18 (of 233 ratings)
  

Book Princess Reviews receives a percentage of commission from purchases you make after following Book Depository links on our site.

Set in a kingdom where danger lurks beneath the sea, mermaids seek vengeance with song, and magic is a choice, Adalyn Grace's All the Stars and Teeth is a thrilling fantasy for fans of Stephanie Garber's Caraval and Sarah J. Maas's Throne of Glass series.
She will reign.
As princess of the island kingdom Visidia, Amora Montara has spent her entire life training to be High Animancer—the master of souls. The rest of the realm can choose their magic, but for Amora, it's never been a choice. To secure her place as heir to the throne, she must prove her mastery of the monarchy's dangerous soul magic.
When her demonstration goes awry, Amora is forced to flee. She strikes a deal with Bastian, a mysterious pirate: he'll help her prove she's fit to rule, if she'll help him reclaim his stolen magic.
But sailing the kingdom holds more wonder—and more peril—than Amora anticipated. A destructive new magic is on the rise, and if Amora is to conquer it, she'll need to face legendary monsters, cross paths with vengeful mermaids, and deal with a stow-away she never expected… or risk the fate of Visidia and lose the crown forever.
I am the right choice. The only choice. And I will protect my kingdom.
I'm going to do this review a little bit differently today. While I was reading this book, I kept getting so many Little Mermaid vibes. Yes, this book has mermaids, but it wasn't just that – there are so many themes that correlate, and I think people that enjoy The Little Mermaid will definitely enjoy some elements in this one. Since this is BPR, we just had to take a peek at all the ways that this book relates to The Little Mermaid complete with mermaid emojis and a few strategic gifs.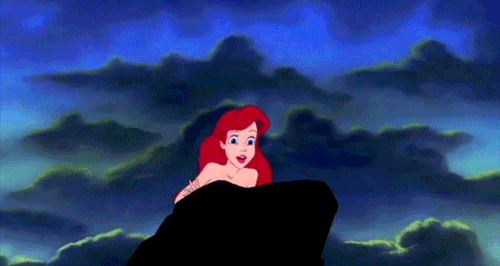 🧜 Amora and Ariel both struggle with their place in their world. Amora is a princess locked on land, whose true desire is to explore the sea and captain her own ship. Ariel is a princess locked into the sea, whose true desire is to explore the land and find her prince. While their dreams are literally opposite, they are still the same in their strong desires for a new life and desiring for things that they are forbidden from having. They reminded me so much of each other with the strength of their longing for new, different lives.
🧜 Amora and Ariel also struggle with identity within themselves. When Ariel makes a bargain with Ursula, she has to figure out who she is without her voice. When Amora has something go drastically wrong with her "dark" powers and she is considered a monster, she has to go on the run, giving up her title for the moment. Without the constrictions of being a princess, she has to figure out who she is within the kingdom and with her powers that are now seen as evil. As Amora goes along with the story, she realizes just how ignorant she was to the plight of her kingdom around here and really how bad things are – along with coming to grips to with what her powers really meant to her.
🧜 Amora's dad is King Triton 200% – fight me on it, but I'mma win. While Amora's dad is king of magical dark powers and not a shirtless, bearded merman, they are totally one and the same. Amora's dad (whose name I'm literally blanking on so hard) has the same struggle as King T. He wants more than anything for his daughter to be happy, but he has a very particular thought of how she should be happy – including making sure that she is nothing but safe.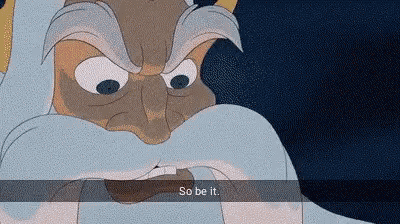 (Also, since I jokingly say that I'm King Triton with my grumpy judgement of questionable choices, I am also now King Amora's Dad???? Omg, so many identities for one girl who still can't decide what she wants to eat for dinner.)
🧜 Amora and Ariel both face a dark, powerful evil. Amora is fighting against an evil man that is destroying land and magic. Ariel faces a sassy sea witch that does a killer makeup look. It's very clear that Ariel has a better villain, but alas, they are both fearsome, very powerful beings that provide great foils for our leading ladies.
🧜 Amora and Ariel both live in magical lands. The one thing that I really enjoyed about All the Stars and Teeth was the worldbuilding. Grace put in a lot of time and effort into creating this world, and she did a wonderful job with it. Each magic system was so intriguing and creative. Her powers themselves were wholly unique. Ariel's world is far less complex, but it's still a very cool world with singing animals and a whole kingdom under the sea.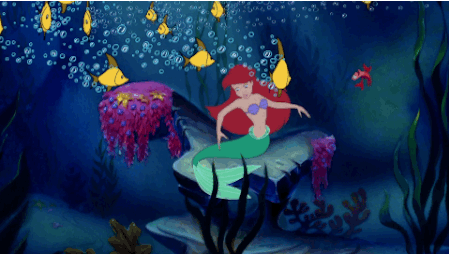 🧜 And yes – there are mermaids. But these mermaids are more apt to eat a man than save one or hide from one like the one in Ariel's world.

Disclaimer: I received this e-ARC courtesy of Imprint. I am grateful for the opportunity to review an ARC for my readers, but this will not influence my final rating. All opinions expressed in this review are my own and based solely on the book. 
As you can see, there is much to enjoy about this read. However, there were a few rough waves that I had in this read that came me from loving it.
The biggest issue that I had with this book was the use of classic fantasy tropes. Yes, I'm more than happy to handle a few. However, I was unprepared for the onslaught of all the fantasy tropes. Name one, and it was probably in here. Here's just a few that this book dipped its toe in: love triangle, roguish pirate with secrets, Girl Wonder (only she can save the World), morally gray women sidekicks that embody strength, princess doesn't want her princess role, and more. I just felt like everything was falling into the classic tropes and instead of trying to subvert them or expand on them, it just made it feel old and unoriginal. I felt like I had read this story a lot of times, and therefore, I was able to pinpoint a lot of plot points that were coming.
With that point of the novel, I got quite a bit underwhelmed, and I ended up enjoying this book less, which began a struggle with the pacing. I got bored and then it was a bit harder to keep going with it. 
Overall, I did enjoy all of The Little Mermaid vibes, but I struggled with the pacing and all of the uses of tropes to further along the plot.


rating: Cinderella
representation: characters of different races (different world)
content warnings: gore, blood magic, dismemberment, mentions of attempted sexual assault, being held against will
read this if you: clearly, if you love the Little Mermaid and enjoy the classic fantasy tropes

What do you think? Let's discuss in the comments below!