So, um, books were definitely had Yallfest 2019. I hit up a lot of book drops and got lost in the haze of books. At least I managed to, um, not leave with 20+ books? We're not counting the ones that I already had, because then I would be lying. Shall we gaze upon the new books that are lining my bookshelf (and giving me a lot of stress because omfg why did I get so many???)

advance reader copies/finished copies 


Synopsis: Farrar, Straus and Giroux has bought world rights to journalist and LGBTQ+ activist George M. Johnson's YA memoir, All Boys Aren't Blue. The memoir takes stories from his life growing up as a queer black teen to show readers how they can fight for themselves or be allies in the struggle for equity and equality.
Synopsis: A black-market-media smuggler and scholarship student at the prestigious New Columbia Preparatory Academy, Pru is lucky to live in the Barricade Coalition where she is free to study, read, watch, and listen to whatever she wants. When a drop-off goes awry, Pru narrowly escapes UCC enforcers to find that her rescuer is, of all things, a sentient cybernetic dragon.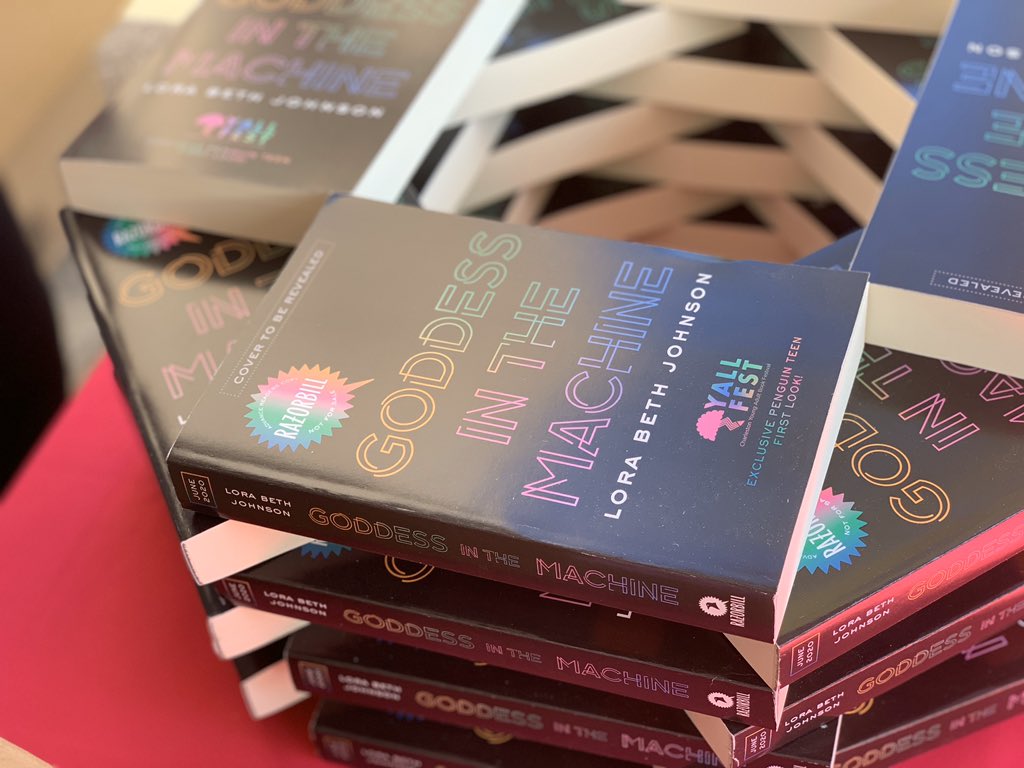 Synopsis: Together, a girl a thousand years from home and the exiled prince who woke her will have to fight to save themselves and the people of Eerensed, whose lives rely on ancient and deteriorating technology.
Synopsis: An epic tale of revenge and redemption in a world where a memory thief must fight against terrifying monarchs bent on the destruction of her people.
Synopsis: Evoking Beyoncé's Lemonade for a teen audience, these authors who are truly Octavia Butler's heirs, have woven worlds to create a stunning narrative that centers Black women and gender nonconforming individuals. A Phoenix First Must Burn will take you on a journey from folktales retold to futuristic societies and everything in between.
Synopsis: Twenty Thousand Leagues Under the Sea meets Frankenstein in Frances Hardinge's latest fantasy adventure. When 15-year-old Hark finds the still-beating heart of a terrifying deity, he risks everything to keep it out of the hands of smugglers, military scientists, and a secret fanatical cult so that he can use it to save the life of his best friend, Jelt.
Synopsis: A funny and timely debut YA about the toxic masculinity at a famous improv comedy camp. 
Synopsis: In a city covered in ice and ruin, a group of magicians face off in a daring game of magical feats to find the next headliner of the Conquering Circus, only to find themselves under the threat of an unseen danger striking behind the scenes.
Synopsis: All's fair in love and cheese ― that is, until Pepper and Jack's spat turns into a viral Twitter war. Little do they know, while they're publicly duking it out with snarky memes and retweet battles, they're also falling for each other in real life ― on an anonymous chat app Jack built.
Synopsis: In modern-day New York, magic is all but extinct. The remaining few who have an affinity for magic—the Mageus—live in the shadows, hiding who they are. Any Mageus who enters Manhattan becomes trapped by the Brink, a dark energy barrier that confines them to the island. Crossing it means losing their power—and often their lives.
Synopsis: When eighteen-year-old Ever Wong's parents send her from Ohio to Taiwan to study Mandarin for the summer, she finds herself thrust among the very over-achieving kids her parents have always wanted her to be, including Rick Woo, the Yale-bound prodigy profiled in the Chinese newspapers since they were nine—and her parents' yardstick for her never-measuring-up life.
Synopsis: A grieving girl. An unexpected boy. A perfect love story . . . until it isn't perfect at all.
Sometimes a broken heart is all you need to set you free…
Synopsis: When fifteen-year-old Cuban American Mariana Ruiz's father runs for president, Mari starts to see him with new eyes. A novel about waking up and standing up, and what happens when you stop seeing your dad as your hero—while the whole country is watching.
Synopsis: Part Sleeping Beauty, part Anastasia, with a thrilling political mystery, The Winter Duke is a spellbinding story about choosing what's right in the face of danger.

purchased books


Synopsis: Two teens meet after tragedy and learn about love, loss, and letting go. Candace Ganger's Six Goodbyes We Never Said is no love story. If you ask Naima, it's not even a like story. But it is a story about love and fear and how sometimes you need a little help to be brave enough to say goodbye.
Synopsis: In Garner County, girls are told they have the power to lure grown men from their beds, to drive women mad with jealousy. That's why they're banished for their sixteenth year, to release their magic into the wild so they can return purified and ready for marriage. But not all of them will make it home alive.
Synopsis: After being swept up in the magical world of Caraval, Donatella Dragna has finally escaped her father and saved her sister, Scarlett, from a disastrous arranged marriage. The girls should be celebrating, but Tella isn't yet free.
Synopsis: It's been two months since the Fates were freed from a deck of cards, two months since Legend claimed the throne for his own, and two months since Tella discovered the boy she fell in love with doesn't really exist.

What did you haul this month?