Well, these reviews are quite a bit late, but um, better late than never? Oops!
---
Title: Blackbird Vol. 1
Author: Sam Humphries and Jen Bartel
Pages: 168
Release Date: May 14 2019
Publisher: Image Comics
Format: Paperback
Genre: Fantasy
Goodreads Rating:  3.74 (of 636 ratings)
Trigger warning: deals with drug and alcohol abuse
I think I would like to take a moment to just screech about how gorgeous this artwork is. Like, seriously, it's unfair just how pretty everything in this graphic novel/comic was. The colors, the schemes, the details on both characters and setting. EVERYTHING WAS STUNNING. Omg, Nina and company were just so prettyyyyyyyyyyyyy. I can't. So many heart eyes.
The story itself was pretty interesting. It took me a little while to get into the magic system, but once I got it, I decently figured it out. There were still a few bumps in the road, but overall, intriguing. The plot was interesting and complex. There were a few twists and turns that caught me, and I was invested. The characters were good enough – not amazing but I was still decently invested in them and they were dynamic.
Overall, it was a pretty good graphic novel, and I'm invested enough to check out further collections. An Ariel rating, since I liked it well enough but still had a few struggles with it.
---
Title: Small Spaces
Author: Katherine Arden
Pages: 218
Release Date: September 25 2018
Publisher: G.P. Putnam's Books for Young Readers
Format: Paperback
Genre: Fantasy/Horror
Goodreads Rating:  4.03 (of 3,763 ratings)
I was so hype for this one. I loveeeeeeeeeeeee me a good spooky middle grade, and something about the mega fall feels with creepy scarecrows and a Smiling Man had me so intrigued. I had meant to wait until Halloween time to pick this up, but I was able to grab an audiobook, so I thought I would try…even after my struggle of a time with The Bear and the Nightingale by Arden.
I wanted to love this a lot, but it was just okay? Like, I think about this novel, and the words that come to mind is just "okay. it was okay." And IT SO TRUE. Like the characters, the plot, the creepiness, the world, etc…it's just all okay. I thought some of it was intriguing, but I definitely thought things could have been more. There were also a few times that logic leaped a lot and didn't make so much sense. But it was decently interesting overall, and a pretty decently fast read.
Overall, it was an okay novel that will give you some spooky and super fall middle grade feels, but it will definitely leave you feeling underwhelmed. A Belle rating, since I loved parts of some B & B, but still feel underwhelmed by it overall.
---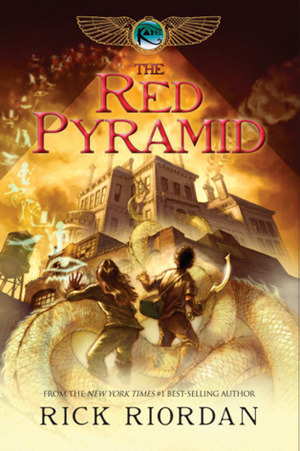 Title: The Red Pyramid
Author: Rick Riordan
Pages: 516
Release Date: May 4 2010
Publisher: Disney Hyperion
Format: Paperback
Genre: Fantasy
Goodreads Rating:  4.08 (of 281, 110 ratings)
Sha had warned me that this book wasn't going to be the greatness of RR that I had come to love, but I still had hopes that I would be wowed. My mistake, because Sha always does seem to know what is up. I was not impressed with this Riordan novel, and I'm feeling so underwhelmed. It was kind of just there for most of it? Like, there were parts that I enjoyed, but I honestly felt like I aged nine years reading it.
I think the biggest issue that I had with the novel was the characters. I thought the mythology and the plot was intriguing, but I never connected with the characters. The foundations of a Rick Riordan novel are his characters usually, and I'm usually in so deep. I was super eh with Carter, and I really did not connect with Sadie at all. The rest of the gang were just okay? Everything just felt super underwhelming except for the mythology.
I bought the box set of this series so I have to continue with it, but honestly, I wouldn't be if not. I thought it showed some promise, but I was just dragged through it so much. Overall, a Cinderella rating—I think this book carried far more mice scenes instead of great Cinderella moments.
---


Book Princess Reviews receives a percentage of commission from purchases you make after following Book Depository links on our site.
---
What do you think? Have you read any of these? What did you think? Let's discuss in the comments below!