We're doing a little bit different post today. Since this is Book Princess Reviews and we love us some Disney Princess movies, we thought perhaps we could include a review of one of the latest Disney installments. I happened to see the live action Aladdin over the weekend, and I had many thoughts.
Thoughts Before Watching: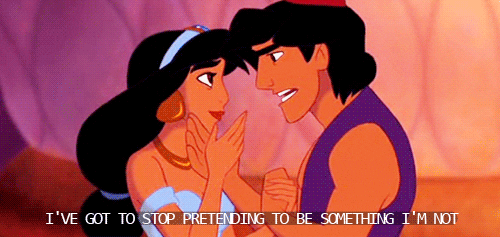 Tbh, I wasn't really super super super excited for this one. Aladdin has become one of my more favorite Disney movies in recent years, but I still had issues with it. Plus, I knew there was rep issues in regards to the actors/actresses that were brought up that Disney didn't take the time to think on and rethink, which was not great at all. The trailers weren't doing a super lot for me – genie Will Smith was a little odd and Jafar felt kind of lame. However, I thought I would give it a chance since my love of the original and enjoyment of the musical. When my friend asked if I wanted to go, I was down to go, but I still had my reservations and not the highest hopes.
Thoughts After Watching: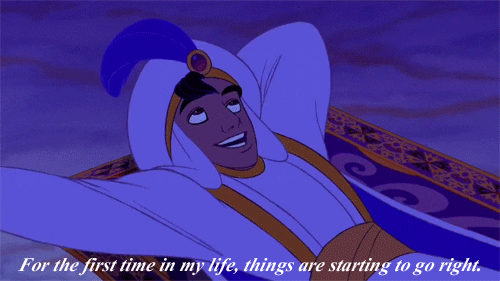 It was surprisingly went a lot better than I thought? It started off a little bumpy, but it really found its groove. The movie keeps the foundations of the original cartoon along with giving it a bit more. There are a few things that are different – either additions or things that were left out – but they weren't things that really would make a big difference to those that wanted to compare it with the original. Let's take a bumpy magic carpet ride through my thoughts now.
The actors were pretty good. I think Aladdin was good choice, and his singing voice sounded so much like Brad Kane's in the original that it was crazy. Both me and my friend agreed that he was looking gooooood in the Prince Ali get-up. Jasmine was good. Her character development was good, and I think Naomi Scott did a good job with the role. Aladdin and Jasmine did have pretty good chemistry, and I shipped. Jafar was lame. I mean, he's a lame character period. But I don't think this was the right role, and I felt quite underwhelmed.
I will admit that I was a bit hesitant on Will Smith as Genie. I mean, how do you compare to Robin Williams's genius work in the original? I loved Fresh Prince and Men in Black as a kid, so I know he's funny and entertaining. The CGI was a bit odd on him. He was super bulky, and it just looked a off. Smith didn't try to be Williams, though, and while he did feel flat at a few times, he worked overall and made the Genie his own. He really shone in the "Prince Ali" sequence as well as his own side story, but there were a few moments that really didn't strike the right note.
Speaking of side stories, I REALLY enjoyed what was added in this one. Jasmine's desire for more was really expanded. In the first movie, it really focused on Jasmine's desire to pick her own marriage, but in this movie, it was also her struggle to change the law so she could become the Sultan. I loved how she became even more empowering, and she had even more times to shine, which I think she lacked a bit in the original. Genie's side story, the changes in Jasmine's and Prince Ali's original meetings, and more were fantastic, and I was so so down for them.
The plot follows really similarly to the original. As I mentioned, there are a few new things, but it really follows pretty exact to the movie. If you know any version of the story, you'll pick up on it.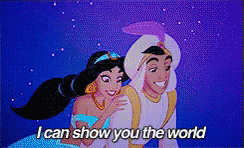 The real star of the show, for me, was the cinematography. Omigosh, it was STUNNING. It was beautiful and wegiranglrengrjea. That was my thoughts when watching. The costumes were amazing too. Jasmine's outfit is so iconic, so I was like, what will this whole new world be like with new outfits for her??? But they rocked it so so so hard.
The last thing was the music. Aladdin has a lot of greats, so I was pumped for it. The only three songs that seemed to go the whole way through in this movie were, "Prince Ali"; "A Whole New World"; and "A Friend Like Me." There were a few other little snippets of songs, but it felt a bit forced? "Speechless" was a new addition, and while it sounded good, I'm not entirely sure it worked in the movie. It kind of felt really abrupt in there. "A Whole New World" and "Prince Ali" are such JAMS, and y'all I got so emotional with how good they were.
Overall Thoughts: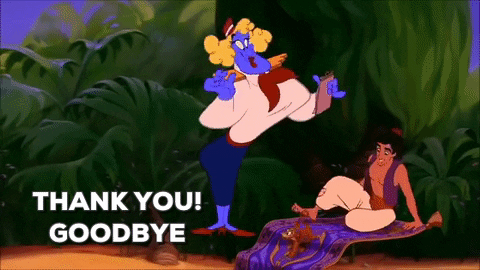 Overall, it lived far past my expectations. It still had a few bumps, but it did far better than I thought it would do. It still had entertainment, foundations of the original that I loved, and more. It did homage to the original, but I think there could have been elements that could have been improved.
What do you think? Did you see this movie? Do you want to see it? How did you like the original? Let's discuss in the comments below!