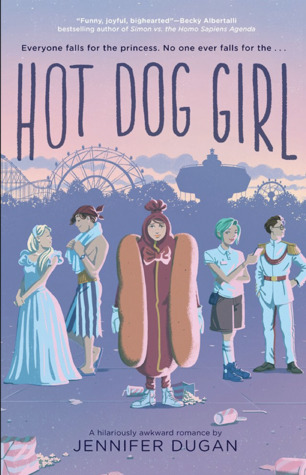 Title: Hot Dog Girl
Author: Jennifer Dugan
Pages: 320
Release Date: April 30th 2019
Publisher: G.P. Putnam's Sons Books for Young Readers
Format: Hardcover
Genre: Contemporary, Romance, LGBTQIA+
Goodreads Rating: 3.65 (of 1049 ratings)
  

Book Princess Reviews receives a percentage of commission from purchases you make after following Book Depository links on our site.

Elouise (Lou) Parker is determined to have the absolute best, most impossibly epic summer of her life. There are just a few things standing in her way:
* She's landed a job at Magic Castle Playland . . . as a giant dancing hot dog.
* Her crush, the dreamy Diving Pirate Nick, already has a girlfriend, who is literally the Princess of the park. But Lou's never liked anyone, guy or otherwise, this much before, and now she wants a chance at her own happily ever after.
* Her best friend, Seeley, the carousel operator, who's always been up for anything, suddenly isn't when it comes to Lou's quest to set her up with the perfect girl or Lou's scheme to get close to Nick.
* And it turns out that this will be their last summer at Magic Castle Playland–ever–unless she can find a way to stop it from closing.
Jennifer Dugan's sparkling debut coming-of-age queer romance stars a princess, a pirate, a hot dog, and a carousel operator who find love–and themselves–in unexpected people and unforgettable places.

This book would have been far better without the main character. It was super easy to read; Magic Castle Playland was a super fun setting; and there was a fun mission involved. But then this main character walked right in, and all of the promising aspects of this novel were thrown to the side and I was left with all dreams crushed like a melting ice cream cone on the theme park's floor.
Lou is one of the most selfish characters that I've ever read – she honestly might be the most selfish one. Honestly, the toxicity that she brought to so many of the situations that I didn't understand how people continuously kept letting her off. She was so self-centered, and she constantly focused on things that was what she wanted and no one else. I CANNOT. Here is a list of just a few things that her selfish self did:
Forces her friend on a date even when friend is a) getting out of a bad breakup and b) says that she is NOT interested in dating repeatedly
Lusting hard for a man in a committed relationship and actively trying to scheme up ways to break them up
Hates gf of man she is pining for for literally NO reason other than she is dating him (but don't worry – the "true" characterization is found out just so we can prove the MC is right all along)
Refuses to focus on anything else besides the theme park closing even when her best friend's grandmother is literally DYING
Forces her best friend into a fake dating relationship to…make Diving Pirate Man jealous/allow her into his life more while she is in the "safety" of a relationship DESPITE her friend's constant non-enjoyment, thoughts of its absurdity, and general dislike of it/saying how it will negatively impact both of them

Also seemingly refuses to care how this negatively impacts the friend's reputation. Since the reveal of Lou and Seeley comes out a DAY after the fact that Seeley was on that forced date, the person she was on the date with gets super angry and goes OFF in front of everyone about what a terrible person Seeley is for being in a relationship and going out on that date. What does Lou do? Literally in the same breath, she talks about something that she cares about and cares NOTHING for the position she put Seeley in.

Forces a mission upon others to save the theme park that the owner does not even want
Steals tax information from her father in order to find out more information all in the name of "saving the park"
Confronts the owner after people repeatedly tell her that he doesn't want the park to stay open and makes him confess a personal reason for closing the park done
!!SPOILER!! Once Seeley officially says she's done, that's when Lou finally realizes it was Seeley all along. She's so upset that Seeley has left her that she tells Diving Pirate Swoonboat that his princess gf is cheating on him just because she's angry and needs someone else to be in pain. So, she has her opp with the Pirate, but finally recognizes that is a disaster. She gonna win Seeley back, and is like, I'mma write a letter! She even writes in the letter, "I could have kissed Nick. Could have had my shot!!!" Like WHY.
These are just a few things that she did, but literally, this was a constant. Every few pages, I would be like, WHAT. SHE DID WHAT? I just…there was no connection because none of her choices were motivated by things other than pushing her agenda. I just???? I mean, at least it was consistent?
There were some things that did keep me reading. The writing really was super easy to read, and it was so easy to binge read despite my issues with it. The setting was cool, but I mean, I could always have used more since I love my theme parks. I liked Seeley – she was a great friend and I enjoyed her character arc. These were definitely the main reasons to keep me reading, but I really fell apart with this novel because of the main character.

rating: Merida – enjoyed the setting but THIS MAIN CHARACTER
representation: f/f romance (bi and lesbian characters)
content warnings: cheating
What do you think? Let's discuss in the comments below!
| add me as a friend on Goodreads! |