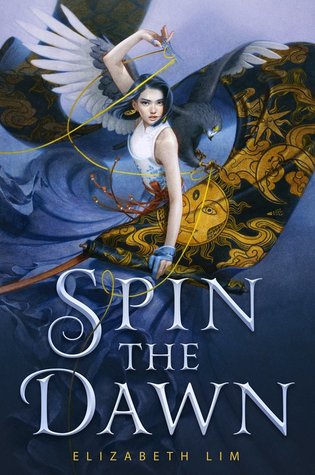 Title: Spin the Dawn
Author: Elizabeth Lim
Pages: 400
Release Date: July 9th 2019
Publisher: Knopf
Format: ebook
Genre: Historical Fiction, Fantasy
Goodreads Rating: 4.26 (of 630 ratings)
  

Book Princess Reviews receives a percentage of commission from purchases you make after following Book Depository links on our site.

Project Runway meets Mulan in this sweeping YA fantasy about a young girl who poses as a boy to compete for the role of imperial tailor and embarks on an impossible journey to sew three magic dresses, from the sun, the moon, and the stars.
Maia Tamarin dreams of becoming the greatest tailor in the land, but as a girl, the best she can hope for is to marry well. When a royal messenger summons her ailing father, once a tailor of renown, to court, Maia poses as a boy and takes his place. She knows her life is forfeit if her secret is discovered, but she'll take that risk to achieve her dream and save her family from ruin. There's just one catch: Maia is one of twelve tailors vying for the job.
Backstabbing and lies run rampant as the tailors compete in challenges to prove their artistry and skill. Maia's task is further complicated when she draws the attention of the court magician, Edan, whose piercing eyes seem to see straight through her disguise.
And nothing could have prepared her for the final challenge: to sew three magic gowns for the emperor's reluctant bride-to-be, from the laughter of the sun, the tears of the moon, and the blood of stars. With this impossible task before her, she embarks on a journey to the far reaches of the kingdom, seeking the sun, the moon, and the stars, and finding more than she ever could have imagined.
Steeped in Chinese culture, sizzling with forbidden romance, and shimmering with magic, this young adult fantasy is pitch-perfect for fans of Sarah J. Maas or Renée Ahdieh.

Disclaimer: I received this ARC courtesy of  Knopf. I am grateful for the opportunity to review an ARC for my readers, but this will not influence my final rating. All opinions expressed in this review are my own and based solely on the book. 
Buddy Read with the all powerful and magical Rendz! Make sure to check her out here.
Well, a buddy read that wasn't a complete and utter mess and actually brought some major enjoyment??? I'm taking this for a win. In the past, when buddy reading with the wonderful Rendz, I am been a bit of a party pooper – I mean, I one crowned those books so hard – so I was a bit scared for this one. A bit of luck and a name drop of two things I love – Mulan and Project Runway – was on my side, and there was enjoyment to be had! 
The thing that I loved the most about this book was the world. I was in deep with this magical world, and I loved how lush and intriguing it was. It was steeped in magic, and it was totally immersive. The author created such an interesting atmosphere, and it was wholly complex and dynamic. There was a mix of historical vibes along with intricate magic systems and gods. I really enjoyed it, and both Rendz and I fully agreed on this one.
The characters were great as well. Rendz and I both really loved Maia. She was a great narrator, and she totally kicked so much butt. I loved how much she wanted to make a name for herself, and really cared so deeply for what she believed in. Rendz coined Edan a "tragic magic boy but also very charming" and honestly that is the best way to describe him. He's totally the cliche tragic magic boy, but he certainly had charm to him. Other characters were intriguing as well. Perhaps not as dynamic, but still good enough to be in the background.
The plot was interesting. Both Rendz and I agreed that the Mulan and Project Runway selling point really was so so accurate. The first part of the novel took me back to the wonderful PR days, and it was a shame there wasn't a Tim Gunn telling people to make it work. The second part of the novel wasn't quite as exciting for me, but it did have some intriguing moments. The plot twist at the end totally got me and Rendz, and we are super eager to see what will happen in the second novel.
The writing was pretty good. Both Rendz and I totally marveled at just how much the mini excerpt that begins the story comes back into play. That is a perfect addition to the story and was really crafted brilliantly. I did like Lim's writing for the most part. The biggest issue that I had with the story was the pacing. I felt like the beginning of the story was so so so much fun with the competitions and everything, but I felt like it started to stall about 50% in. It just slowed down a bit for me, and I felt like it had a lot to go through before it picked back up at the end.
The romance was cute. Both Rendz and I admired the banter that was between. I felt like it might have gotten a little too cliche and cheesy at points, but it was good enough.
Overall, this was a really intriguing read with a brilliant world and great characters. The pacing was the ultimate downfall for me, since I did get a bit bored in the middle despite everything that it had going for it. Definitely lives up to its selling points, for sure.

rating: Jasmine because I think I messed a bit of the hype on this one and I think a 4.5 star for Rendz
representation: Asian setting/main characters
content warnings: n/a
What do you think? Let's discuss in the comments below!
| add me as a friend on Goodreads! |