Today, Sha and Mandy are taking on a dear love of theirs and adding on another love – and for once, it doesn't have anything to do with princesses? Le gasp! We are taking on the Brooklyn Nine-Nine Book Tag today. Mandy is almost finished with the series (might even be officially caught up by the time this post actually posts *sniffle, sniffle*), and we are holding out on all the feels this show has given us by doing a post to celebrate it. We both agree this last season has not been the joy, but all five of them have given us so much enjoyment, laughs, and feels, SO NINE-NINE FOREVER.
The original was created by G-Swizzel Books. We found the prompts on Aimee Always's blog (she set it up so amazingly nice and so pretty that we have to give her all the props).
JAKE PERALTA: A character who lives to be the hero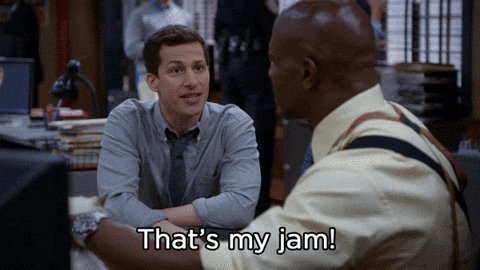 Mandy: The first one that popped into my head was Tyler from Aurora Rising. His character arc was really just like, I'm the stereotypical golden boy hero. He was a bit more than that, but still…it's pretty much his goal/characterization.
Sha: I'm going with Kazmin from *pretends she didn't forget the title* Even the Darkest Stars. For about 90% of the book Kazmin's motivation was "if I do this, I shall have glory!!!" Character arc, who is she? (I promise, Jake has much more depth than this, but living to be the hero, um, yup, that is Kazmin.)
AMY SANTIAGO: A character that empowers you
Mandy: Basically any character in an Elizabeth Acevedo story. Her stories honestly leave me feeling like I can take on the world and feel so hopeful about the future. And like, so many feels. I have so many feels.
Sha: Josie Moraine in Out of the Easy. I swear, I've had tough times, and reading about a girl go through similar struggles but pledge that none of that will stop her from getting to university (her dream) and away from her past was SO empowering.
CAPTAIN HOLT: An amazing diverse character that breaks stereotypes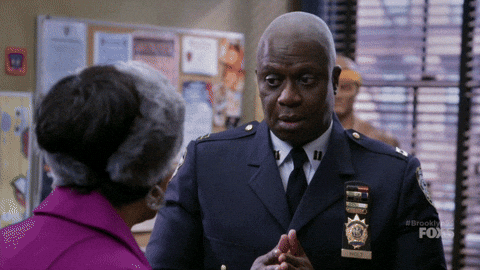 Mandy: I'm going to change the prompt from character to book because this book did everything: Once & Future by Amy Rose Capetta and Cori McCarthy. It took one of the most stereotypical folktake plots – King Arthur – and gave it a female Arthur in a f/f relationship with a female Guinevere , a Merlin in a m/m relationship, and other epic diversity. Totally turned all the usual stereotypes all around.
Sha: Cole from Exit Plans for Teenage Freaks. A super empathetic teenage boy, who is self-aware I mean please. Yes. Literally someone comes out to him and he's the most sensitive about the experience.
ROSA DIAZ: A bad-ass female character you'd hate to mess with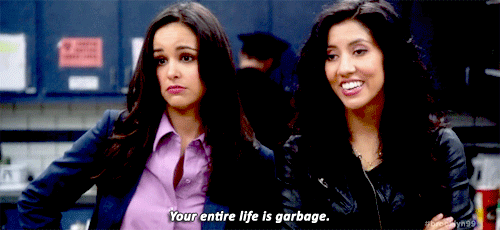 Mandy: Ismae and Sybella from His Fair Assassin series. Um, these ladies are killer nun assassins with Ismae's specialty being in poisons and Sybella with a knife. I would not want to cross this ladies, but like, I love them so much.
Sha: Oh. Oh. Mandy just had to go and SNATCH my answer right from my brain. (Rude.) You know it has to be Ismae and Sybella though. I can throw in Shazi from Wrath & Dawn too, right?
CHARLES BOYLE: An awkward, but oh-so-loveable character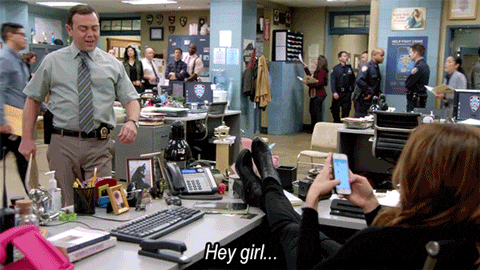 Mandy: Um, like, all of my favorite characters? I'm going to say beginning Cress. Like, once we first meet her, she's a little awkward around the edges, BUT SHE IS SO MUCH LOVE. *cries just thinking of her with her ship of Carswell Thorne*
Sha: Awkward. Awkward. Who is awkward? Why am I blanking so hard on this one? (The truth is I blanked on every single one, but don't tell.) Maybe Grover a little, in POJ.
TERRY JEFFORDS: The big guy that looks tough with a soft heart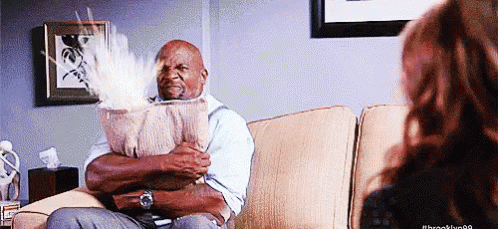 Mandy: BEAST from the His Fair Assassin series. His characterization is literally like, raging murdering big ugly brute, but the way he treats his friend and his love, Sybella, OMG HE IS SO SWEET AND TENDER. Tears. In. My. Eyes.
Sha: What's his name, the wolf guy from Lunar Chronicles. (My brain is falling apart and Google was like "do you mean "wolf" when I searched wolf guy.) Oh. Oh. Wait. His name is ACTUALLY Wolf. Nevermind.
GINA LINETTI: A book or series on your TBR that has a massive fanbase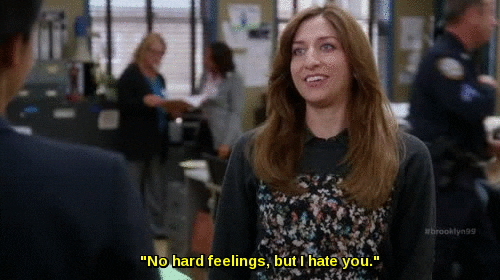 Mandy: There have definitely been a few books added to my TBR that have been added because there has been such a huge fanbase that it has pushed me to read. It's not quite official yet, but probably the second book in the TOG series because everyone says to go for it.
Sha: The Illuminae Files. Still no actually date for when I'm going to read it. But I want to read it.
SCULLY & HITCHCOCK: An iconic fictional duo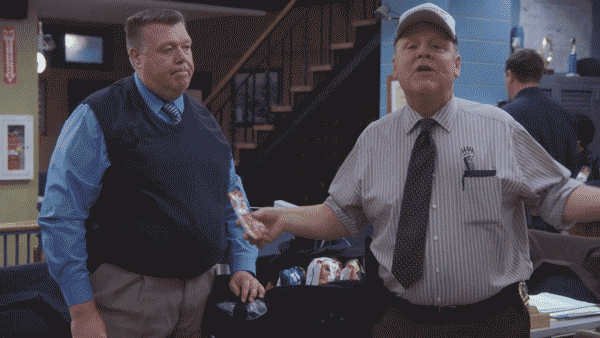 Mandy: I accidentally read that as Scully and Mulder, who are true iconic fictional duo for sure. The first one that popped into my head was Henry and Ling from the Diviners series. Their friendship and dream walking skills are ultimate goals.
Sha: I can think of a few duos I enjoyed, but the iconic part is throwing me. Who is iconic… Maybe Jasper and Alice from Twilight lol?
ADRIAN PIMENTO: A loose cannon of a character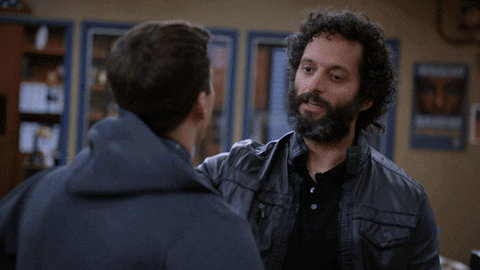 Mandy: Isaac from The Devouring Gray. You never quite know what he is going to do and where he might show up. He actually kind of reminds me of Adrian too, personality wise.
Sha: Can't say I loved the book. But loose cannon 100% = Dylan from Alpha, the third book in The Infinity Division. Anything Dylan did, he did impulsively.
THE VULTURE: The antagonist that steals the show
Mandy: My usual answer of Octavian in The Lost Hero. I was obsessed with his randomness in the first book, and I was vibing it so much. But then he ended up real crazy, and I was out.
Sha: Antagonist who steals the show… Hmm. It's well known that I don't have many fave antagonists, and one who kills it for me? That's an even taller order. Maybe .. no. I really can't think of anyone right now!
THE PONTIAC BANDIT: The antagonist you can't help but love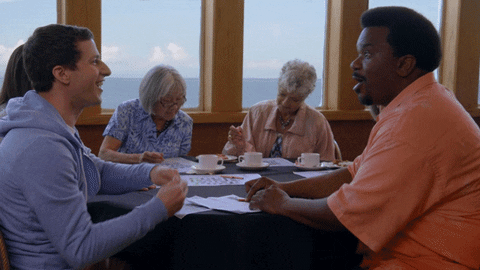 Mandy: Ummmmmmmmm, I can't actually think of any. I tend to not really like the villains if they are the villains. Doug Judy is far better than those.
Sha: While The Deceivers had its fair share of baddies, one of them (who shall not be named) really stole the show for me. I never saw them coming and when their true colours were revealed, I had to marvel at their motives and behind-the-scenes master-minding.
Since we weren't tagged, we're not going to tag anyone. If you enjoy Brooklyn Nine-Nine, we tag you, though, because this brought many feels!
What do you think? What are some of answers to this? Do you love this show too? If so, who is your favorite character? Let's discuss in the comments below!