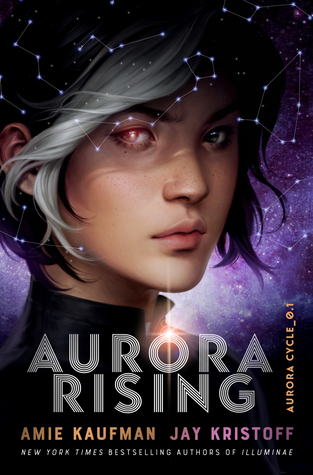 Title: Aurora Rising
Author: Amie Kaufman, Jay Kristoff
Pages: 470
Release Date: May 7th 2019
Publisher:Knopf Books for Young Readers
Format: Hardcover
Genre: Sci-fi
Goodreads Rating: 4.31 (of 3031 ratings)
  

Book Princess Reviews receives a percentage of commission from purchases you make after following Book Depository links on our site.

From the internationally bestselling authors of THE ILLUMINAE FILES comes an epic new science fiction adventure.
The year is 2380, and the graduating cadets of Aurora Academy are being assigned their first missions. Star pupil Tyler Jones is ready to recruit the squad of his dreams, but his own boneheaded heroism sees him stuck with the dregs nobody else in the Academy would touch…
A cocky diplomat with a black belt in sarcasm
A sociopath scientist with a fondness for shooting her bunkmates
A smart-ass techwiz with the galaxy's biggest chip on his shoulder
An alien warrior with anger management issues
A tomboy pilot who's totally not into him, in case you were wondering
And Ty's squad isn't even his biggest problem—that'd be Aurora Jie-Lin O'Malley, the girl he's just rescued from interdimensional space. Trapped in cryo-sleep for two centuries, Auri is a girl out of time and out of her depth. But she could be the catalyst that starts a war millions of years in the making, and Tyler's squad of losers, discipline-cases and misfits might just be the last hope for the entire galaxy.
They're not the heroes we deserve. They're just the ones we could find. Nobody panic. 

I wasn't really hype for this book until a few weeks it came out and found out about the pre-order incentive. So, I immediately did the pre-order and started getting a little more hype each day. I still didn't know quite what to expect – except for that it was not going to be the same as Illuminae – and it ended up being really enjoyable. Yes, it had issues, but it was just a lot of fun and like, this reminded me what reading was all about? 
The plot was super fun. I'm really not the biggest sci-fi fan because, um, space is scary af, but this plot brought the adventure, action, and fun. I love a good novel with a gang on a mission, and we are given a ragtag group of space adventurers trying to solve a mystery, save their friend, and save the universe. There were some great twists and turns, and I was constantly kept on my toes. It took a tiny bit to warm up, but once you get halfway through, it's constantly going through ups and downs and loops.
Kaufman and Kristoff did super good with the setting, and I felt so immersed in space – even though I'm scared of. This book felt like The 100 meets Guardians of the Galaxy, and the vibes that they created was something that I was totally down for.
The world was also interesting as well. I would have liked a bit more of a background on some things – like how exactly we ended up in space and what quite happened with Earth – but the rest of the world building was intriguing and complex. I was really impressed with how easily I was able to pick up some things and know the alien races, etc. However, there were a few times that I didn't completely grasp since there was a lot of information overall.
The villain, though, was a little LOL? Just me? I kind of just blinked at it slowly at first and was like hmmmmm…I'm not scared of this and it felt a little random? But it didn't detract anything from me.
I really enjoyed the characters as well. Okay, there are quite a few, and sometimes, it did feel like they were sketches/cliches of characters – but I really did enjoy them overall. Auri was totally my favorite character, and I easily connected with her. I also enjoyed being in the other's brains, and they were all pretty distinct. They all bring the classic Kaufman and Kristoff dynamics.
Overall, I just really enjoyed this novel. It was super easy to get through, intriguing, and I'm fully ready for book 2. A few issues, but overall, one of the most enjoyable books I've read so far this year. 

rating: An Anna rating because I super enjoy and was super entertained – and like, Auri and her are white streak twins! 
representation: bi character, character with physical disability, black character
content warnings: death
What do you think? Let's discuss in the comments below!
| add me as a friend on Goodreads! |