Today, BPR is bringing another BPR Original Book Tag! Today we are tackling . . . Brave! It wasn't my favorite Disney movie, and like, as you might have seen since Merida is my one crown princess. However, I thought there could be some fun prompts for it, so ya girl came up a tag!
(Sha here. I have no idea what Mandy is thinking. Brave was amazing. Curly-haired princess who ends the film without a prince, reinforcing the theme that the greatest love is family? OMG one of my faves.)
Scotland: Land of Magic, Castles, and will-o'-the-wisps
Name a magical book setting 
MANDY: The Lost Coast by Amy Rose Capetta. This book is set on the coast of California in the Redwoods, and seriously, it felt so magical. I could feel the fog rolling in and the smell of pine…which isn't the same as Redwoods, but like, that's my brain.
SHA: My Fair Godmother by Janette Rallison. After a mix-up from her fairy godmother-in-training, Savannah is sent to the Middle Ages. Rallison brings the setting to life with knights, greedy kings, and dragons.
Clan Dunbroch: Merida's family clan
Name your favorite bookish family/gang
MANDY: The Rampion Crew! Ugh, they are so much loveeeeeee. And like, in love too. Like, all of them are paired off and in love, but like I ship them all and they are all so great individually and like LOVE.
SHA: The Hate U Give by Angie Thomas. Um, I think I use this every time a prompt involves family. She seriously nails it for me though!
Merida: princess, brilliant archer, and doesn't need any man
Name a heroine who doesn't accept her fate
MANDY: The first one that came to mind was Sybella from the His Fair Assassin series by Robin LaFevers. She was definitely dealt a lot of bad hands, but not only did she flourish, she changed the fate that she was given and became an epic nun assassin…which sounds a bit weird now.
SHA: Just One Wish by Janette Rallison. I might have Rallison on the brain, but this book totally fits the prompt. In JOW, Annika doesn't accept her brother's fate when his cancer comes back. She goes on a road trip to grant her brother one last wish, with the belief that it will help her brother overcome his diagnosis.
The Highland Games: Eligible Fight for Merida's Hand in Marriage
Name a book where the stakes are high
MANDY: Long Way Down by Jayson Reynolds. The book takes place over a few minutes in an elevator, and it could immediately change the course of our main character's life.
SHA: Dangerous Girls by Abigail Haas. Anna is wrongly imprisoned after her best friend's murder–in a foreign country. The stakes could not be higher for her to clear her name. I love, love this book and often recommend it for mystery lovers.
Changing Fate: Merida Eats Some Enchanted Cake
Name a book where you thought it was going one way, but turned out to be a whole different way
MANDY: Tbh, I thought Winter by Marissa Meyer would totally go a different way. I thought it would for sure have a lot of rocky, tense moments and like people would be dying. I was so scared. But things certainly didn't end up the way I thought – thank gosh.
SHA: All Rights Reserved by Gregory Scott Katsoulis. I never saw ANY of the twists in this book coming. Even the small ones! It kept me guessing from start to finish, which I love in a book.
Elinor: Mama Turned Mama Bear
Name a character that goes through a big transformation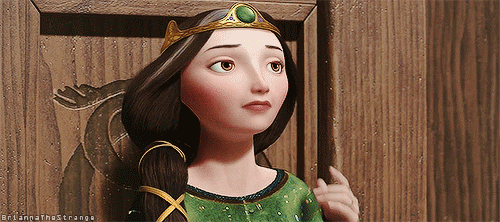 MANDY: Jess from the Princess and the Fangirl…and well, Imogen too! Not only did they go through transformations to look like each other, but Jess certainly transformed her opinion on the fandom culture and who she wants to be.
SHA: Deposing Nathan by Zach Smedley. In this book, Nathan learns so so much about himself and the way he views the world. It's not an easy process and the reader is there for every step Nathan takes.
Bear Brothers: Adorable, Mischievous Baby Bears
Name some of your favorite scene-stealing characters
MANDY: Dan from The Summer I Became a Nerd, Sage from Geekerella, Ella from Gemina
SHA: Nina from Six of Crows. Cokie from Out of the Easy.
Mor'du: Demon Bear, Secret Prince
A Villain With a Complex Backstory 
MANDY: Sea Witch by Sarah Henning certainly brought an intriguing backstory to the sea witch seen in The Little Mermaid. And the villain in there had such an intriguing backstory as well. It certainly wasn't cut and dry.
SHA: Count Olaf from A Series of Unfortunate Events. How is Count Olaf not the most complex villain? I'm sorry, but I will be standing by this answer.
Tag…you're it!
Rendz from Reading with Rendz / Kyera @ Kyera's Library / Sara @ THE BIBLIOPHAGIST / Siobhan @ Siobhan's Novelties / Margaret @ Weird Zeal / Samantha @ Modern Witch's Bookshelf / and anyone that loves Brave and Merida!
What do you think? What are some of your answers for this? Do you love Brave? Let's discuss in the comments below!