I'm super excited today to bring my blog tour stop for Shouting at the Rain! This sounds like such a feely and emotional read, and the moment I read it, I knew I was about to embark into an emotional storm. So, I figured why not count down some books that are bound to bring on a tidal wave of emotion your way.
Book Description
From the author of the New York Times bestseller Fish in a Tree comes a compelling story about perspective and learning to love the family you have.
     Delsie loves tracking the weather–lately, though, it seems the squalls are in her own life. She's always lived with her kindhearted Grammy, but now she's looking at their life with new eyes and wishing she could have a "regular family." Delsie observes other changes in the air, too–the most painful being a friend who's outgrown her. Luckily, she has neighbors with strong shoulders to support her, and Ronan, a new friend who is caring and courageous but also troubled by the losses he's endured. As Ronan and Delsie traipse around Cape Cod on their adventures, they both learn what it means to be angry versus sad, broken versus whole, and abandoned versus loved. And that, together, they can weather any storm.
This book certainly takes you through many high highs and low lows. It brings on so many feels. You think it's going to just be a cute, fluffy contemporary, but it actually got this heartless book princess to tear up a tiny bit. From the cuteness to the heart aching issues that Elle faces with her stepfamily, it just is an overload of feels. But don't worry – the rain clouds don't stay too long and the sun rays come back.
This book's emotional storm takes you a bit by surprise. There isn't any warnings really, and you think you're safe in the eye in the storm, and then BAM, next thing you know, you're in a tidal wave of emotion. This book did me dirty with actually making me SHED A TEAR, and it brought a lot of emotional feels. So. Many. Feels.
Well, this actually has an actual storm type in the name, so of course, it's going to bring the emotional storm. Ugh, this story has so so many ups and downs and sad feels and happy feels and YOU ARE JUST FEELING CONSTANTLY. This story is another middle grade novel that takes you through a young girl's coming of age story along with dealing with her father's mental health battle. I loved it so much
The Poet X by Elizabeth Acevedo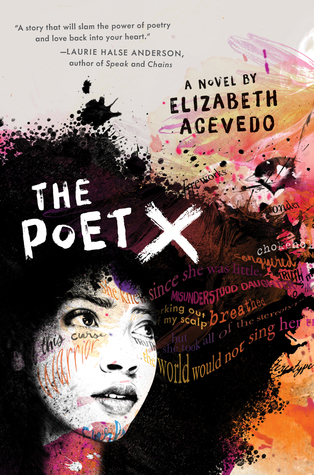 This book is an amazing coming of age story that shows the realism and messiness of growing up. It's told in verse, and each sentence in this story carries power…and a whole bunch of feels and emotion. It is just packed with it, and I just want to curl in a ball right now because I'm feeling all of them againnnnnnnnnnn. Ugh, it's a simply stunning book and if y'all just want something to allow you to simmer in your emotions for like 3 hours, listen to the audiobook. It's definitely the embodiment of a long rainy day with some peaks of a rainbow in between.
Author Bio
Lynda Mullaly Hunt is the author of New York Times bestseller Fish in a Treeand Bank Street Best Book One for the Murphys. She's a former teacher, and holds writers retreats for the Society of Children's Book Writers and Illustrators. She lives in Connecticut with her husband, two children, impetuous beagle, and beagle-loathing cat.
What do you think? What are some books that create an emotional storm? Let's discuss in the comments below!