I've decided to start a monthly "series" where I post all the books Mandy and I have hauled including NetGalley ARCs, Edelweiss ARCs (when I actually get approved LOL), physical ARCs (99.9% Mandy here), library books, and physical books we buy with our coins giftcards*.
*bless u, person who invented birthdays

physical ARCs

Title: Pan's Labyrinth
Author: Guillermo del Toro, Cornelia Funke
Pages: 272
Release Date: July 2, 2019
Publisher: Katherine Tegen Books
Genre: Fantasy
Synopsis: This haunting tale takes readers to a darkly magical and war-torn world filled with richly drawn characters like trickster fauns, murderous men, child-eating monsters, courageous rebels, and a long-lost princess hoping to be reunited with her family.
---

Title:William Shakespeare's Much Ado About Mean Girls
Author: Ian Doescher
Pages: 176
Release Date: April 23, 2019
Publisher: Quirk Books
Genre: Retelling, Humor
Synopsis: Power struggles. Bitter rivalries. Jealousy. Betrayals. Star-crossed lovers. When you consider all these plot points, it's pretty surprising William Shakespeare didn't write Mean Girls. But now fans can treat themselves to the epic drama–and heroic hilarity–of the classic teen comedy rendered with the wit, flair, and iambic pentameter of the Bard.
---
Title: Shouting at the Rain
Author: Lynda Mullaly Hunt
Pages: 288
Release Date: May 7, 2019
Publisher:Nancy Paulsen Books
Genre: Middle Grade, Contemporary
Synopsis:From the author of the New York Times bestseller Fish in a Tree comes a compelling story about perspective and learning to love the family you have.

digital ARCs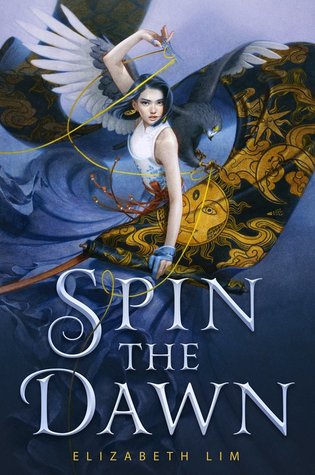 Title: Spin the Dawn
Author: Elizabeth Lim
Pages: 400
Release Date: July 9th 2019
Publisher: Knopf
Genre: Fantasy
Synopsis:Project Runway meets Mulan in this sweeping YA fantasy about a young girl who poses as a boy to compete for the role of imperial tailor and embarks on an impossible journey to sew three magic dresses, from the sun, the moon, and the stars.
---

purchased books

Title: The Devouring Gray
Author: Christine Lynn Herman
Pages: 400
Release Date: April 16th 2019
Publisher: Titan Books
Genre: Fantasy, LGBTQIA+
Synopsis: After the death of her sister, seventeen-year-old Violet Saunders finds herself dragged to Four Paths, New York. Violet may be a newcomer, but she soon learns her mother isn't: They belong to one of the revered founding families of the town, where stone bells hang above every doorway and danger lurks in the depths of the woods.
---
Title: The Princess and the Fangirl
Author: Ash Poston
Pages: 320
Release Date: April 2nd 2019
Publisher: Quirk Books
Format: Hardcover
Genre: Contemporary
Synopsis:The Prince and the Pauper gets a modern makeover in this adorable, witty, and heartwarming young adult novel set in the Geekerella universe by national bestselling author Ashley Poston.
---
What's on your NetGalley/ARC shelf? 
| add me as a friend on Goodreads! |