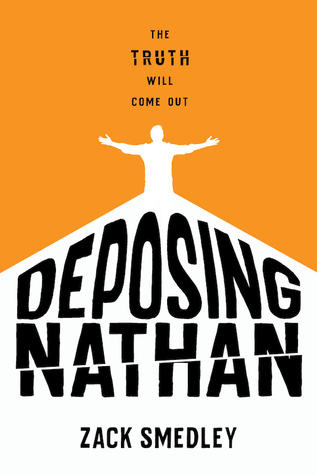 Title: Deposing Nathan
Author: Zack Smedley
Pages: 400
Released: May 7 2019
Publisher: Page Street Kids
Format: Hardcover
Genre: Contemporary
Goodreads Rating: 4.00 (of 6 ratings)

  

Book Princess Reviews receives a percentage of commission from purchases you make after following Book Depository links on our site.


For sixteen years, Nate was the perfect son—the product of a no-nonsense upbringing and deep spiritual faith. Then he met Cam, who pushed him to break rules, dream, and accept himself. Conflicted, Nate began to push back. With each push, the boys became more entangled in each others' worlds…but they also spiraled closer to their breaking points. And now all of it has fallen apart after a fistfight-turned-near-fatal-incident—one that's left Nate with a stab wound and Cam in jail.
Now Nate is being ordered to give a statement, under oath, that will send his best friend to prison. The problem is, the real story of what happened between them isn't as simple as anyone thinks. With all eyes on him, Nate must make his confessions about what led up to that night with Cam…and in doing so, risk tearing both of their lives apart.


Disclaimer: I received this ARC courtesy of Page Street Kids through NetGalley. I am grateful for the opportunity to review an ARC for my readers, but this will not influence my final rating. All opinions expressed in this review are my own and based solely on the book. 
I don't know how to wrap my head around this book.
I wrote and re-wrote this review, but nothing sounded authentic. I felt like I was trying to make sense of a book that to me, was a wholly emotional experience. From the moment I started reading, I became a captive listener to Nate's journey, a young man who—from the moment Cam comes into his life—no longer knows what to think, but everything he feels is so strong and raw. 
What CAN I tell you about Deposing Nathan?
I was emotional from start to finish. Smedley brought me from laughing aloud to crying to full-blown frustration and anger then back around. I feel like it's an understatement to say that by the end of this book, I was thoroughly exhausted, but my mind was still going a mile a minute.
Truly, the 400-pages of Deposing Nathan left me emotionally wrecked, but oh wow was that ending satisfying in the worst way.
This book focused on themes of sexuality, religion, parent-child relationships, and friendships. Each one of these themes is explored so fully and realistically from a teenager's point of view. Nate is unapologetic about what he thinks, which can make him frustrating (and yes, unlikeable) at times. There were several instances in the book I objected strongly to his view points, but I could see at the same time how he was trying to learn.
📌 SEXUALITY: (disclaimer. i am not lgbtq+ and while i have an opinion on the representation in this book, i encourage you to seek the thoughts of lgbtq+ reviewers.) Deposing Nathan provided a nuanced depiction of bisexuality. One character in the book rejects the "idea" of bisexual ("you think I'm half gay, half straight?") but is educated throughout the book. It's never a Sit Down and Learn About Bisexuals situation, but more a self-exploration which was more authentic to the character (and to how people learn in general). One of my favourite lines is when a character Googles a test to see if he is bisexual, and the only question is "I consider myself to be bisexual."
If you dislike books that contain anti-bi rhetoric, I would not recommend. I will only say that Smedley provides a great deal of depth to the topic, does not handle it lightly, and always reinforces the fact that bisexuality is real, is valid, is accepted.
📌 RELIGION: I did not know religion was going to be part of this book. (it wasn't on the original summary.) I'm so glad it was though. Smedley added a whole conversation about the Christian God and sexuality that really made me think. (In my opinion, this aspect of the book is interesting for religious and non-religious readers alike.)
📌 PARENT-CHILD RELATIONSHIPS: Okay but this was really well done? I ached inside reading the paragraphs between Nate and his Aunt Lori. There's a lot of emotional abuse and psychological abuse at first, which is the worst because people tend to brush it off like, "Everyone acts like this," and "it's normal." It's not! It's really not!
Later in the book, the effects of poor/abusing parenting on the child is seen when Nate himself lashes it. It's painful to read. But so gddmn real.


I wish I could pour my emotions out on screen and call it a review. Smedley so well handles the morally grey dynamics of a toxic relationship. An author to watch out for.
IMPORTANT. This book is not a "fun read". There is no cute romance. Please look very closely at my content warnings. Nate has been abused, he is repressed, and he lashes out within the book. Many of the characters in this book are morally grey.
rating: 4.5 crowns
representation: bisexual rep, Christian rep
content warnings: swearing, homophobic slurs, physical abuse, psychological abuse, toxic relationship, anti-bi rhetoric, religious anti-gay rhetoric, masturbation, child abuse, infidelity