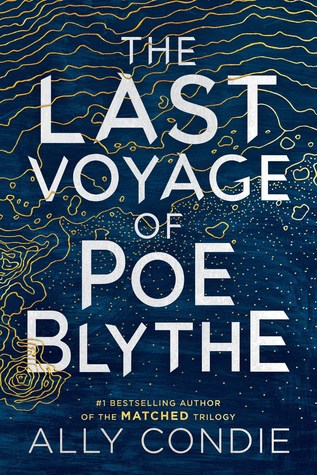 Title: The Last Voyage of Poe Blythe
Author: Ally Condie
Pages: 336
Release Date: March 26th 2019
Publisher: Dutton Books for Young Readers
Format: Hardcover
Genre: Sci-fi/Fantasy
Goodreads Rating: 3.90 (of 113 ratings)
  

Book Princess Reviews receives a percentage of commission from purchases you make after following Book Depository links on our site.

Who do you become when you have nothing left to lose?
There is something Poe Blythe, the seventeen-year-old captain of the Outpost's last mining ship, wants far more than the gold they tear from the Serpentine River.
Revenge. 
Poe has vowed to annihilate the river raiders who robbed her of everything two years ago. But as she navigates the treacherous waters of the Serpentine and realizes there might be a traitor among her crew, she must also reckon with who she has become, who she wants to be, and the ways love can change and shape you. Even—and especially—when you think all is lost.
Ally Condie, the international bestselling author of the Matched trilogy, returns with an intricately crafted and emotionally gripping story of one young woman's journey to move beyond the grief and anger that control her and find the inner strength to chart her own course.

Disclaimer: I received this ARC courtesy of a Bookish First giveaway. I am grateful for the opportunity to review an ARC for my readers, but this will not influence my final rating. All opinions expressed in this review are my own and based solely on the book.
Buddy Read with the Magical Rendz from the always amazing Reading with Rendz!
This book was….not what I wanted. I haven't had the best experiences with Condie's writing before, but this book sounded so interesting and not like anything that I had read before in YA, so I was reayd to give it a try. When Rendz and I first started talking about the buddy read, I really only remember two buzzwords – revenge and gold – and honestly that was enough for me.
The buzzwords were pretty true. This book is about gold, revenge, and a ship. I think it also tries to take on colonization a bit, but I feel like everything kind of got lost besides the revenge and the ship and gold. Seriously, everything revolved around it, and not much was particular interesting. The story focuses on the last voyage that the people from The Outpost (a confusingly vague settlement that I still don't fully understand – but that's the entirety of the world). It does focus on Poe's emotional journey dealing with the death of her love, Cal, who was murdered by a group that lives outside The Outpost that constantly fights with Poe's peeps over who owns the gold.
Reasons I Will Not Be Signing Up for the Last or Basically Any Voyage of Poe Blythe:
– Poe. I think Rendz said this best when we were reading: Poe was being Poe. And that's honestly all the ways I can describe her. She is definitely a special girl. She somehow has some vision that magically creates this super confusing armor (that took Rendz and I a really long time to create a picture but think porcupine ship and we good), captains her own ship/crew literally the SECOND time she even gets on a boat, and somehow knows exactly what to do? Her characterization was solely on her desire for revenge and love for her ship, which I thought was interesting, but it got real old real fast once there was literally nothing else.
– The other characters. Rendz and I both agreed that the rest of the characters didn't have much personality. They were just very much there. Last year, I read Seafire by Natalie C. Parker that featured an all female crew on a pirate ship. There was a lot of them, but they were each dynamic, colorful, and distinct. This crew? I couldn't pick any of them out of a lineup, because they were stick figures in the background – eh, I think they actually might have been more hazy than that. They just existed and were names on the pages.
There was also a lot of potential for a character that is the villain, and like IDK the villains were pointless. They just faded into the background, and then the big reveal/motivation at the end CAME OUT OF LITERAL NOWHERE. And it made no sense???? Speaking of which, that ending was so vauge, and just…it was weird and confusing and IDK.
– The pacing. The first half was pretty slow, and it took a long way to warm up. Rendz and I both agreed that we enjoyed just how fast paced the second half went especially in regards to the shorter chapters and speed up of the action. It still lacked the tension and drama needed for it, but at least it went by so fast. So actually, this was an item that I did like – except I had to go through the slow part first.
The writing was pretty straight to the point and easy to read, so that was good. And there were a few interesting things, but that was about it. The one crown that I'm giving it isn't a "this was all sorts of terrible" or "i hated it with a fiery passion" but instead a one crown rating due to the strong disconnection I felt for it and how bored I was. Rendz ended up with just under a 3 star rating. (Is anyone surprised that I, book hipster, got lower in the buddy read???) 1 crown and a Merida rating!

rating: 1 crown
representation: none I can think of off the top of my head
content warnings: murder, death
What do you think? Let's discuss in the comments below!
| add me as a friend on Goodreads! |