❝ DON'T JUDGE A BOOK BY ITS COVER. ❞
Proceeds to do so, blatantly and without hesitation.
SHA: A story about a teen girl who finds out she is pregnant and the decision process of what to do. The title and bleeped out letters on the pregnancy stick give the book a light-hearted vibe, despite what is a more serious topic, so I anticipate humour mixed in. Because of that, I think the protag had consensual sex (I can't picture sexual assault + pregnancy + humour). And also … I think dual PoVs? Since we have co-authors.
MANDY: For a second, I was like maybe it's magical realism, and then I kind of just blinked at it and was like, um, no, Mandy, why would this be magical realism? The cover definitely gives some major contemporary vibes, but the title and all the pink and bright colors is definitely TOO cheery for something to be a darker realistic fiction. I'm feeling the story will be about a perfectionist MC that has some wit and sass and maybe has a one night hookup and we now go through her struggle of whether or not she is or isn't pregnant.
🔎 THE TRUTH?
Seventeen-year-old Veronica goes on a wild road trip with ex-best friend Bailey to get a legal abortion after her boyfriend pokes holes in their condoms to keep her from going to out-of-state college. Expect two days filled with stolen cars, truck stop strippers with pro-life agendas, and a limo driver named Bob.
MANDY: Survival story. I'm feeling this character—a male MC I'm gonna name Sean just for the hey of things – gets stuck on an island—maybe surrounded by a cove and then has to learn how to be himself while he waits out the rain or something on his little deserted island. Idk, why he's keeping something to himself though. Huh. I'm thinking I've failed Sean.
SHA: First thought is this book is 100% a mystery. The head shape leads me to believe the protag is male. I don't get much from this cover; neither the font nor the image stand out to me, and if I saw this in a store I would probably assume it was an Adult novel incorrectly classed in the YA section. All I can think about right now is married couples hiding dark secrets.
🔎 THE TRUTH?
A year after the Catalog Killer murdered four people, eighteen-year-old Mac finds a cryptic message from his best friend Connor—who was also the killer's last victim. Mac is drawn back into the search for the killer as he comes to terms with his true feelings towards Connor.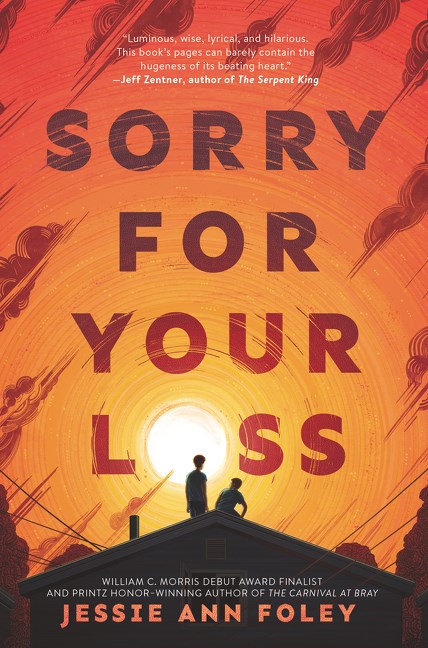 SHA: Oh wow oh wow, im feeling immediate cover love. From this I'm getting boy loses someone close (in my head, it's a friend) and boy connects with another boy who helps him deal with that loss. To me this is a story on dealing with grief with an m/m romance.
MANDY: Well, the little blurb at the top says definitely gives strong strong feels of contemporary and not just the cute, fluffs but emotional, deep in your feels realistic fiction. The title obviously goes to the thought that someone has died, so it's definitely going to be a story about someone (it maybe looks like two boys in shadow) dealing with grief and maybe diving in deep into a new friendship/finding himself. Intrigued about the humor aspect because I wasn't getting that?
🔎 THE TRUTH?
The youngest in a family of eight, Pup is used to flying under the radar. He's barely passing his classes, he can't decide on a college path, and no one in his family will even talk about the sudden death of Pup's older brother Patrick—the only person who believed in Pup. When Pup excels at a photography project, things start to come into focus: his dream girl shows her true colours, an unexpected friend shows Pup a whole new world, and the photograph reveals someone still stuck in their grief. 
MANDY: Tbh, I immediately thought CONTEMPORARYYYYY. The cover seems supes contemporary, but then I looked at the little tagline, and I really loved at the cover, and now I kind of feel like it's some sort of mystery/thriller. The "pay attention to the details" line and the ripped up paper and scattered pieces has me thinking something like more like maybe someone is sending notes "A" from Pretty Little Liars style. My guess is the MC starts noticing people on the top list for good grades or something are dying, and they start getting notes and have to put together the details to what is happening/how they're dying.
SHA: My first thought was something to do with depression/suicidal idealization. Blue on covers always gives me mental health vibes (which is why I reach for them first when book shopping) (don't ask me if this is proven). Add in "survival" and I was like, maybe suicidal thoughts? Buuut that did not mesh with the blurb, so I'm leaning more towards academic pressure.
🔎 THE TRUTH?
After Sloane's sister Talley took her own life, Sloane becomes fixated on a random list of unfamiliar names and phone numbers her sister kept. Sloane heads out west to track down the owner of the phone number, Adam, to understand her sister's death. 
SHA: This cover really confuses me. First, I can't read this font. My eyes struggled for too long, if this was in a store I would probably give up and move on. That aside, I think this book is about a female friend group going through the ups and downs of their senior year of high school.
MANDY: Okay, font = cool beans. I see polaroids in the background that look like people having good times (it looks pretty murky to me). This is a hard one for me. I totally think it's a contemporary, but I can't quite tell what it is about. Like, with the title, I would naturally assume that it's a light hearted, happy read about friends/senior year/a young romance, but the colors are so dark that I kind of want to say that maybe something happens? Like, something dark – maybe cheating? something happens at a party? There is one of the polaroid pics that has a guy and girl sitting in defensive poses, so I feel like there is something darker than the year besides just love and parties. My guess = senior girl meets guy and then it's their year of going through emotional turmoil.
🔎 THE TRUTH?
Tucker knows relationships take work. Some are easier than others though. When Erika Green comes into his life, a part of him knows he shouldn't get too attached during senior year. Erika from before the video liked to shock people with her bright pink hair—lately she's been holing herself up in a small, liberal college life and hoping the past will stay where it belongs, But then she reconnected with Tucker Campanelli. She can't deny the unexplainable connection between them. 
It was so hard to find covers of books I hadn't already heard of or (worse) to snatch a pic of a cover without letting my eyes stray to the description. That is the power of the book cover! It's there to draw you in so you want the full story — not tell the whole story, obviously.
What kind of plots would you have guessed for these books? Do you judge a book's plot by its cover?