This poll is so straightforwards, I don't even have a preamble.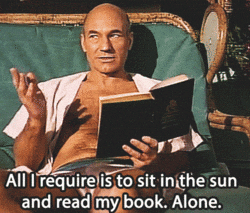 ---
[A]
YES TO CHAPTER TITLES

. They add an extra hint of the author's flavour to the book.
[B]
NO TO CHAPTER TITLES

. I'm here to read the book. Even if there were chapter titles, I wouldn't notice.
[C]
IT DEPENDS

. Some books benefit from titles. Others don't need it.
---
I'm firm in the "it depends" camp on this one. A lot of the time, I don't even notice what chapter I'm on, never mind if there are chapter titles. But with humour books in particular, I like when the author adds in witty titles.
What it comes down to for me: the title should enhance the work, not detract or distract.
Cast your vote in the comments!
Are books better with comments? Do you have a favourite book that uses chapter titles?