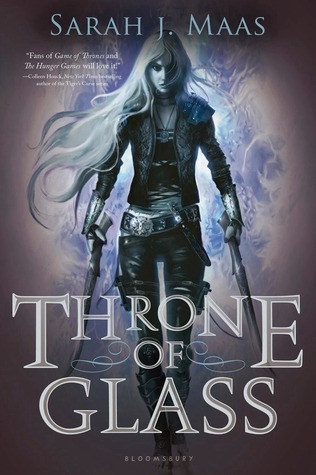 Title: Throne of Glass
Author: Sarah J Maas
Pages: 406
Release Date: August 7 2012
Publisher: Bloomsbury
Format: Paperback
Genre: Fantasy
Goodreads Rating: 4.22 (of 452,204 ratings)
---
   
Book Princess Reviews receives a percentage of commission from purchases you make after following Book Depository links on our site.
---
Disclaimer: this girl is about to have some negative thoughts/unpopular opinions about Throne of Glass. I know this series is huge and popular and means a lot to people. This is just my thoughts on it, and it's no shame/judging/hate if you enjoy. Just what I've noticed and my thoughts on it – which we all know are forever messy on things. 😉
This Book Princess, right here, Mandy, probably 27th millionth of her name, mother of kittens, and destroyer of hyped books, has finally read the legendary Throne of Glass. This book is what YA foundations are made of. I swear just about everyone has read this book or has opinions formulated on it. I had pretty much crossed it off my reading list, since I got confused by the summary but after hearing soooooo much about it and a rec from a friend and other blogging friends, I decided to purchase.
But then, of course, a mid life blogging crisis happened and this girl turned into an official book hipster that only ends up liking like literally 1/5 of the books she reads. So me reading Throne of Glass? Yeah, I literally had not much hope. I thought I would be floundering out in the ocean like…well, Flounder.
And now I've read it…and it wasn't as terrible as I thought it would be??? I mean, it wasn't good for me, mostly, but it wasn't a one crown and I didn't completely hate it, SO I'M TAKING IT AS A WIN. A REALLY SAD ONE, BUT LIKE, Y'ALL SHOULD KNOW ME BY NOW.
So, let's start this mess of a review?
Things Mandy Didn't Completely Hate
Like, this book has magic??? And now everyone is literally slamming their phones into their faces or faces into the laptop, because, DUH, Mandy this book has magic. But I'm not talking about the vague magic system this book actually has. I'm talking about the Fact (Cold Hard Fact) that Maas managed to completelyyyyyyyyy suckered me in. I spent most of my good, free Saturday, suckered into this book, devouring it page after page. LIKE HOW. You're about to see me intensely detail lots of things that I wasn't fond of but I STILL SPED READ AND COULDN'T STOP READING THIS BOOK. SORCERY.
There were moments that were really interesting. The tomb scenes and when magic were involved, I was pretty interested. It was intriguing and captivating.
I really really liked how Maas didn't just brush some things away and took a bit of time to deal with things. When we first meet Celaena, she is working in the Salt Mines as a slave. She is treated to horrible conditions with little to no food, terrible living conditions, and physical/mental abuse. She is severely weakened from this state both in mind and body, and Maas does showcase how she deals with this and doesn't just paint a picture with rainbows and sunshines and tie it in a nice, neat little bow. She has nightmares, she is severely malnourished, and she doesn't have the stamina she once has. I liked how Maas took notice of the little details that would be realistic and added them in.
There was some moments of pretty fantastic strength and empowerment. At times, the characters – Celaena mostly – showed strength in mental, emotional, and physical ways, and I did love seeing the empowerment.
The mood/atmosphere definitely felt right for a fantasy book. I definitely felt suckered in, and I was in a total fantasy mood.
…I kind of feel the need to read the next book?????
Things that Made Mandy Eye Twitchy and Like that Meme of the Guy Whipping All The Papers off His Desk:
Hello, Celaena. You, of course, are number one. No, literally, you are number one. Is there anything you can't do??? I have come of this book, convinced, your only bad trait is that you're smelly – especially since Chaol continuously brings it up. She is officially treasurer of the Special Snowflake club. She is somehow the most prolific assassin at the ripe old age of 18 (except she spent a year in the Mines, so, like, actually 17), and she can actually do just about everythingggggggggggg? She is super strong and empowered and feminist yet…she hates on literally every female that shows some interest in Dorian (she legitimately refers to one girl that Dorian is talking to as a BLOND IDIOT as the official descriptor the first time we meet her), and her entire relationship with Kaltain was ridiculous. She can speak about any language, magic immediately shows alllllll interest in her, she solves murders, she is good at everything (reading, music playing, assassining, and more), she is even beautiful when she is DIRTY AND UGLY, and like, literally SHE CAN DO NOOOOOO WRONG.
The Love Interests. I have to say I was quite impressed that I legit met both of them in the first 8 pages of the page. That, for sure, has to be a new record. Both of them were…they were thereeeeee. There's Dorian, Crown Prince of the land, and Chaol, who is Captain of the Guard, Dorian's best friend, and Celaena's official bodyguard. I felt like they had some potential, but they really didn't dive into the emotional depth that I would have liked.

Chaol continuously insulted Celaena (she was smelly at least 2 or 3 times, dirty, etc.), and I mean, he would mutely looked at her OR yell at her, so I really didn't quite feel the feels. (I'm sorry, Rendz, don't hate me.)
If I had to lean toward anyone (like if someone really really forced me to but like I don't really want to pick), it would have been Dorian, since I felt there was more chemistry between them, but dear gosh, he was a cliche and a halffffffffffffffffffffffff. He was a tortured, conflicted prince who didn't agree with his terrible, horrible father who crushing and pillaging everyone. He is a totalllllllllllllll playboy (I think he might, in fact, have a winking problem because he winking at everyoneeeeeeeeeee), and the ladies love him and he loves all them ladies (but ofc, not anymore now that he knows Celaena exists). I just didn't find any depth that I wanted from him, and he was just a big ball of cliches. Gosh, I wish Chaol had more chemistry for me, because Dorian was just….He was there.
Also, like there was a total Edward Cullen scene where Dorian legit just popped into Celaena was sleeping and just watched her sleep and was like omg, cute baby assassinnnnnnn and then Chaol popped in and was like omg, Dorian, you shouldn't be here!! You a prince, she assassin!! And then like, Chaol watched her sleep and like like like YOU TOTALLY MISSED THE POINT. THIS IS CREEPY. CREEPPPPPPY. Let's say it altogether now. I'm rescinding my preference of Dorian, and like, no one.
Also, there was a comment where one of the love interests guesses on whether or not Celaena's virginity, and like like like, NO THANK YOU. My eye is fully twitching now, so we need to move on.

The writing. The writing. The writingggggggggggggggg. Let's count my issues with it:

There was like, super awkward phrasing??? Here are two examples to prove my case:

It took a delicious moment for her to understand. (WHY WHY WHY DELICIOUS. She used this word again later on when it was not fitting again and like, WHY)
It was a woman, large but well contained within the gown of cobalt and peach that marked her…(the rest of the sentence doesn't matter. WELL CONTAINED.)

Everyone! Talked! And! Thought! Like! This! Idk Why! But! It! Was! So! Much!

Example: She barely heard his last few words. A competition! Against some nobody men from the-gods-knew-where! And assassins!

I feel like someone told Maas that she couldn't use just first names or pronouns. Like, it was obviously well established by the first few pages that Celaena = assassin, Dorian = prince, and Chaol = captain of the guard, and they would be our main characters. However, Maas would literally go [Full Name] did this. [First Name] walked here. [Title of same person talked with [Full Name of Other Person]. <—- All in the same paragraphhhhhh. Can't she just say Dorian did this??? Instead it was legit Dorian Haviliand was here! I just wanted a pronoun or twoooooooooo!!
Also, like, I got confused with narrations. This book is in third person POV, but for a while, I was thinking it was just Celaena, but random POVs would just pop up and most were done so subtly I was confused on why I now had Chaol's thoughts popping up.

The worldbuilding was pretty vague at parts. Like, I still don't fully understand the magic system and worlds? Like, there are multiple world? And there are gods and goddesses or something?? IDK? I just know there is a glass castle, but we don't even see much of that??? IDKKKK. I'm still a bit confused regarding it. Especially by the end which I was even more confused. ARE THE FAE REAL? I didn't even know full magic was coming until little gnomes popped up. And like I still don't even understand the whole thing with Elena. I JUST DON'T FULL GETS IT.
---
This honestly took me a good long time to figure out what I wanted to rate. I couldn't justify a 3 crowns no matter what, so final verdict: 2 crowns and a Cinderella rating.
---
What do you think? Do you love this series? How was the second book? Are you surprised about my thoughts? Let's discuss in the comments below!