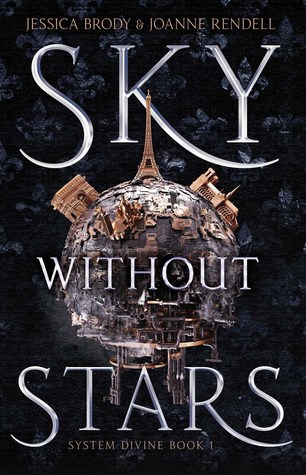 Title: Sky Without Stars (System Divine #1)
Author: Jessica Brody & Joanne Rendell
Pages: 624
Released: March 26 2019
Publisher: Simon Pulse
Format: Hardcover
Genre: Science Fiction
Goodreads Rating: 4.23 (of 35 ratings)
---
  

Book Princess Reviews receives a percentage of commission from purchases you make after following Book Depository links on our site.
---

When the Last Days came, the planet of Laterre promised hope. A new life for a wealthy French family and their descendants. But five hundred years later, it's now a place where an extravagant elite class reigns supreme; where the clouds hide the stars and the poor starve in the streets; where a rebel group, long thought dead, is resurfacing.
Whispers of revolution have begun—a revolution that hinges on three unlikely heroes…
---

Disclaimer: I received this ARC courtesy of Simon Pulse through NetGalley. I am grateful for the opportunity to review an ARC for my readers, but this will not influence my final rating. All opinions expressed in this review are my own and based solely on the book. Quotes are taken from an advance, uncorrected reader's proof and are subject to change. 
Wow. Just, wow.
It took me the longest time to finish this book, and not because of the 600+ pages, but because I was stopping every chapter to leave all capital messages to my best friend (a.k.a. Mandy) that were both extremely vague (don't expect me to spoil a masterpiece) and filled with raves about the worldbuilding, and heart-breaking characters, and unique Laterre culture.
All I can say is that now Mandy has Sky Without Stars on pre-order and after this review, if you don't too, I've done something terribly wrong.
🌟 WELCOME TO LATERRE 🌟
High on a hill, the family built their Grand Palais under a vast climate-controlled dome. And in the flatlands below lived their chosen people. — Sky Without Stars
Brody and Rendell have built a super rich world that entwines French culture with futuristic technology. The classic tensions between rich and poor take on a whole new dynamic with the addition of "beaters" (police droids), Skins (implants that track a person's location), and the Ascension (not as sinister as it sounds).
The world is soooo unique (and Laterre is only one planet in the System Divine) and Brody and Rendell made sure not a single detail went over my head. I could vacation to Laterre right now—although considering the current political state, um, not a great idea—and fit right in with the locals. (Also, in science fiction, a LOT usually goes over my head, so you need to realize how much praise I just doled out.)
As a French speaker, I was enthralled by the sneaky (or maybe not so sneaky) way French was used in the book. Instead of "police" there were the "policier," for example. An English speaker can grasp every meaning, and the Laterre culture just becomes more prevalent! One of my faves that might have been harder to catch: Laterre means "the earth" in English.
🌟 CHATINE: STREET SAVY THIEF 🌟
Since the day she was born into this Regime, she was fated to die young. She would never see the stars. She would never feel the warmth of real Sol-light on her face. She would never escape. — Sky Without Stars
Many would call Chatine a pessimist. I call my stubborn cat-eyed thief a gritty realist. Who can blame her?? She was raised by cons and forced to swallow the so-called "honest work for an honest chance" lies while she watched Third Estaters starve in the streets.
Chatine has her own moral code. It's not that she's incapable of caring about others, it's that she's felt how much it hurts when you lose someone you care for (again…and again). Throughout the book I was mourning her tragedies as much as I was praising her strength—and hoping for her to find her happiness. **smothers her with hugs but she hates that so no more hugs**
🌟 MARCELLUS: SON OF A RENOWNED TRAITOR 🌟
He had to prove to himself, once and for all, that he was not his father's son. He was a loyal grandson and a proud member of the Second Estate. — Sky Without Stars
Oh Marcellus. You want to prove to everyone that you're a good officer, that you'll squash the rebellious Vangarde and become an exemplary commandeur. But you're just not suited for it!
Marcellus journey is interesting. When you're inside his POV, he sounds cool and collected—until confronted by grandfather, that is. (The trusted general of the First Estate.) From any other POV (either Alouette or Chatine) you can see how little Marcellus actually succeeds in portraying the "in-command" appearance. He's boy-ish, frightened by violence, and kind of just wants to have friends? If he wants hugs from me though, he's going to have to wake up and smell the social injustice first. *shakes fist*
🌟 ALOUETTE: GUARDIAN OF THE LAST LIBRARY 🌟
She was so sick of it. The secrets. The mysteries. The torn-out pages. The hidden boxes. She needed answers. And she needed them now. — Sky Without Stars
I think every book lover will identify a little bit with Alouette. Since she was four years old, she was raised underneath the grounds of Laterre in a convent, helping the Sisters record the history of, well, everything now that the written word has been forgotten by most everyone else on the planet. Unsurprisingly, living under the ground has made Alouette yearn for a taste of outside and when she looks out, she uncovers a trail of secrets leading back to her father and her own past.
I'll be honest, this book didn't give me as much Alouette action as I needed. She's wickedly talented with tools and thanks to all the books she's read, she knows a lot about medical science and hotwiring *ahem* and I wanted to see so much more!! A lot of her journey focused on what kind of secrets were hidden from her, but now that things have been revealed … well, I see great things for Book 2.
🌟 OTHER THOUGHTS 🌟
Our three heroes do cross paths—several times, in fact—but each have their own journeys to undergo. At the beginning I thought they were all going to meet up by chapter three and then take over the Regime—yeah, that is not this book so clear that idea from your head!
There is some flirtation in this book, but no actual romance. I wasn't fond of it, if you ask me this book is stronger without the romance between one of the proposed pairings, but I'm not complaining.
CW: child death (not on-page), beheading
🌟 RETELLING OF LES MISERABLES 🌟
I have not read Les Mis! Or watched any of the on-screen adaptations. I did read the Wiki page (same/not same?) and Brody & Rendell nailed the retelling. If you're interested to see the resemblances, I would advise looking at the summary after reading the book because it might spoil some plot elements (since you're only getting a point-by-point account). If you already know Les Mis, it will just enrich your experience!
---

I. LOVED. THIS. I'm sorry this review is so long, I hope you made it through, I wanted to highlighted all the best aspects (aka the aspects) of this book. I need the sequel now. I need to know how my Laterre children are doing. **sobs** Five crowns!!
Do you enjoy when authors integrate different languages into a novel? Does it enrich the book world or just leave you confused?