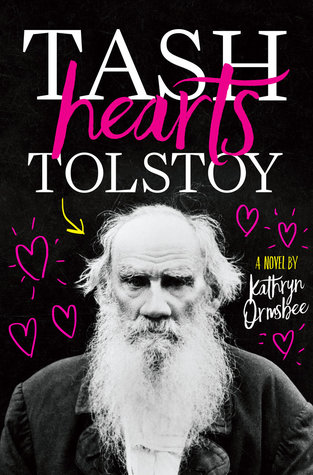 Title: Tash Hearts Tolstoy
Author: Kathryn Ormsbee
Pages: 367
Release Date: June 6 2017
Publisher: Simon & Schuster
Format: Hardcover
Genre: Contemporary
Goodreads Rating: 3.87 (of 2,728 ratings)
  

Book Princess Reviews receives a percentage of commission from purchases you make after following Book Depository links on our site.

After a shout-out from one of the Internet's superstar vloggers, Natasha "Tash" Zelenka finds herself and her obscure, amateur web series, Unhappy Families, thrust into the limelight: She's gone viral.
Her show is a modern adaptation of Anna Karenina—written by Tash's literary love Count Lev Nikolayevich "Leo" Tolstoy. Tash is a fan of the forty thousand new subscribers, their gushing tweets, and flashy Tumblr GIFs. Not so much the pressure to deliver the best web series ever.
And when Unhappy Families is nominated for a Golden Tuba award, Tash's cyber-flirtation with Thom Causer, a fellow award nominee, suddenly has the potential to become something IRL—if she can figure out how to tell said crush that she's romantic asexual.

Thank you to the amazing Margaret @ Weird Zeal for recommending Tash Hearts Tolstoy when I asked for books with ace rep! (She actually gave me a stunningly long list of LGBTQ+ books, and narrowed down to f/f romance and ace rep when I asked which thank you thank you again). ❤️ Also @Rhiana who told me to read this and I was like "perhaps one day" well that is TODAY.
📌 Tash is a shining star in this book. I don't have an infinite love for Lev Nikolayevich Tolstoy, but I related endlessly to her desires for order in chaos, calm in disaster, and please for things to just make some sense.
Peppered throughout THT, Tash learns about sisterhood, familial relations, dealing with illness, online relationships… I mean, this book packs in a lot of (relevant) (teen) topics without taking away any significance.
📌  The ace rep was beautiful and I re-read each section where Tash explains how she identifies / came to identify as romantic asexual several times.
The disagreement with Paul made me go "hmmm" for a little but then I was like, "Okay but also this is realistic and characters are HUMANS and humans are flawed and yes this makes sense." (< see me not spoil anything)
that scene with Thom though.
📌  The brilliant moments in this book are truly : everything. I'm kidding, I'm writing a review so I will pretend I can focus on only a few.
(visibly struggles)
1: Tash dealing with fame. It has become insanely easy to become famous viral. My heart was stuttering when Tash did the thing to go to the thing. LIKE. Tash Hearts Tolstoy brings into perspective what "fame" really means and what you should prioritize.
2: Asexuality. (lightly covered above)
3: Friendship n Family.

rating: 5 crowns
representation: ace rep, m/m romance, buddhism rep, second+third generation immigrants
content warnings: n/a
What would you win an award for?
| add me as a friend on Goodreads! |