Today is Women's Day, and you best believe Sha and I are celebrating. And what better way to celebrate than with a bookish list? Today we are celebrating some epic ladies in literature who empower us in mental, emotional, or physical ways. I thought about naming some of my favorite heroines, but why stop with one lady when I can bring out the lady gangs???
The following books feature largely female ensembles kicking butt, fighting the patriarchy, and just living their epic lives.
---
Seafire by Natalie C. Parker
Piratessssssssssssssssssssssssss! Fantasy worlddddddddddddddddd! This book focuses on a pirate ship with all female crew and one epic pirate captain, Caledonia who is fierce, strong, and ready to take on anything. Along with her best friend, Pisces, they take on the high seas and take revenge on the death of their families. All of the crew is epic, and THEY ARE SUCH FRIENDSHIP GOALS. ALL OF THEM. Plus, the writing and plot was so intriguing and intense and it was just much goodness period and then add in all the female empowerment????
---
Okay, like did you NOT know this was coming?? Sha and I are such such fans of Grave Mercy, and Isame is just a wonderful MC. She's everything you could ever love in a main character, and then add an entire dynamic cast of epic other characters. This series celebrates sisterhood and sisters from all backgrounds, scars, and more. It teaches women would limited that they shouldn't just be defined by their gender but instead they can be empowered, fierce, and anything they want. Ugh, LaFevers always creates such deliciously complex heroines, and a sisterhood that yes, is bound by secrets and murder, but is one wondrous one indeed.
---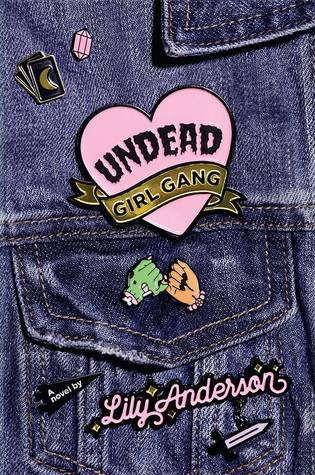 Well, I wonder what this book is about. Perhaps a girl gang???? How did you guess?? This book did bring the phrase officially to me about girl gangs, and I love it – the phrase and the book. While some of the girls in this gang might be, well, dead and zomified, they are still alllllllllll the greatness. They join up – witches and zombies alike – to take on a murderer in town that is causing havoc. They bring destruction, greatness, and so much more all in the name of being fierce and finding justice for themselves and others. Plus they bring allll the wit and an exciting murder mystery.
---
Even though you just hear me constantly screaming about Cresswell, one of my absolute favorite thing about this series is the group of epic leading ladies. Meyer brings us 5 distinct heroines that show strength in so many ways – physical, emotional, mental, and more. Each of them allows you to see some sort of yourself in them, and when they all get together? It is MAGIC. Meyer takes their princess/fairytale counterparts – takes all that was good with them – and then amps it all up so you have crazy Lunar queen overthrowing dream teams with these stunning ladies.
---
The Pros of Cons by Alison Cherry, Lindsay Ribar, & Michelle Schusterman
This book was written about a trio of ladies about a trio of ladies. It's like bookception or something…or literally how most trio books go. But this book is one of the few contemporary girl gangs out there. A lot of contemporaries can show a good friendship, but they are definitely lacking in the gangness from what I'm seeing in this post. This book features 3 ladies that meet in some weird accident where 3 – 4 very different cons all fall on the same weekend at the same time all with the same acronym. When things start going wrong for all of them, they all bring the support that they could need – despite having just met.
---
What do you think? What are some of your favorite female-centric casts, sisterhoods, or gangs? How are you celebrating Women's Day? Let's discuss in the comments below!