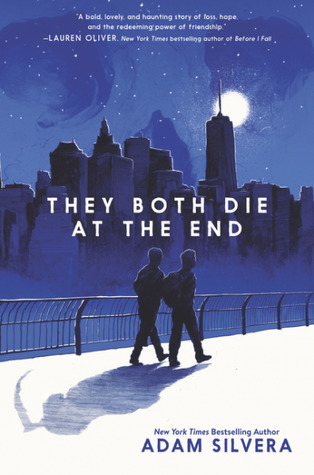 Title: They Both Die at the End
Author: Adam Silvera
Pages: 373
Release Date: September 5 2017
Publisher: HarperTeen
Format: Hardcover
Genre: Contemporary
Goodreads Rating: 4.15 (of 44,453 ratings)
  

Book Princess Reviews receives a percentage of commission from purchases you make after following Book Depository links on our site.

On September 5, a little after midnight, Death-Cast calls Mateo Torrez and Rufus Emeterio to give them some bad news: They're going to die today.
Mateo and Rufus are total strangers, but, for different reasons, they're both looking to make a new friend on their End Day. The good news: There's an app for that. It's called the Last Friend, and through it, Rufus and Mateo are about to meet up for one last great adventure—to live a lifetime in a single day.

This isn't important to the review, but you need to know (okay, I want you to know) that my copy of They Both Die at the End has the Book Scent™. I don't know how many times I stopped reading to hold the pages up and full on inhale. (I just did it again, I'm shameless.)
📌 This book was good. 
(just good. which isn't bad and that's, you know, good)
I slipped easily into a version of New York* where between midnight and 3 AM, the Death-Cast company alerts people of their impending death. Death-Cast made sense, like any day the company could introduce its product and yeah, we would be getting these calls.
*Yes, I mean New York, because the book didn't describe or explain worldwide effects of Death-Cast. Which was fine, because 1) this isn't a fantasy book about Death-Cast this is 2) the story of how THEY both die at the end. AKA a character motivated novel.
📌 They Both Die at the End is very clear. Our two main characters will die and the book is all about living life. Mateo and Rufus use their last day to discover who they wanted to be and what is important. They ask questions about the afterlife and experience thrills they were too scared of to try before. For its theme on embracing life, TBDATE is an important read.
meanwhile.
meanwhile.
(meanwhile.)
📌  Silvera's clipped writing style and habit of listing facts over reactions reduced the emotional impact of most scenes for me. As one example, Mateo goes to see his best friend for the last time. He decides not to tell her he's going to die, but wants to be in her presence.
"How's your dad doing?" Lydia asks.
"Stable. I keep hoping for one of those TV miracles where he hears my voice and snaps awake, but that obviously didn't happen. (…)." It's crunching my insides talking about this. I sit beside the playpen (…) and bounce [stuffed animals] toward Penny before tickling her. I'll never have any moments like this with my own kids. 
"I'm sorry to hear that. He'll pull through. (…)"
"Probably. Penny's done with her bottle. I can burp her."
Mateo just visited his father, who's in a coma. Mateo is now talking to his best friend, while holding a child he won't see grow up. These are a bunch of really emotional moments. But I read through like Mateo was chatting about the weather. It would have helped so so much if there was more showing, and if sentences weren't always so clipped.
"Your dad will pull through from this coma." "Probably. I'll burp the baby now." Like/????
📌 I personally did not experience any great revelation or feel anything powerful with this book. I read it and then I finished it (and it smelled good the whole time, thanks). But I'm able to step back and be like, "Okay, but you're maybe just an emotionless black hole so assess those priorities."

rating: 4 crowns
representation: puerto rican rep, cuban-american rep, bi rep
content warnings: discussions of death, overall tone is optimistic, no graphic content
Does the writing style affect your like/dislike of a book?
| add me as a friend on Goodreads! |