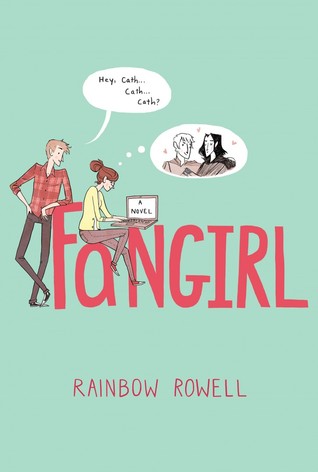 Title: Fangirl
Author: Rainbow Rowell
Pages: 483
Release Date: September 10 2013
Publisher: St. Martin's Press
Format: Hardcover
Genre: Contemporary / New Adult
Goodreads Rating: 4.09 (of 464,726 ratings)
---
  

Book Princess Reviews receives a percentage of commission from purchases you make after following Book Depository links on our site.
---

Cath is a Simon Snow fan.
Okay, the whole world is a Simon Snow fan..
But for Cath, being a fan is her life—and she's really good at it. She and her twin sister, Wren, ensconced themselves in the Simon Snow series when they were just kids; it's what got them through their mother leaving. Reading. Rereading. Hanging out in Simon Snow forums, writing Simon Snow fan fiction, dressing up like the characters for every movie premiere.
Cath's sister has mostly grown away from fandom, but Cath can't let go. She doesn't want to.
Now that they're going to college, Wren has told Cath she doesn't want to be roommates. Cath is on her own, completely outside of her comfort zone. She's got a surly roommate with a charming, always-around boyfriend, a fiction-writing professor who thinks fan fiction is the end of the civilized world, a handsome classmate who only wants to talk about words… And she can't stop worrying about her dad, who's loving and fragile and has never really been alone.
---

I was nervous going into this re-read. I did a re-read of Attachments early last year and it wasn't a pleasant experience for me. The romance was lackluster, the pacing was s-o s-l-o-w, and I couldn't connect to any of the characters. BUT IF THIS WASN'T A WHOLE OTHER EXPERIENCE, I DON'T KNOW WHAT IS. 
Cath's social anxiety is beautifully described on the page. NO, not described, experienced. The way she closes herself in her dorm room for the first month of university to avoid going into the lawless cafeteria scene is both realistic and just (wow) so real. YES I said real in two different ways, I just couldn't with that whole scene because I felt it so much.
In new situations, all the trickiest rules are the ones nobody bothers to explain to you. (And the ones you can't google.) Like, where does the line start? What food can you take? Where are you supposed to stand, then where are you supposed to sit? — Fangirl, Rainbow Rowell
I probably went into my CEGEP cafeteria (pre-uni, post-high school) about three times, and it was pure terror. I could never look up from my food, and my skin felt on fire the whole time. Actually seeing this experience depicted in a book … it was really validating, let me tell you.
(I lived on power drinks, not bars; faster to consume.)
Rowell kind of really nailed how teens (or young adults, since we get a mix in this book) speak without filter. I have met so so many Reagans in my life who love you unconditionally but also make comments that can unintentionally hurt. By the end of Fangirl I was a huge Reagan lover, BUT at the beginning, the way she spoke to Cath? And not to mention Levi too? Not really okay.
For example. I loved that Reagan took Cath under her wing in the whole upperclassman/freshman dynamic. The way Reagan phrased it as "you're pathetic so I can't leave you alone" over and over though, um. If someone said that to *ME* in the worst of my anxiety phases it would have absolutely wrecked any self-confidence I had left.
(Had to get that off my chest.)
SORRY if this review is sounding mixed! Because I actually (surprise!) really loved Fangirl. Let me count some ways:
💻 The allusions to Harry Potter in Gemma T. Leslie's Simon Snow series. So sneaky.
💻 The praise for fanfiction and its writers! (which is where many authors have their roots!)
💻 The slow-build on Cath's romance and the absolute adorableness. Fangirl shows how you don't have to absolutely L O V E everything your significant other does to date them. It's about the person, how you two vibe together.
💻 All, just all the representation of mental illness and how it affects children and parents and families as a whole.
Am I glad I did this re-read? UH, yes. Very much so. I need to stop distrusting my past self's opinions on books, because Past Sha actually had some good ideas on things.
---

I'm thinking, I'm thinking, I'm leaning towards a 4.5 crown for this book. As I mildly complained about in this review, the way Reagan talks down on Cath's behaviour did bother me. Also, Cath looks down on her behaviour as "crazy." Considered all the other very positive mental health rep in this book, I'm surprised her final summary was "I'm just crazy" but *shrug*. She accepts who she is, the people around her accept who she is, and I found that very important.
Have you read Fangirl? What character in Harry Potter was Agatha supposed to allude to because I CANNOT TELL.