If you thought movie producers were going to drop amazing book-to-screen adaptions like To All the Boys I've Loved Before and Dumplin' then just LEAVE US HANGIN' you were wrong. We were wrong. There is just a lot of wrong. Because 2019 is setting up to be the year of *screaming endlessly for* book releases and keEP YOUR eyES PEELeD movie adaptations. 
Basically: there's really no reason to love anything other than YA anymore, because we can just live and breath young adult now. It's a YA world after all.
*and i'm not mad at it
---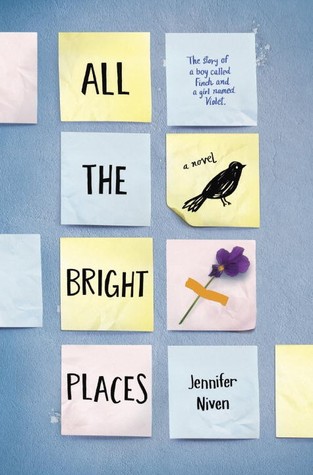 ALL THE BRIGHT PLACES, Jennifer Niven
NETFLIX, 2019
Theodore is fascinated by death. Violet lives for the future. When the two meet on the ledge of the bell tower at school, it's unclear who saves who. It's only with Violet that Theodore Finch can be himself. But as Violet's world grows, Finch's begins to shrink.
🎫 STARRING: Elle Fanning, Justice Smith, Alexandra Shipp, Keegan-Michael Key
🎫 FUN FACT: Elle Fanning signed on to the project before the book even published (all the way back in 2014)!
🎫 OUR THOUGHTS: To be honest, I'm not too sure about this one. I never really had a desire to pick this book up, and when I just reread the summary, I saw buzzwords like Rainbow Rowell and John Green, and I'm scared. I then started reading some reviews, and people point out important issues regarding mental health rep that scares me even moreeeeee. Definitely super hesitant about this, and I'll probs be skipping.  – MANDY
---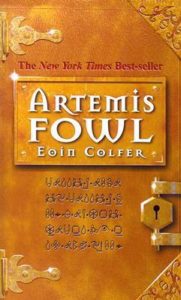 ARTEMIS FOWL, Eoin Colfer
THEATRES, August 2019 | TRAILER
Twelve-year-old Artemis Fowl is a millionaire and a criminal mastermind. But even he doesn't know what he's taken on when he kidnaps a fairy.
🎫 STARRING: Ferdia Shaw, Judi Dench, Josh Gad, Hong Chau
🎫 FUN FACT: The movie adaptation should be covering the events of the first two Artemis Fowl books.
🎫 OUR THOUGHTS: Okay, Judi Dench + Josh Gad + Disney = me pretty sold. However, I remember these books when I was a kid and looking at it on my elementary school shelves and having a firm NO marked on it in my head? I'm not entirely sure why? If child me said it was a no, I'm not sure how adult me will do with it? Definitely gonna have to rewatch this trailer again. Maybe something for streaming services. – MANDY
---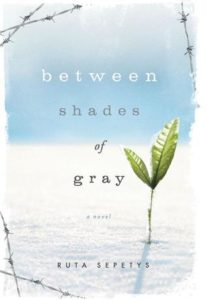 BETWEEN SHADES OF GRAY, Ruta Sepetys
SELECT THEATRES, January 2019 | TRAILER
Lina is like any other fifteen-year-old Lithuanian girl in 1941, until the night she, her mother, and younger brother are hauled off by Soviet officers. The family is forced to travel to the Arctic circle to work as labourers under Stalin's orders, in a Soviet effort to erase the undesirables of a proud society.
🎫 STARRING: Bel Powley, Jonah Hauer-King, Lisa Loven Kongsli
🎫 FUN FACT: The movie is titled "Ashes in the Snow" because of the unfortunate association of the original book title ("Between Shades of Gray") with the book "Fifty Shades of Gray."
🎫 OUR THOUGHTS: I read this book (and re-read it last year) and get emotional every time I think of what Lina and her family went through. I know there will be tears and really tough scenes when I watch this movie, but I can't wait till the movie is streamed to Canadian/US audiences.  — SHA
---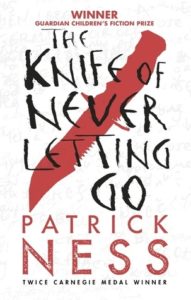 THE KNIFE OF NEVER LETTING GO, Patrick Ness
THEATRES, March 2019
Todd Hewitt is the only boy in a town of men, able to hear the thoughts of others and about to go officially become a man in a month's time. When something awful happens, Todd chooses to flee, and comes across a girl: the first he has ever seen. A creature he was told could no longer exist.
🎫 STARRING: Tom Holland, Daisy Ridley, Mads Mikkelsen, Nick Jonas
🎫 FUN FACT: The movie adaptation is titled "Chaos Walking," after the name of the book trilogy. Daisy Ridley joined the cast because she's a fan of the books. Despite the all-star cast and $100 million budget, there is still no official trailer for the movie dropping in less than two months.
🎫 OUR THOUGHTS: I first came across this book during a Young Adult Literature class. Ness' writing style is so distinct and he has a unique way of examining war, gender, masculinity and native peoples in the Chaos Walking series. The magnitude of the social issues in this book, coupled with the fact that actual *telepathy* happens, makes me super nervous for how this will translate to the big screen. —SHA
---
EAT, BRAINS, LOVE, Jeff Hart
THEATRES, Unknown
Jake Stephens was an under-the-radar kind of guy until he got a weird stomach bug and turned into a zombie in the middle of his school cafeteria, devouring half the senior class. At the same time, insanely popular Amanda Blake turns zombie too, and now the pair are racing across country for answers with a teen psychic on their trail.
🎫 STARRING: Jake Cannavale, Angelique Rivera, Sara Yarkin
🎫 FUN FACT: Despite wrapping production back in December 2017, this movie still has no official release date.
🎫 OUR THOUGHTS: The narrative in Eat, Brains, Love is unique and I liked reading it (I think I did a re-read in 2018, but can't find any review.) But this is a lot less Warm Bodies and more zombie road trip with a weird love triangle you just can't put your finger on. I would need the screen adaptation to tighten up some character points if I'm going to truly enjoy. —SHA
---
FIVE FEET APART, Rachael Lippincott & Mikki Daughtry & Tobias Iaconis
THEATRES, March 2019 | TRAILER
Stella Grant likes to be in control. So does Will Newman. Both cystic fibrosis patients, their greatest difference is Will's desire to be free of hospital rules. The only way to stay alive is to stay apart. But it doesn't feel like safety. It feels like punishment.
🎫 STARRING: Haley Lu Richardson, Cole Sprouse, Moises Arias
🎫 FUN FACT: The book and the film were written in tandem. Five Feet Apart was always intended to become a movie!
🎫 OUR THOUGHTS: Ummmmmm ummmmmmm. I love the cover. For sure. It just gives me way too many Fault in Our Stars vibes, and I disliked that book greatly, so I just…yeah, it's a no from me. – MANDY
---
STARGIRL, Jerry Spinelli
DISNEY STREAMING SERVICE, 2019
Leo Borlock follows the unspoken rule at Mica Area High School: don't stand out. Then Stargirl arrives and everything changes. The delicate scales of popularity shift and Stargirl is shunned for what makes her different.
🎫 STARRING: Grace VanderWaal, Graham Verchere, Giancarlo Esposito
🎫 FUN FACT: Grace VanderWaal won season eleven of America's Got Talent for her singing (often accompanied by her ukelele playing). She's just turned fifteen this January.
🎫 OUR THOUGHTS: This book might have been my first DNF, all the way back in the fifth grade. Regardless, themes of alienation and acceptance are extremely relevant today. I just worry about A) casting choice (Grace VanderWaal can act?) and B) popularity on a streaming service that hasn't even launched yet. —SHA
---
THE SUN IS ALSO A STAR, Nicola Yoon
THEATRES, May 2019
Natasha and Daniel don't believe in fate, or destiny. They aren't dreamers. When they meet each other on the crowded streets of New York, they can only imagine what could be. Natasha's family is hours away from being deported. Daniel is trying to live up to his family's expectations. How can this be a time to fall in love.
🎫 STARRING: Yara Shahidi, Charles Melton, Jake Choi
🎫 FUN FACT: Charles Melton found out about the role of Daniel through social media! He contacted his reps and when he couldn't get the script right away, he binge-read the book. From that moment he knew Daniel was the part he was meant to play.
🎫 OUR THOUGHTS: Despite my love for contemporary, I have yet to read a Nicola Yoon novel, which seems completely out of character for moi. I always seem to see things about Everything, Everything, but this book sounds far more intriguing, and like I'm read for the emotions. I enjoy Yara Shahidi's acting, so I'm super ready to see the trailer and see whether or not I'll be feeling all the feels. – MANDY
---
AFTER, Anna Todd
THEATRES, April 2019 | TRAILER
Tessa is a good girl with a reliable boyfriend back home. But she's barely moved into her freshman dorm when she runs into Hardin. With his tousled hair, cocky British accent, tattoos and lip ring, Hardin is different from what she's used to. Despite the reckless way he treats her, Tessa is compelled to dig deeper.
🎫 STARRING: Josephine Langford, Hero Fiennes-Tiffin, Shane Paul McGhie, Samuel Larsen, Pia Mia
🎫 FUN FACT: After is adapted from Anna's series of Harry Styles fanfiction, published on Wattpad in 2013. After the fanfic gained hundreds of millions of views, she gained a publishing deal with Simon & Schuster.
🎫 OUR THOUGHTS: It feels rude to judge this book on its original Wattpad existence, but I have to be true to myself and admit I read After (and skimmed After 2) on the site back in '13. I'll just say it wasn't for me and leave it at that. If you're into 50 Shades, this one is for the YA audiences, for sure. —SHA
---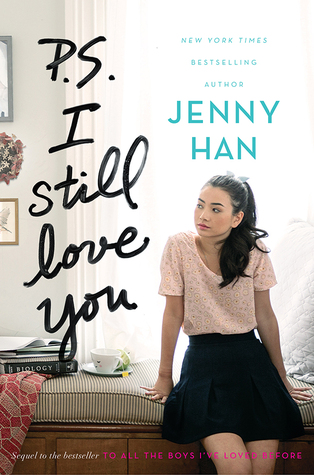 P.S. I STILL LOVE YOU, Jenny Han
NETFLIX, Unknown
Lara Jean didn't expect to really fall for Peter. They were just pretending. Now she's more confused than ever and a new boy from her past has returned to her life. Can a girl be in love with two boys at once?
🎫 STARRING: Lana Condor, Noah Centineo
🎫 FUN FACT: I mean, is there anything fans don't already know about this book-to-movie adaptation? We're kind of all on the edges of our seats.
🎫 OUR THOUGHTS: OH. Oh NO. I still haven't watched the first one or read the first one!! Well, at least the date is unknown so I have some time. *whooshes away to finally get on the rec that Sha gave me years ago* — MANDY
---
What book-to-film adaptation are you most excited for? How many of these books have you read?