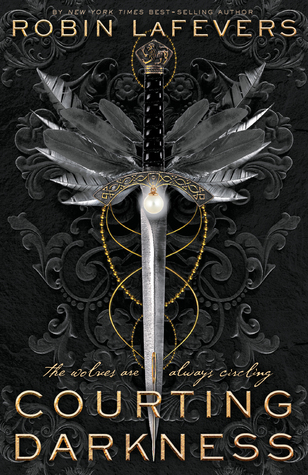 Title: Courting Darkness
Author: Robin LaFevers
Pages: 512
Released: February 5 2019
Publisher: HMH Teen
Format: Hardcover
Genre: Fantasy, Historical Fiction
Goodreads Rating: 4.23 (of 153 ratings)
---
  

Book Princess Reviews receives a percentage of commission from purchases you make after following Book Depository links provided on our site.
---

Death wasn't the end, it was only the beginning…
Sybella has always been the darkest of Death's daughters, trained at the convent of Saint Mortain to serve as his justice. But she has a new mission now. In a desperate bid to keep her two youngest sisters safe from the family that nearly destroyed them all, she agrees to accompany the duchess to France, where they quickly find themselves surrounded by enemies. Their one ray of hope is Sybella's fellow novitiates, disguised and hidden deep in the French court years ago by the convent—provided Sybella can find them.
Genevieve has been undercover for so many years, she struggles to remember who she is or what she's supposed to be fighting for. Her only solace is a hidden prisoner who appears all but forgotten by his guards. When tragedy strikes, she has no choice but to take matters into her own hands—even if it means ignoring the long awaited orders from the convent.
As Sybella and Gen's paths draw ever closer, the fate of everything they hold sacred rests on a knife's edge. Will they find each other in time, or will their worlds collide, destroying everything they care about?
---

Disclaimer: I received this ARC courtesy of HMH Teen. I am grateful for the opportunity to review an ARC for my readers, but this will not influence my final rating. All opinions expressed in this review are my own and based solely on the book. 
Triggers: there was an act of the MC forcing herself to throw up at one point. It wasn't used in regards to bulimia, but I wanted to mention in case since it could be a trigger. 
This book broke my head. I honestly am still kind of just staring it, trying to figure it out, and how exactly it broke me, but I kind of just sit there AND KEEP BEING BROKEN.
Ever since I had heard of this book's existence, I am been screeching/crying/fangirling/crying/screaming from the rooftops about it/EVEN MORE CRYING. Grave Mercy is my all time favorite read, and the chance to dive into the wholly unique, captivating, and female dominated/empowering world again? I have been living for this moment, and when I was finally able to grab a copy at Yallfest from the glorious Robin Lafevers herself? I certainly needed Mortain's help.
This book…I'm still a bit confused on how I feel about it fully. It's unlike a lot of the previous books. Half of the time, we in Sybella's world, dealing with the aftermath of actions taken to help say Brittany in the end of the 3rd His Fair Assassin book. There is still drama, treachery, and meddling nobles at every turn as Sybella deals with the new reality of having loved ones near. Then we have a new character, Genevieve, who has been left idle and lost, having been removed from the convent to be sent on a mission that never came. When she happens upon a prisoner hidden away, things certainly go from there.
As I mentioned, it's a bit different having two MCs for a Lafevers book, but she certainly made it interesting. Sybella and Genevieve are both messy, complex, and incredibly strong heroines. They are realistic and dramatic and complicated, and they make a lot of frustrating, messy decisions – but they're real. They're human. They're surviving in a world that is determined to see them struggle, and both of these girls are incredibly easy to root for. Lafevers doesn't paint perfect girls – instead she gives us heroines that are just what we need even when they make mistakes.
Sybella is the same Sybella she was in the first book, and even though she is a bit of a better place, Robin kept her characterization so realistic in how she would react instead of just painting rainbows and sunshines on her. Genevieve was interesting, and I clicked with her instantly. She has no time for any nonsense, and she has definitely cemented her place in the hall of fame of our St. Mortain girls.
The writing was, of course, flawless. Lafevers always makes complex things interesting and easy to follow. Her writing wholly immerses you in a land of history and magic, and I just sit there, fully convinced I'm in Brittany and France back in the day. Seriously, Lafevers always make historical fiction with a hint of fantasy so divine.
There were a few parts that I did get bored, because the pacing was a bit slow in parts. It's a massive books, and sometimes, I just wanted to get my hustle on. And I did have a gripe that the entire book felt like a setup for the next? It seemed like we gathered a ton of problems in this book, and then…nothing really happened until the last few minutes and then it was all gone??? Trust me, you'll be aching for the next book ASAP.
As usual, these books never need romance, but the moments that Lafevers puts in are always wonderful. I definitely feel like there were less in this story than in previous ones, but it worked best to let these amazing MCs shine on their own with ALL the drmaa they had. Sybella and Beast were forever goodness. And I really vibed the new ship with Genevieve and her love interest.
The plot was interesting. I've been trying to figure out if you need to read His Fair Assassin (all 3 books) before or not you read this. There are a lot of nuances and mentions that are done in this book that I'm not entirely sure how well it would translate to those that didn't read the original series. As I mentioned, it takes right up after the 3rd book so there is some complexities to it that might be a lot to take on without prior knowledge. It's still twisty and turny and goodness, but it does have slower moments. I did prefer Genevieve's storyline because it was so intriguing, but Sybella's did have some wholly captivating moments.
---

Overall, this was a good story, but it wasn't quite the story I was looking for. Maybe too high expectations again? It's dark and complex and intense, but I don't expect anything less from Lafevers. I struggled a bit with pacing and the fact that we kept gaining new problems without much fixing them. However, it was amazinggggggggggg to be back in this world, and Lafevers can do no wrong with her talented world building and forever empowering cast of flawed heroines. 4 crowns and an Ariel rating!
So, what do you think? Have you read this series? Are you excited about this? Let's discuss in the comments below!