We're bringing back one of our favorite series for a very special holiday edition! That's right – we're discussing how YA lied to us especially regarding the Christmas season. Even though I haven't read much, I've certainly seen a few tropes continuously pop up and not bringing me much cheer so YA GIRL HAS YET TO HAVE THIS HAPPEN TO HER. So, shall we count the ways YA failed me in the holiday department?
Myth #1: The Mistletoe of Non-Kissing
Like, does anyone actually have mistletoe in their house?? And in strategic places?? Or just have it ready to go in your pocket to bring it out for impromptu kisses?? I've never even seen mistletoe. And honestly, the real question is why do you have it in your house other than for just the right occasion for two YA characters to meet under it and have their perfect first kiss. Because like what happens when you accidentally wander under it in the annual family party and now you're standing under it with your great aunt Marge, and like THIS ISN'T YA MATERIAL. I ain't never see no mistletoe let alone had a chance to have meet a random boy under it. ALSO, where is this random love interest coming from? If a random man appears in my house, I'll be calling the cops instead of having a romantic meet cute.
Myth #2: The Kiss of New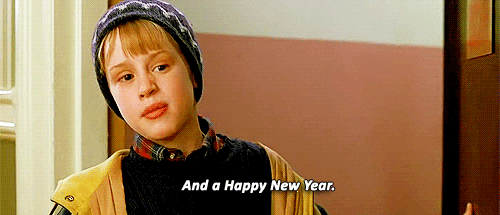 While we're speaking of kissing, we might as well talk about the grand ole New Year's Kiss. Okay, this is quite plausible. I'm sure quite a few people go out for a good New Year's party (but um, I mean, WHY when you could use this extra time to celebrate in the new year to get ahead on your Goodreads goal???). And usually at a New Year's party, you'll meet some new people and have a grand time and perhaps find a cute new love interest that could make your heart go pitter patter while you in some cheesy 2019 glasses. And then, when the clock strikes midnight, there is always a New Year's kiss.
Me? I've never had a chance to even go to a New Year's party. I think once I was aksed over to my friend's house but I declined because like I'm usually asleep by like 10 and driving can be the danger since everyone getting toasted as they toast. Anyway, there was no prospect of the kiss anyway. But like, I find the whole premise of this sketch?? Like, I don't want to be kissing a stranger because like you don't know this strange. WHAT IF THEY HAVE CHICKEN POX. OR PINK EYE. OR DARESAY A COLD? AND NOW YOU GOT THIS COLD. AND YOU ARE MISERABLE.
Myth #3: The Entire Premise of the Stories of Let It Snow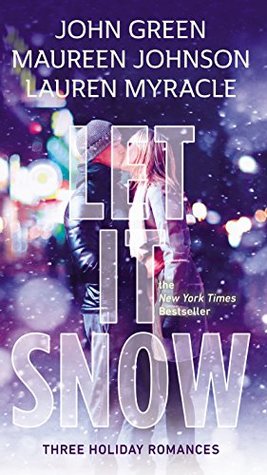 After all, a cold and wet hike from a stranded train through the middle of nowhere would not normally end with a delicious kiss from a charming stranger. And no one would think that a trip to the Waffle House through four feet of snow would lead to love with an old friend. Or that the way back to true love begins with a painfully early morning shift at Starbucks.
Above, you can see the 3 meet cutes that are in the book Let It Snow. Like, okay, they sound intriguing and adorable but Christmas cuteness, but let us go through the ways that YA is totally lying to us.
HIKES AND MEETING STRANGERS ARE MOST LIKELY STRANGER DANGER. I have never had a stranded train nor a cold and wet hike, but if I did, I don't believe I would end up with a delicious kiss with a stranger because this is concerning??
Why. Why is the Waffle House this important to walk through snow. I get waffles can be the jam, and like, what are the chances that you shall run into an old friend? The only place I have ran into an old friend was on Facebook and he refused to answer me after our second message on Facebook (leaving me hanging on what it UP with him), so…okay, maybe I do need to try some Waffle Houses???
Okay. I can get behind this. You can develop some greatness with regulars. I once bounded with a man over the counter of the retail store I was working at, and there was some magic flowing until, well, he talked a little too excitedly about the stuffed animal he was buying.
Truth #4: The Crazy Family Drama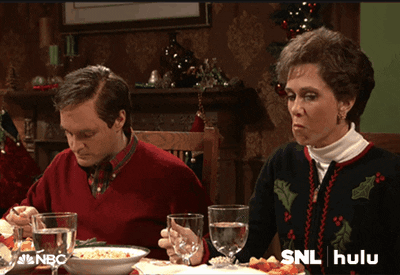 This is 100% true. I have the crazy family, and while not all of them involve giant blow-ups, there has been many a few of craziness and drama and weirdness. I can get behind that. FINALLY. YA BE BRINGING THE TRUTH.
What do you think? What is some ways that YA has lied to you – especially regarding the holidays? Let's discuss in the comments below!