2019 is coming, and it's time I do a little shaping up on my TBR. There is a certain way that I like to keep my books, and I like to prepare for the next year of releases so I can keep track of when I need to prepare myself for a highly anticipated book so I don't accidentally preorder a book that is coming out in November with another preorder for March and other items.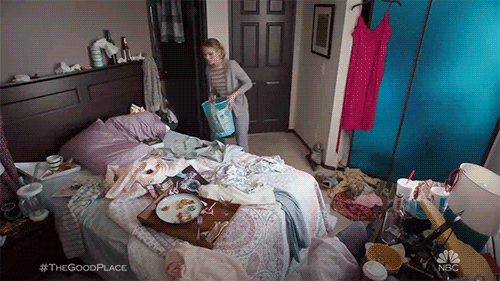 If  you're like me, you tend to keep your TBR set up on Goodreads. I have all of my books that are on my physical TBR set up on there as well as all the books that I am eager to read that are still coming out or books from the past that I want to read. If you don't have a Goodreads yet, I strongly recommend getting one, since it makes keeping track of your books super easy.
I figured while I was doing a complete overhaul of my Goodreads shelves for the year, I would share some of my strategies on how to reduce your overflowing TBRs and get yourself ready for all 2019 book reading.
---
Step #1: Clean up your TBR
The first and foremost step is to go through your TBR. The first time that I did this I thought that you could just clean up your TBR as you were chugging along and adding the shelves, but I found that I was adding a lot of pointless books to my shelves because I wasn't paying attention to what I was adding and hadn't done a proper cleanup.
So, first up: go through all the books that you have on your "to read" shelf…and probably wallow in a little shame since this is my current amount:
Okay, okay, 411 isn't as BAD as I was thinking it was going to be, so this is good??? I mean 411 is still a lot, but I mean, I was expecting it more to be more like the 1126 number, so we're already off to a great start.
So, let's get with the TBR cleaning!
So, these are the first four items on my shelves. There were a couple of different items that I looked at when I was crossing and keeping items on my shelves. Out of the 4 books, I plan on keeping 2 and getting rid of 2.
Here are some of the criteria that led me to these decisions:
For Keeping –
If

it's actually on my bookshelves

, I plan on keeping it since it obviously on my shelves and I wanted it for a reason.

However, there were a few books that I did purchase for crazy reasons (on sale!! i saw it recommended once!! it was cheap!! i was in a book buying mood!! i needed free shipping!!) so I mean, do revisit those books again but the above books are books I still want to read.

They

actually still sound interesting

. For Museum of Heartbreak, it sounds like adorable, cheesy goodness so all the yessssssssssss. For Labyrinth Lost, it's about brujas being brujas and I need alllllll of that in my life.
Museum of Heartbreak was already on my list of books to be read (I mean, it's been there since 2016 :O), but I did end up reading

another Meg Leder book this year that I super enjoyed

and I was

recommended

this book by Sam @ We Love and Breathe Books so it's definitely staying.
For Ditching –
A Week of Mondays
Since I know I'm a book hipster mess, I do

look at the ratings

. A Week of Mondays has a 3.88, which isn't a bad rating but any means, but it is something that I took into consideration.
The other issue that I had is that A Week of Mondays is

relatively unknown

. I believe that I've only ever seen 1 review of it in the book blogging world. I haven't seen it on any other book blogs; on Book Twitter; or Bookstagram. I don't see it easily accessible at my library or anywhere else. I do base a lot of my book reading based on other people's recommendations that I know and trust, so if a book is really not popping up, I will admit to not trusting it as much. (Which sadly makes me miss a huge amount of underrated books.)
Also, the

summary doesn't quite strike me as much as it once did

to get me to add it. It just sounds…meh?
The Rose in the Briar
Well, this book sounded amazingggggggggg. It had a super cool concept and was based on fairytales, so I mean, Total Mandy book. However, the issue is this book

has been on my TBR since 2016, and there is STILL no information about it

. It's just sitting there vaguely in space. So it's time to let it go.
Other tips when kicking books off your TBR:
If it's been on your TBR for at least a year

and you haven't made any kind of commitment to try and pick it up – looking for it at the bookstore, looking at it at the library, putting it on your wishlist, or trying to find deals for it – I say it's time to take it off.
I find a lot of these books that are on my TBR are because I was in the mood. There was a period in my life that I was looking at adult mysteries as the answer to my book life. However, now adult mysteries sound basically the same, and I'm not vibing this at all.

If you're a mood reader, do be careful to make sure you keep enough variety of books on your TBR

to fit your next bout of mood reading feels, but make sure to get rid of those books that you really really can't imagine trying to read.
---
Step #2: Add Your 2019 Shelves
When I told Sha about my 2019 plans, I'm pretty sure I blew her mind. She was like you are doing WHAT? And I responded, being my extra self, but somewhat useful this time!!
I create next year bookshelves for a variety of reasons – and here's the sales pitch on why it could be useful for you too:
I am able to easily go to a shelf to see what ARCs I need to read first

, what ARCs are coming up to request, and what books I should pick from for my CWWs. I try to do a lot of my ARC requests in binging, so I easily just go to my early 2019 shelf to see what I should be asking for now instead of accidentally requesting a book that is coming out in December 2019 when they most likely will not have ARCs for yet.
Also,

it saves me some sadness when I go to put books on hold in the library

. Back in the day, I would go through my shelves all the time when I was getting ready to go to the library to see what I could pick up there at the ready or put on hold – only to be severely disappointed when I realized that the was still four more months to wait for when I was super excited about the book I picked. Same for book shopping because you're creeping through Book Outlet or have a great coupon.

Also, for preorders

. I can't tell you how many times I'm trying to get a preorder done and then accidentally try to preorder a book that is coming out at a widely different time. The disappointment is so real when you accidentally preorder a book for March and then also one for November.
I have mine separated out by early 2019 (Jan – March), spring 2019 (April – May), summer 2019 (June – September), and late 2019 (the rest of the year). This way, I can easily pick through.
---
So, what do you think? Are you planning on doing a winter cleaning? How do you shelf your books? Let's discuss in the comments below!