Can't-Wait Wednesday is a weekly meme hosted by Wishful Endings to spotlight and discuss the books we're excited about that we have yet to read. Generally they're books that have yet to be released. It's based on Waiting on Wednesday, hosted by the fabulous Jill at Breaking the Spine.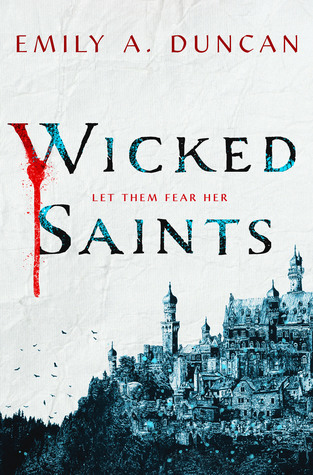 ---
A girl who can speak to gods must save her people without destroying herself.
A prince in danger must decide who to trust.
A boy with a monstrous secret waits in the wings.
Together, they must assassinate the king and stop the war.
In a centuries-long war where beauty and brutality meet, their three paths entwine in a shadowy world of spilled blood and mysterious saints, where a forbidden romance threatens to tip the scales between dark and light. Wicked Saints is the thrilling start to Emily A. Duncan's devastatingly Gothic Something Dark and Holy trilogy..
---
I'mma just list all the reasons I am hype for this book because I'm not sure I can explain it in full and articulate sentences:
monstrous secrets
prince in DANGER
girl speaking to GODS
assassins?????
literally the name of the seriessssssssssss
jaoiwagtreilatnewlkngaelkgr LITERALLY THE ENTIRETY OF THIS ENTIRE SUMMARY
that cover, please and thank you
*whispers* Polish setting
What do you think? Is this on your book TBR as well? What books are you waiting for this week? Let's discuss in the comments below!