Top Five Tuesday is a weekly meme hosted by the lovely Shanah @ Bionic Book Worm.
There's snow on the ground, I can't leave the house without a coat and hat and mitts and scarf and boots (*silent sob*), alright, it's time to admit: it's winter.
Here are my top five picks for winter reads, which you better bet I'll be ready from the warmth and safety of three layers of blankets with a cup of hot chocolate in hand. Thanks Mandy, for helping me out with this one, because unsurprisingly I, a huge avoider of the winter season, had practically no cold weather reads!
---
[1]
Any Boy But You, Julie Hammerle
Click cover for Goodreads info. Click here for my review.
This book is literally feeling allllllll the winter feels. It's set in the town of North Pole. North. Pole. Tell me what is more Christmas and winter than that? The town is based alll on Christmas, and the story revolves around two competing stores with a Romeo and Juliet love story. I read it in January, but trust me, I was wishing I read it in December.
[2]
The Bear and the Nightingale, Katherine Arden
Click cover for Goodreads info. Click here for my review.
I feel like this entire book just screams WINTER. Winter, winter, winterrrrrrrrrrrrr. I honestly felt cold reading this book. Everything was snowy and cold and MORE SNOWINESS. It certainly will bring you to a cold winter night and make you want to find a warm fire STAT. Plus, I think there was like a Winter King character???
[3]
Kringle, Tony Abbott
Click cover for Goodreads info. Review coming December 2018.
I think this book is my major highlight of the holiday season. Elves and magic and goblins and a young, orphan boy tasked with saving the world? This book has that magical feeling that Christmas had for me when I was a young child growing up, and I always get that night-before-presents tingle when I open the cover.
[4]
The Prince in Disguise, Stephanie Kate Strohm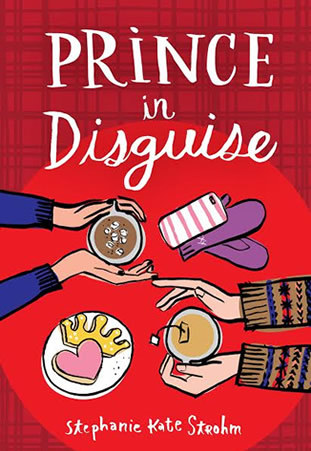 Click cover for Goodreads info. Click here for my review.
Strohm always brings the adorableness and cheese, and a castle in Scotland? It totally screams winter and Christmas. I can't quite remember allllllllll the details, but I'm pretty sure they were here in winter time, because I remember the main character trekking somewhere in the snow. Plus, does that cover not scream Christmas and winter coziness???
[5]
How the Grinch Stole Christmas!, Dr. Seuss
Click cover for Goodreads info.
If I don't read this book at least once during the holidays, my winter is not complete. With the hustle of everyone holiday shopping and freaking out over getting the best gifts and seeing family and looking their best, the Grinch keeps me feeling grounded. (Which I doubt he intended but there you go, it would seem the character I most relate to is the Grinch.)
---
What is your winter must read? Am I alone in my "run from the snow" mentality?