Okay, okay, there is now snow on the ground and fall is feeling faaar out of reach. But when Siobhan tagged us in this super innovative fall tag, Sha and I felt there was no other choice but to cling to the remnants of vibrant leaves and cool breezes. Click HERE to see Siobhan's answers to the tag!
---
1. Crunching leaves | Pick a book that has reds, yellows, and oranges on it
MANDY: When Dimple Met Rishi by Sandhya Menon
SHA: Throne of Fire by Rick Riordan.
2. Cozy sweater | It's finally cold enough to wear warm, cozy clothing. What book gives you the warm, cozy feelings?
MANDY: Love a La Mode by Stephanie Kate Strohm. I don't usually like cheesy, adorable books in fall/winter, but this totally was the cuteness I needed. 
SHA: Twenties Girl by Sophie Kinsella. The spirit of Lara's great-aunt appears and demands that Lara find a missing necklace. The pair go through a bunch of misadventures and endearing bonding. It's a nice story that leaves you feeling watched over by loved ones who've passed on.
3. Fall storm | The wind is howling, and the rain is pouring. Pick your favorite book or genre to read on a stormy day
MANDY: Any ghostie books. Bring me a paranormal book with some creepiness and ghosties and I'm alllll down for it. 
SHA: If it's storming, I love to pull out a mystery/thriller. Things in the line of Dangerous Girls by Abigail Haas, The 7 ½ Deaths of Evelyn Hardcastle by Stuart Turton, and Where They Found Her by Kimberly McCreight.
4. Cool, crisp air | What cool character would you like to trade places with?
MANDY: Oh gosh, I dunno???? Most main characters have a lot of struggles, and like, I'm good with being chill?? Ummmm maybe Amelia from Stay Sweet. Making ice cream in a feminist ice cream business sounds pretty amazing.
SHA: Josie Moraine from Out of the Easy. Josie is determined, caring, and basically everything I aim to be be times ten.
5. Hot apple cider | What is an under-hyped book that you want to see be the next big thing?
MANDY: So, so many! It used to be Grave Mercy, but I feel like a lot of people have started popping out of the woodwork with the love. I definitely would like to see more hype for The Brilliant Death by Amy Rose Capetta, featuring two genderfluid main characters with magical mafia.
SHA: This is tough, because I don't think I've come across many under-hyped books. I would say Dare to Disappoint: Growing up in Turkey, an autobiographical graphic novel. The art is super great and the story told is both informative (about Turkey's education system and government) and personal. 
6. Coats, scarves, and mittens | The weather has turned cold, and it's time to cover up. What's the most amazing book cover you've seen this year?
MANDY: You Must Not Miss by Katrina Leno. It's basically my entire life aesthetic. 
SHA: The Light Between Worlds by Laura Weymouth. I don't like winter, but I liked that winter cover.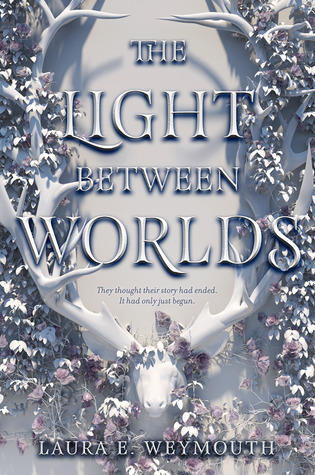 7. Pumpkin spice | What's your favourite fall time snack to eat while reading?
MANDY: No snacks. NO drinks. NOTHING. NOTHINGGGGGGGG. I must keep the books pristine.
SHA: I don't like snacking while eating! But if it's cold, I might drink hot chocolate.
8. Warm, cozy bonfire | Spread the warmth! Who are you going to tag?
Since fall is coming to a quick close, we won't be tagging anyone in this post. But if you want to get in some last minute autumn feels, feel free to take on this post and let us know so we can see your answers!
---