We've got an anniversary coming up later this week, and, well, the anniversary has nothing to do with us but as Disney princess lovers, it is our duty to celebrate the great and powerful anniversary of…M O A N A  R E L E A S I N G!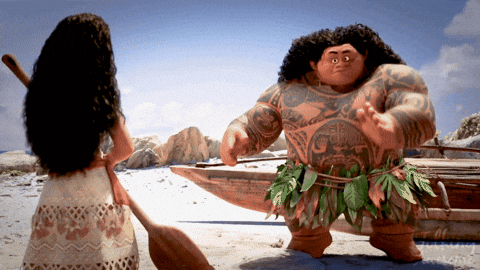 While Sha wasn't the biggest fan of Moana (LE GASP, I KNOW), Mandy hails Moana as one of the Holy Grails of Disney…and movies all around. Moana brought us a fierce, powerful heroine who is strong physically, emotionally, and mentally. Her storyline is intriguing, captivating, and we have fun and funnies along with the emotional (Mandy straight up cried twice in theaters and she's still not okay). So, Mandy thought what better way to celebrate Moana and her release than with a tag, and she set off to see how far she would go to create one…only to realize there were those that were voyagers before her and she figured might as well go with one of those.
---
🌊 Where You Are – a book or series that brings you back to your roots
Mandy: His Fair Assassin. Grave Mercy, the first book in the series, was the first book that really got me into deep in the YA. It finally showed me there was other things in YA besides the same generic formula and creepy male love interests.
Sha: Anything by Elizabeth Chandler. Her books were some of the first YA that I really dove into. I did read YA before that, but for some reason Chandler's books just throw me back to my younger days.
---
🌊 How Far I'll Go – a book with a character who longs for more
Mandy: Teo from The Brilliant Death. She longs to be the head for her family and take her place, but since she's a female, she is forever stuck…until she changes her gender and goes on a magical quest.
Sha: Out of the Easy by Ruta Sepetys. Josie just wants to escape New Orleans and her mother's reputation to go to college and become something more. Sadly the nightlife (and sordid secrets) keep pulling her back.
---
🌊 We Know The Way – a book that showed you a part of yourself in a new light
Mandy: Letting Go of Gravity by Meg Leder. It finally felt me feel realized in a book format with how our brains worked and the anxiety.
Sha: A Danger to Herself and Others by Alyssa Sheinmel. It didn't entirely show me something I didn't know, but reminded me of the process of accepting a mental illness and how people around you may not always be understanding.
---
🌊 How Far I'll Go (reprise) – a book with a character who goes out to seek their destiny
Mandy: I feel like Narnia is an acceptable answer. So Narnia.
Sha: Into the Land of the Unicorns by Bruce Coville where the main characters goes to the land of the unicorns to claim her destiny of being the ruler of the unicorns. LOOK ME IN THE EYES AND TELL ME you don't want more books with unicorns. Why is this not happening.
---
🌊 You're Welcome – your favourite problematic character
Mandy: Elizabeth Frankenstein. I mean, she makes a not of lot so great decisions, but she was fascinating and intriguing and captivating.
Sha: Nina from Six of Crows by Leigh Bardugo. I know there are more problematic characters in that book and people will be all AND YOU PICKED NINA but nah man Nina's my fave she knows what she wants and she gets it and she's wonderful.
---
🌊 Shiny – your favourite book cover
Mandy: Saints and Misfits is still my all time favorite.
Sha: Damsel catches my eyes everytime. Mandy knows.
---
🌊 I Am Moana – a book with a character who accepts their fate
Mandy: I feel like a lot of these questions are like FATE FATE FATE and I'm like idk???? And um, um, um, I can't think of a single one, because I feel like it's a YA heroine/hero's job to rage against the YA plot machine???
Sha: The Two Princesses of Bamarre by Gail Carson Levine like WHY DID YOU ACCEPT WHYYYYY. But also sometimes the fight makes it worse so okay I get it but AHHH.
---
🌊 Know Who You Are – a book or series that is completely it's own
Mandy: Sawkill Girls. I've never read a book quite like it, and I'm not sure I ever will.
Sha: The Spy Who Haunted me By Simon R. Green. That book was very unique and that is all I have to say.
---
Since we weren't tagged, we're not going to tag anyone! However, if you like the prompts and Moana, feel free to tag yourself!
What are some of your answers to this? Is Moana a favorite? If not, who is? Let's discuss in the comments below!