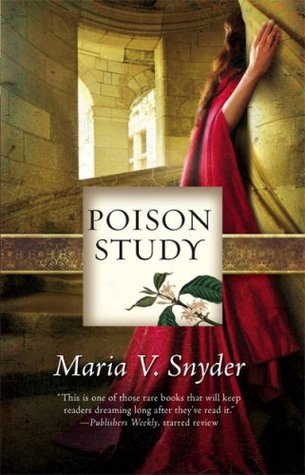 Title: Poison Study
Author: Maria V. Snyder
Pages: 409
Released: October 1, 2005
Publisher: Mira
Format: Paperback
Genre: Fantasy
Goodreads Rating: 4.15 (of 119,685 ratings)
Title: Out of the Easy
Author: Ruta Sepetys
Pages: 348
Released: February 12, 2013
Publisher: Penguins Books
Format: Paperback
Genre: Historical Fiction
Goodreads Rating: 4.05 (of 34,373 ratings)
---
Buy Now
  

Book Princess Reviews is a professional review site that receives compensation through affiliate programs (Barnes & Noble and Book Depository). We receive a percentage of commission from each purchase you make after following links provided on our site. Our promise to you is to always disclose affiliate links/buttons.
---
SUMMARY FOR POISON STUDY
About to be executed for murder, Yelena is offered an extraordinary reprieve. She'll eat the best meals, have rooms in the palace—and risk assassination by anyone trying to kill the Commander of Ixia.
And so Yelena chooses to become a food taster. But the chief of security, leaving nothing to chance, deliberately feeds her Butterfly's Dust—and only by appearing for her daily antidote will she delay an agonizing death from the poison.
As Yelena tries to escape her new dilemma, disasters keep mounting. Rebels plot to seize Ixia and Yelena develops magical powers she can't control. Her life is threatened again and choices must be made. But this time the outcomes aren't so clear.
---
REVIEW
Trigger Warning: this book contains disturbing and mild-to-graphic scenes of sexual assault. I do not recommend this book for anyone under the age of sixteen. 
Yelena has been held in the Commander of Ixia's dungeons for over a year, awaiting her execution, when she is offered a job as poison taster instead. The security chief assures her the job is not much of a step up, since she will be playing with death every day. This is not a huge exaggeration, since Yelena ends up dodging haunts from her past, assassins after the Commander, and exiled magicians. The plot drives forwards from the second she accepts the security chief, Valek's, offer. Yelena is not passive about her fate, either. Though she may be trapped within the Commander's palace, she learns as much as she can about poisons and trains her body in case a chance for escape comes.
Yelena's story takes place in the fictional land of Ixia, which shares its borders with the magic-rich Sitia. While Sitia is not explored too deeply in this book (beyond the author explaining the Commander's distaste for magicians and his wishes that the two lands remain separate), Ixia is described as a military land divided into military districts that are governed by generals and headed by the aforementioned Commander Ambrose. This take was interesting, particularly the "Code of Behaviour" that stipulates how citizens must act (ex: murder isn't accepted, even in self-defense, and people must apply for formal papers if they wish to move, or build a house, or even travel). I will say that some world-building aspects in Poison Study clashed with the notion of a military-driven government (and ultimately made it hard to place the time period or create a rounded image of Snyder's created universe). For example:
Commander Ambrose's palace is equipped with the "luxury" of heated water tanks placed one floor above the tanks. When a chain is pulled, water cascades down on the bather's head. (A shower?)
The chef in the palace "creates" swirled pastry buns dusted with cinnamon and sugar but doesn't know what to call them. (Cinnamon buns?)
Before Commander Ambrose took over ten years ago, Ixia was ruled by a King and Queen. It was a monarchy that is now flowing into a military rule.
In the castle, Yelena ends up befriending two scouts, Janco and Ari, the seamstress, Dilana, and the cook, Rand. There were so many positive voices in this book supporting her sometimes I accidentally forgot she had murdered someone? As the reader I was given insight into Yelena's reasons, but she does not explain to anyone until much later, so for others to accept her based on her present attitude and interactions was really interesting. Yelena is not sorry for what she did, but she does carry the heavy guilt of taking a life, and we get to watch her work through that burden over the course of Poison Study.
Commander Ambrose is another character that may not have had a PoV, but was very important to the book. Towards the end of the book, an enemy tells Yelena something about the Commander in an effort to make him look weak. The disclosure is not made central to the plot, but it is major think point in the book. To remain spoiler-free (I'm trying so hard these days!) I won't say what was said BUT I will drop some thoughts. I don't think Snyder's goal was to educate readers on ins and outs when she include *this* but instead she wanted readers think about power dynamics. What gives a Commander power? I did not think *this* was added as shock factor or purely for plot. I did, however, question the use of the word "mutation." Was it in reference to the snow cat (metaphorical "mutation") because if not then I'm uncomfortable. If you have read Poison Study, I welcome your perspective.
I cannot write this review without making mention of the trigger warning I left at the top. Yelena went through severe abuse prior to the start of the novel. She relives some of those scenes in flashbacks. I was uncomfortable reading those scenes because of the mild-to-graphic descriptions. The main perpetrator clearly had no soul and I struggle to accept what happened "then" with a lot of the other scenes in this book — the the assault scenes were extremely dark, and harshly contrasted with the lighter mood in the rest of the book.
Nonetheless, I was hooked onto Yelena's investigations as a food taster. She gained a lot of freedom in the castle — I mean, she was poisoned, so where could she really run off to — and soon she was running her own investigations into suspicious court dealings. Yelena is independent, she is fierce, and she is extremely determined. She makes it very clear that even though she never had someone watching out for her, she doesn't have a problem ensuring her own survival. At times her decisions are foolish, making her more realistic. I loved her more with each page.
Four crowns for a great heroine's even better character arc and so much assassins and magic. I am too hooked on assassins and magic, I think maybe.
---
SUMMARY FOR OUT OF THE EASY
It's 1950, and as the French Quarter of New Orleans simmers with secrets, seventeen-year-old Josie Moraine is silently stirring a pot of her own. Known among locals as the daughter of a brothel prostitute, Josie wants more out of life than the Big Easy has to offer. She devises a plan get out, but a mysterious death in the Quarter leaves Josie tangled in an investigation that will challenge her allegiance to her mother, her conscience, and Willie Woodley, the brusque madam on Conti Street.
Josie is caught between the dream of an elite college and a clandestine underworld. New Orleans lures her in her quest for truth, dangling temptation at every turn, and escalating to the ultimate test.
---
REVIEW
Out of the Easy is my third book by Ruta Sepetys. Her first two, also historical fiction, focused on tragic events: the forced displacement of the Baltic people by Stalin (Between Shades of Gray) and the sinking of the Wilhelm Gustloff (Salt to the Sea). I wasn't sure what to expect from Out of the Easy because, clearly, no large historical event was at the center of the novel. To my pleasant surprise, Out of the Easy is my favourite Sepetys novel to date.
Josie Moraine never knew her father. Her mother Louise, a prostitute, hardly spares her a second glance. Out of the Easy's summary neglects to mention the strong themes of family and friendship explored within its pages. Though Josie's blood relations never did her any justice, the people she surrounds herself with become truer family than I have encountered in a long time. Her tender relationship with the elderly Charlie. Patrick. Charlotte. The berating but protective from Willie Woodley. And oh, how to share my love for Cokie. His willingness to care for a young girl who can give him nothing in return is without compare. This hodge-podge family-by-choice is incredibly touching and an outstanding feature in Sepetys' book. 
As a main character, Josie kept this book alive. She loves books, and even earned her first job at a bookshop. She proudly quotes that she reads an average 150 books a year. Not to be underestimated, Josie regularly wears a gun strapped to her thigh (independent), cares for her aging benefactor with meals and medical help (caring), and is good friends with Willie's girls (non-judgemental). I'm not trying to elevate her to perfection status, but Josie is certainly the well-rounded character we seek and best of all (at least to me) she can make it through a huuuge portion of this book without any romance.
Indeed, the romance. Josie has seen the ugly side of lust and body attraction, and anyway, she has more important things to attend to at the moment. Josie is focused on getting into college, a task that poses a lot of difficulty for a girl who is A) from an unfavoured part of town and B) unable to procure a lot of money for tuition. I really enjoyed that one of Out of the Easy's main plotlines was about a girl working hard to get to college. This is a reality for many girls today (not just in the 1950s).
Toward the end of the book, a few scenes curled my stomach. They weren't bad scenes — on the contrary, I had become so emotionally invested and all of a sudden everything seemed to be going wrong for Josie and I was devasted. It's been a long time since a book had me panicked and upset and ready to throw the book away because I thought everything amazing that the main character had earned was just going to be wrecked. This book touched me emotionally in ways I DID. NOT. EXPECT. 
I'm giving this book four and a half crowns. It came SO CLOSE to being a full on five, except the ending left me feeling a tiny bit jilted. I wanted more! There were two or three plot threads that, though they don't affect my understanding, were left loose. Sepetys could honestly write a sequel and I would not complain.
Am I little too obsessed with magic and assassins? Do all books need to deep dive on controversial topics when mentioned or is a brush up okay? Is it just a little crazy that I found TWO books I loved at the same time? Let's discuss!