Today is Election Day for the United States of America! Even though it is not a presidential election year, there are still some key and important elections that are happening that people need to vote for. Sha just happened to put this day on our blog calendar which got us thinking . . . what book characters would we like for president?
A quick note that this post is for entertainment purposes and we don't want to start political debates in the comments. Thanks!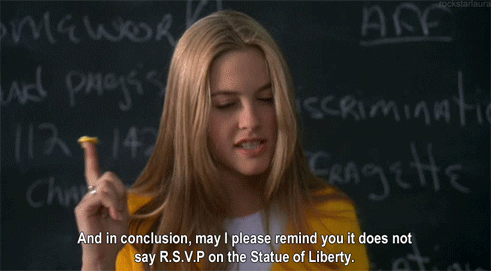 ---
Starr from The Hate U Give
SHA: Starr's journey in The Hate U Give was learning how to use her voice. I can totally see her going on to study law with a heavy social justice focus (kind of like April Ofrah!) and then navigating towards politics. Not only does Starr have a fiery passion inside her to stop injustice, but she is all about family. I can easily see her embracing an entire nation as her extended family.
Ismae from Grave Mercy
MANDY: I mean, what is there not to love about Isame? She's strong (mentally, emotionally, and physically), and she is fair. She digs for information and secrets to make sure she gets to the heart of the problem and injustice so she can stop the email. She would definitely make sure females got all the empowerment that they deserve. I mean, though, she is an assassin…and did kill a few people…so, um, that could be a slight issue, but still. I still vote for her. Plus, Duval would be one epic First Man.
Artie from No Coins, Please
SHA: This book is a little less known, but Artie is true presidential material (if you can embrace his more capitalistic side). Despite being only twelve years old, Artie is a mastermind when it comes to developing economic schemes. Though he keeps his plans, and a lot of his thoughts, close to the vest, Artie treats his employees well, buys local, and minimizes waste! The only issue being he, uh, doesn't really pay attention to things like "taxes" and "permits." He is only twelve, after all!
Cinder from The Lunar Chronicles
MANDY: I feel like this is cheating since she was already a ruler in her series, but STILL. I love how she ruled. She always wanted to make a country for her people that was fair and just, and she knew how to not run a country from looking at her crazy moon alien aunt. She spoke for a people (cyborgs) that had been cruelly prejudiced against, and she could probably solve any problem with a wrench.
The Boy from The Witches
SHA: A president should be courageous, considering they are the final frontier when it comes to making crucial decisions for a nation. And the Boy in The Witches is nothing but courageous, considering he takes on, and defeats, all of the child-eating witches in England. The Boy is also intelligent and quick-thinking, since he devises counter-plots against the witches under time constraints. For a character who didn't get a name, he is quite promising as a defender for the US of A!
Leo Valdez from The Heroes of Olympus series
MANDY: Okay, perhaps this is a bit of an odd choice, but I can just really feel it?? I mean, the kid is only like what 15? 16 max? I'm thinking when he got older, he would mellow out a bit, figure out how to logically plan out his choices more and be epic. He is so hilarious and charmiastic that I could see him schmoozing up all the country's big wigs, and I would actually look forward to Presidential Addresses because Leo would be making me laugh. Plus, he has so much heart that I feel the feels that he would bring. Plus, all the ladies love him? I must vote for him?
---
Do any of these book characters make your presidential cut? Did you recognize that gif from Clueless which MANDY DID NOT??