/  / Goodreads

Hocus Pocus is beloved by Halloween enthusiasts all over the world. Diving once more into the world of witches, this electrifying two-part young adult novel, released on the twenty-fifth anniversary of the 1993 film, marks a new era of Hocus Pocus. Fans will be spellbound by a fresh retelling of the original film, followed by the all-new sequel that continues the story with the next generation of Salem teens.

Shortly after moving from California to Salem, Massachusetts, Max Dennison finds himself in hot water when he accidentally releases a coven of witches, the Sanderson sisters, from the afterlife. Max, his sister, and his new friends (human and otherwise) must find a way to stop the witches from carrying out their evil plan and remaining on earth to torment Salem for all eternity.

Twenty-five years later, Max and Allison's seventeen-year-old daughter, Poppy, finds herself face-to-face with the Sanderson sisters in all their sinister glory. When Halloween celebrations don't quite go as planned, it's a race against time as Poppy and her friends fight to save her family and all of Salem from the witches' latest death-defying scheme.

Disclaimer: Book Princess Reviews is a professional review site that receives compensation through affiliate programs (Barnes & Noble and Book Depository). We receive a percentage of commission from each purchase you make after following links provided on our site. Our promise to you is to always disclose affiliate links/buttons which you see above!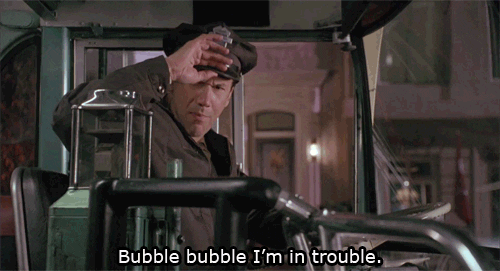 Well, that was a bunch of hocus pocus.
This book has been the source of countless fangirling moments and endless Bookstagram pictures for months. Hocus Pocus is a classic, and the fact that I would finally be getting it in my beloved book form ALONG with a whole new sequel with Allison and Max's? Omg, yessssssss, count this Disney and Witch loving girl in.
However, this book failed in a lot of ways, and I'm just sitting there, twiddling my thumbs, wondering when an anticipated book will ever live up to my impossible expectations.
The first part of this story is the novelization of the original movie. You have a little more detail to it with more explanations and thought processes behind why the characters are doing what they are doing. We have more thoughts into why Max likes Allison and how deep his crush is along with more depth to Winnie and her relationship with her mother. To be honest, the added details really didn't add too much more to the story, but I thought the novelization was done super well. I actually ended up watching the movie last night when I was reading this book, and I have to say that it really conveyed and translated the original perfectly into novel format. Props to Jantha for making it feel as authentic and spooky as it needed to be.
The second part is where the story suffered. Obviously, there is a lot riding on the fact that it's a sequel with taking beloved and new characters alike on. I mean, it's a tremendous pressure, and I don't know I could do it. The story fell apart in a few different ways and I'll list them below.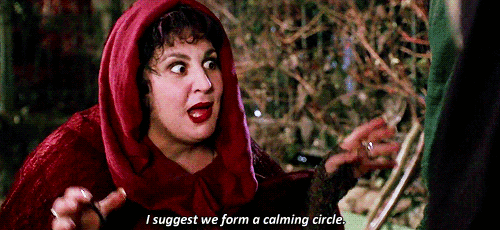 👻 The OG characters didn't feel as authentic to themselves throughout the novel. I mean, I felt like Max, Allison, and Dani could have been anyone off the street. Yes, they have grown up and matured and dealt through a huge ordeal, but still. Max was just a cranky, boring professor, and Allison was…literally she would just have these random BEWARE THE BLOOD MOON, BEWARE THE BLOOD MOON, I'MMA NEED TO TALK TO YOUR SUPERVISOR IN HELL moments, and that didn't feel like the Allison that I knew from the movie. The Sanderson sisters felt okay, but I didn't have a real strong connection with them either. Mary broke out into a two page long song, and this girl peaced out hard. A few other OG characters popped up, too, but they were meh.
👻 The new characters. Omigosh, the new characterssssssssssssss. I strongly disliked them. There are 4 main ones: Poppy who is the daughter of Max and Allison and our main heroine; Isabella, a relation to the Sandersons and Poppy's love interest; Travis who is Poppy's best friend/sidekick; and Katie, the daughter of Jay and the main nemesis.
Besides being boring af and not so much depth to any of them, they all annoyed me in various ways. Katie was just classic mean girl for part of the story and then super meh for the rest. Travis literally was the cliche best friend sidekick that would literally bring "comic relief" to the scenes but none of it was funny. Plus, he would whip out all of these super corny phrases (once, he threw out four of them literally in the same paragraph that was a feat in itself).
And then there's Poppy. Poppy was…she was just a boring main character. She had an interest in photography, but I mean, that's it? I felt like that was all that defined her – that and her refusal to believe in the witches; her embarrassment of her family's secret; and her interest in Isabella. I felt like I never really understood her deep motivations, and she felt a breezy version of Max.
Isabella was the worst in my opinion. I felt like she routinely put everyone in a bad situation, and took no accountability or demerit to her character or characterization as love interest. 1) She continuously pressured Poppy to discuss her family's relation to the Sanderson Sisters even though it made Poppy super uncomfortable and got her blackmailed/bullied by Katie. 2) She brought an ouija board to the Halloween party at Poppy's house even though she knew that Max and Allison didn't approve at all. 3) She willingly started playing the ouija board even though she believed in magic. 4) She only whipped out the spell book that caused all of their issues after the fact that all of the evil/drama/craziness started happening. WHO EVEN DOES THAT. I would have exited her right out of my life, but somehow we were supposed to have fallen in love with her even more?
👻 Everyone was making questionable decisions. I mean, I started chatting with Sha about this and she just kept escalating from wut to Wut to WUT to WUT??? as I told her all of the people's idiot decisions as well as the plot lines and plot turns that were taken. I mean, I don't even understand any of the decisions that were taken??? For example: the whole cell phone and Sarah's song thing?? I still can't wrap my head around it.
👻No real investment/strong desire to find out what was happening. The stakes weren't raised enough. I felt no racing heart or deep connection to everyone, so literally 100 pages before I had to finish this book (literally 465 pages in), I had to call it quits. I couldn't sum up one ounce of energy to care at all.
The good parts about the Sequel: easy enough to read. It's easy, breezy, for sure. The author did a good job of coming up with ways to tie certain things back to the original that was cool. The diversity! There was so much diversity, and that was certainly epic.
Honestly, I think I would have just liked to stick with the novelization of the original and looked at the cool story headers for the rest. I think Jantha had a huge undertaking to take on with a classic like this, but it really just fell apart so hard for me. I wouldn't recommend if the original is beloved for you. 2 crowns and a Cinderella rating!
What do you think? Do you love Hocus Pocus? Who is your favorite characters? Do revamps ever let you down or do you love them? Let's discuss in the comments below!