Once upon a time, a blog was born with an overexcited book princess mother who thought 3 reviews a day was the prescribed medicine. She didn't understand the greatness of a princess rating system, and totally didn't know that two book princesses are always better than one. Now, that baby is two years old — and probably cursed by a dragon witch who wasn't invited to a party, will grow up to love singing at inopportune times, and will continue the long legacy of being an unofficial book hipster.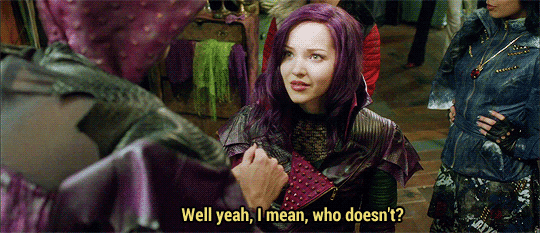 If you didn't get what is happening from my long winded paragraph up there, today is Book Princess Reviews' two year anniversary! It was two years ago that Mandy took a leap of faith and decided, "Why watch from afar in the book community, when I can dive deep and find fellow fangirls/fanboys about books and princesses and ships?" So, she created BPR, and the rest is history — the messy, rambly kind because we all know Mandy can never be concise.
This last year has brought a lot of changes — and yes, even a new book princess to the mix — and we've reached heights that Mandy literally never dreamed of when she hit the create button on WordPress two years ago. Today, for the two year anniversary, Sha and Mandy are spilling the details on some of the funniest, most interesting moments of BPR's two year history and giving you insight into how these girls have magically not killed this blog.
---
MOST MEMORABLE MOMENTS
---
[OCTOBER 25, 2016] First Post — Welcome you and you and you
https://bookprincessreviews.wordpress.com/2016/10/25/first-blog-post/
[…]
[December 2017] BPR Takes an Unexpected Vacay
Mandy: Everything had been going really well. I had just had my first year anniversary in October. The views and following was good on the blog. I was peaking in the height of book princess blogging, and then…stuff hit the book fan. I fell into a deep blogging burnout, I feel pretty depressed in real life, and I was starting to pull away from a lot of things (including a very kind and forgiving certain book princess I know). I honestly wasn't finding any real motivation to come back to blogging despite how much I loved reading and the community since it seemed like so much work, but an email from Sha saying how much she loved my blog and was impressed with it, and hey, what if she brought her epic sass, wit, book reading skills, and makeup to the blog? And that sounded like the most epic thing ever, so it was just the kick I needed. And honestly, it was Stella Got Her Groove Back if Stella was actually Mandy and was preoccupied with book blogging and, ya know, not other things. But if you ever look at December 2017, I think there is, like, a total of 7 posts??
[January 6, 2018] A New Blogger Hits the Scene: SHA Joins BPR
https://bookprincessreviews.wordpress.com/about-sha/
SHA: I knew Mandy had a blog. Of course I did. But did I think she would be willing to let (even her bestie) hop on the princess train? I was soooo unsure when I asked, and my initial pitch wasn't even book-related. I was going to do weekly makeup posts (which has obviously sizzled out). Buut Mandy was super excited and I was nervous and happy to be working with her. And CAN I JUST SAY that pre-blog our friendship was struggling due to the whole living in different countries thing. We sent periodic emails but sometimes it was like, would this last? And NOW we literally text NON STOP plotting away and swooning over books. Not even to start on all the *new* friends I'm making through this blog AND the fun I have reading other blog posts.
[March 10, 2018] Princess Battles Emerge with the First Buddy Read
https://bookprincessreviews.wordpress.com/2018/03/10/sha-mandy-buddy-read-my-soul-to-take-by-rachel-vincent/
Mandy: This was actually the first buddy read that we chose to do. I'm not entirely sure how to the buddy read idea started (I know is probably by Sha since she's the brainchild of most of our ideas this past year while I'm over here like, OH, LEMME RUIN ANOTHER FAVORITE AND OH LOOK A PRINCESS), but we knew that we had to start with the book that literally brought us together (AKA the Soul Screamers series). We were members of a writing website in 2011, and Sha somehow found the novel I was writing and compared it to this series which sent us into a conversation about how much we both adored it…and then we just never stopped talking after that. This first buddy read, though, um, didn't quite goes quite as planned and would eventually become a battleground for each book we tackled. Um, it might be why our buddy reads are officially called princess wars now?
[April 2018] BPR Adopts a Lifestyle Section
https://bookprincessreviews.wordpress.com/category/book-princess-lifestyle/
SHA: When I said "let's have a lifestyle section" to Mandy she was like, "Okay but this is BOOK Princess reviews." Also I had already suggested we change the site's layout and profile pics and banners and intro new features and update the insta and and and and so I think she was maybe slightly overwhelmed? Maybe? Now the lifestyle section has been a great way to still keep putting out content BUT take a little break from pure 100% book-related stuff. As long as Mandy likes it, and you are enjoying it, the feature stays! Since as you can see from our in memoriam … features certainly do go!
[June 27, 2018] A Raving Buddy Read for Grave Mercy Brings ALLLLL the Fangirling
https://bookprincessreviews.wordpress.com/2018/06/27/sha-mandy-take-on-grave-mercy-by-robin-lafevers/
Mandy: Omigosh, this might be my favorite review ever that I've done? It was so much fun to just complete fangirl with Sha who was as much of a fangirl mess as I am about this book. It was us just literally screeching about just EVERYTHING we loved (and, like, we seriously loved everything), and then there was something about ankle grabbing??
SHA: This book. This booook.
[June 29, 2018] #POLL: Books or Movies, What Comes First??
https://bookprincessreviews.wordpress.com/2018/06/29/poll-books-before-movies-or-movies-before-books/
Mandy: This one still kills me. It was just a simple post that Sha was like, hey, I'm going to create this poll about books vs. movies and when to watch, and I'm like, kk, and then BAM. It's blown up and keeps going and now we have this half emoji face frozen with wide eyes and a smile ready to eat you with on the homepage.
SHA: I think you underestimate how long and hard I thought about that poll. And don't forget I used a gif of your beloved X-Files!
[July 5, 2018] Goodbye Book Princess Reviews!
https://bookprincessreviews.wordpress.com/2018/07/05/goodbye-book-princess-reviews-%F0%9F%91%8B/
Mandy: Sha and I discuss most posts before we post them. I mean, we literally have a Excel calendar sheet that has what we're posting for each day, whether or not each other can post (depending on if it's an arc or not), whether or not it's already done, and more. I usually leave weird comments on it including random Backstreet Boys lyrics on it for poor Sha to find, but it's honestly what makes us tick. This? This post was BC (Before Calendar era), and I wasn't aware so I just happen to click on the blog at lunch, see the post, and literally spit out my yogurt because I thought the throne was overthrown and Sha was doing a coup.
SHA: She literally texted me like SHA WHAT IS THIS.
[August 17, 2018] BPR Hits 2000 Follows && We Run a Sweepstakes
https://bookprincessreviews.wordpress.com/2018/08/25/%F0%9F%8E%8A-2k-sweepstakes-ending-soon-%F0%9F%8E%8A/
SHA: I can't say how excited I was when BPR hit 2K (so I can't begin to explain how Mandy was feeling, and she's obviously been here since Day 1). We began planning the sweepstakes pretty early on and we *knew* it had to be international. Congrats again to our winners Rhea @ Bookenchanted and Jayvel @ Fragile Broken Feels.
[August 2018] The Book of Sha
Mandy: I'm not sure if Sha remembers the exact moment of how this came to be or happen, but all I know is that I think I was looking up something for Sha (maybe some stats or something), and I just happen to glance down at the searches and this magic happened.
SHA: Someone out there, for some reason we don't know, used our search bar to look for "the book of Sha." What does this mean? Why? What is this book that I have? Pleeasee if this was you, tell us because we are dying to know!
---
IN MEMORIAM
---
It wouldn't be an award show (uh, whatever this is!) without an in memoriam to mourn all of the blogging series that we lost this year (so far).
Mandy's Story Behind a Story (like a candle burning too bright, there were just, like, 3 posts and then it was snuffed out and was gone too soon).

Sha's Princess Makeup Tutorials (well, any Sha makeup videos).

The Princesses/Villains/Princes Read. (There might be a popup in October, but this girl has lost her Disney mojo and it has somehow disappeared????)

Mandy Explains Books (if you thought Mandy's Story Behind the Story was a short-lived series than you clearly don't remember this one – and don't worry, Mandy doesn't remember it either because I'm pretty sure I legit did one post and called it quits)

Mandy Read Fairytales (lol, ONE, ONE FAIRYTALE)

Mandy's…DNF Queen status???? I've only DNF'd like 3 or 4 times??? WHAT IS THIS MADNESS?
---
IN GRATTITUDIAM
---
*Sha says it's a word*
How could we ever have made it here if it weren't for the stellar bloggers who showed up time and time again to leave amaze comments and/or drop likes? The book blog community is soooo supportive and friendly and we cannot be more thankful to allll you lovelies. Seriously, we thank each and every one of you that cared enough to read a word of our posts let alone have gone out of their way to support us in tags and appreciation posts and more. So many Disney hug gifs to each and everyone of you. We want to give a special shout out to:
RENDZ @ Reading with Rendz: Rendz has been arounddddddddd since the very very early days of BPR, and I thank her so much for alllllllll the support and love she's given. I consider her one of the best book besties, not to mention she is an incredibleeeeeeeeee blogger. I never stop looking forward to a post by her, and we share so much of a book mind – especially with all the Cresswell feels. So many Disney hug gifs, Rendz. – MANDY (We love you Rendz! -SHA)
KYERA @ Kyera's Library: Incredible blogger/incredible book bestie/mythology queen/fantasy wizard (and totally my guide to anything with them)/maker of fantastic graphics/and so much more. I know if I see a review or tag from her, my TBR is about to get fuller or shorter because I forever trust her with my picks. Plus, she forever rocks Disney epicness, so no Disney hug gifs here, because she's probably already created an amazing cosplay out of them. Thankies forever, Kyera. – MANDY
KAYA @ A Fictional Bookworm: Suuuper fun to chat with and her review is style is like chatting with a friend about a book (not reading a serious dissection of a manuscript). -SHA
SARA @ The Bibliophagist: I aaallways end up laughing with her reviews. She is *honest* which I know and trust, so when she drops a five star I know a book is good -SHA
COLLEEN @ Colleen's Conclusions: I think we started on Goodreads and then we somehow found each other's blogs? I always love chatting with you, and whether we're talking about personal things or book recommendations, I know we're going to have some fun. Plus, she's totally a Twitter pro, and I'm always living for her posts. – MANDY
WINGED CYNIC @ Tomes of the Unknown/Cynic on Wings: Don't let the name confuse because Cynic is suuuch the friendly person and leaves the absolute best comments. -SHA (SO SO SO much agreementttttt. Plus, Cynic's reviews are always amazing. – MANDY)
SAM @ We Live and Breathe Books: We share a lot of the same feelings on books, and I love her recs and deeper thoughts on literature. -SHA (Me and Sha are totally sharing the love for Sam and she is my contemporary guru for life. – MANDY)
ANGELICA @ The Geeky Contralto: This girl LITERALLY HAS BEEN my number one supporter on Chooseday Tuesdays. I cannot appreciate her enough. Her blog is great for anime fans and she does the occasional book review too! -SHA
ALYSSA @ A Lovely Book Affair: You give me hope that English book lovers can survive in Montreal! I love our QC chats. -SHA
MOIRA @ For the Lover of Books: I feel like Moira and I share a book mind. Wait, no, scratch that. I know we share a book mind. If Moira loves a book, I shall love it too. If Moira hates a book, I know I'm going to hate it too. I always love reading any of her posts, but her reviews are always killer. – MANDY
ANNALEE @Book Button Reviews: I feel like Annalee and I just share the same book likes, and I swear our TBRs must be the exact same because I always see her reading books I want to read and I'm always watching to see what she thinks of them. She's so incredibly sweet, and thank you for all the support, Annalee!  – MANDY
AMANDA @Metal Phantasm Reads: Cat Winters appreciation buddies and always love reading her blog. Always super fun to chat with and she helped me get even deeper in the Diviners fandom than first thought. – MANDY
These were just a few names, but honestly, there are so so so many more. Mandy hates doing shout outs because I always feel like I'm forgetting someone and we really appreciate each and everyone of you! ❤
---
WRAP-UP
---
Well, apparently, the 2 year anniversary has turned into a NOVELLA so we're going to make this brief. Thank you, thank you, thank you for all of the love and support these past two years, and we can't wait for the many more to come.
And later today we will post the second part of this anniversary celebration: us answering YOUR questions about the blog, about our books, and ~obviously~ about us. (Remember, when we asked on Twitter and Facebook and Insta?) Stay tuned!
EDIT: The

Q&A is now going up this Friday, Oct. 26

so you can still submit questions in the comments if you want. (We realized one novella a day is enough. O:)