Wait, do your eyes deceive you? Has this tragically forgotten book blogging series returned? Yes, this book princess has totally neglected this series for, like, ever. I was doing so good at it, but then I lost my Disney mojo and I was lost in a sea of "I'll get back to it next week" only to never have a next week. I figured it would be the perfect time to bring back the acclaimed series by Mandy, the Book Princess, since villains = the perfect Halloween moments.
This week we are tackling…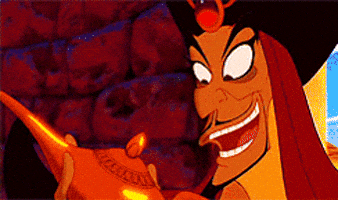 Jafar!
Well, Jafar is certainly an intriguing one. I feel like he was one of the only villains that was actually really really intrigued in our lovely Disney princesses instead of just wanting to kill her, which, I mean, was ew besides the hateful Gaston. He's definitely narcissistic but he is certainly not on Gaston's level. He has a little bit of a sense of humor, but mostly an affinity for puns. He's definitely a quieter villain that doesn't show his true colors instead halfway through with his evil laughter and minions – who he certainly doesn't respect. And honestly, when you google gifs of him, it's basically he just looking comically evil and being dramatic af – which I thought really just sums the dude up.
What YA and MG would be Jafar be evilly reading?
So, the villain in this adorable little MG is as comically dramatic as Jafar, so I feel like Jafar would be like, YESSSSSSsss, I have found the me in books! Plus, I think Jafar would be into a whole tower to take over – in both the human world and the ghost world. Imagine the treasure he could find from all the tenants! He would be down for this.

Royals by Rachel Hawkins
Okay, like, I feel like Jafar could be down for some romance? I feel like he vibe it. But more importantly, Jafar is all about the royals and allllllllllllll about that gold. I feel like he would pick this up, thinking it's a way to magic and gold and Jasmine's heart and instead read about some adorable romance and…I mean, there is a narcissistic prince, so Jafar could find himself again.
I feel like Jafar is, you know, all about the dramatics. He would love a good themed death scene and I mean, he does like his princesses. He would be a bit disappointed that there was no treasure and gold, but I feel like he would relate to the Chairman that was capitalizing on death and destruction.
Gold. Lots of golds allllllllllllll over the place. Plus, Jafar could be down with a cruel prince since he's pretty cruel himself???
A Book Jafar would NOT pick up
Um, a killing caliph, a magical carpet, and a super fierce queen would certainly put the fear in Jafar. I mean, idk how Jafar wasn't scared of Rajah, but I think a killing king and Shazi would certainly scare him off. He thought he might have finally found his magical carpet and treasure, but I think Shazi and Khalid would have him under their thumb in two seconds flat.
What do you think? What are some of the books you think Jafar would like? Would books do you think he wouldn't like? Let's discuss in the comments below!