Would you believe I actually came up with and then WORE this costume in August? The summer camp I worked at had theme days, one of which was "circus," and what better for circus than a mime? ("A lot of things," you say. "Are there even mimes at a circus?")
I whipped up this costume the night before using things I found in my room and a quick run to the dollar store. If this isn't the definition of "Easy and Quick," I don't know what is!
As I type this, I'm debating if I should put the whole thing back on just to delight your eyes with an example photo, or just list the materials. (Because I'm lazy, I soooo want to do the latter.) When this post goes up, I guess we'll know what I chose! For now … the materials!
---
MATERIALS/SUPPLIES
Black-and-white horizontal striped top
Black bottoms
Black or white shoes
Red suspenders
Red bow-tie
White gloves
Black hat
---
STEPS (Or rather, What Sha Did)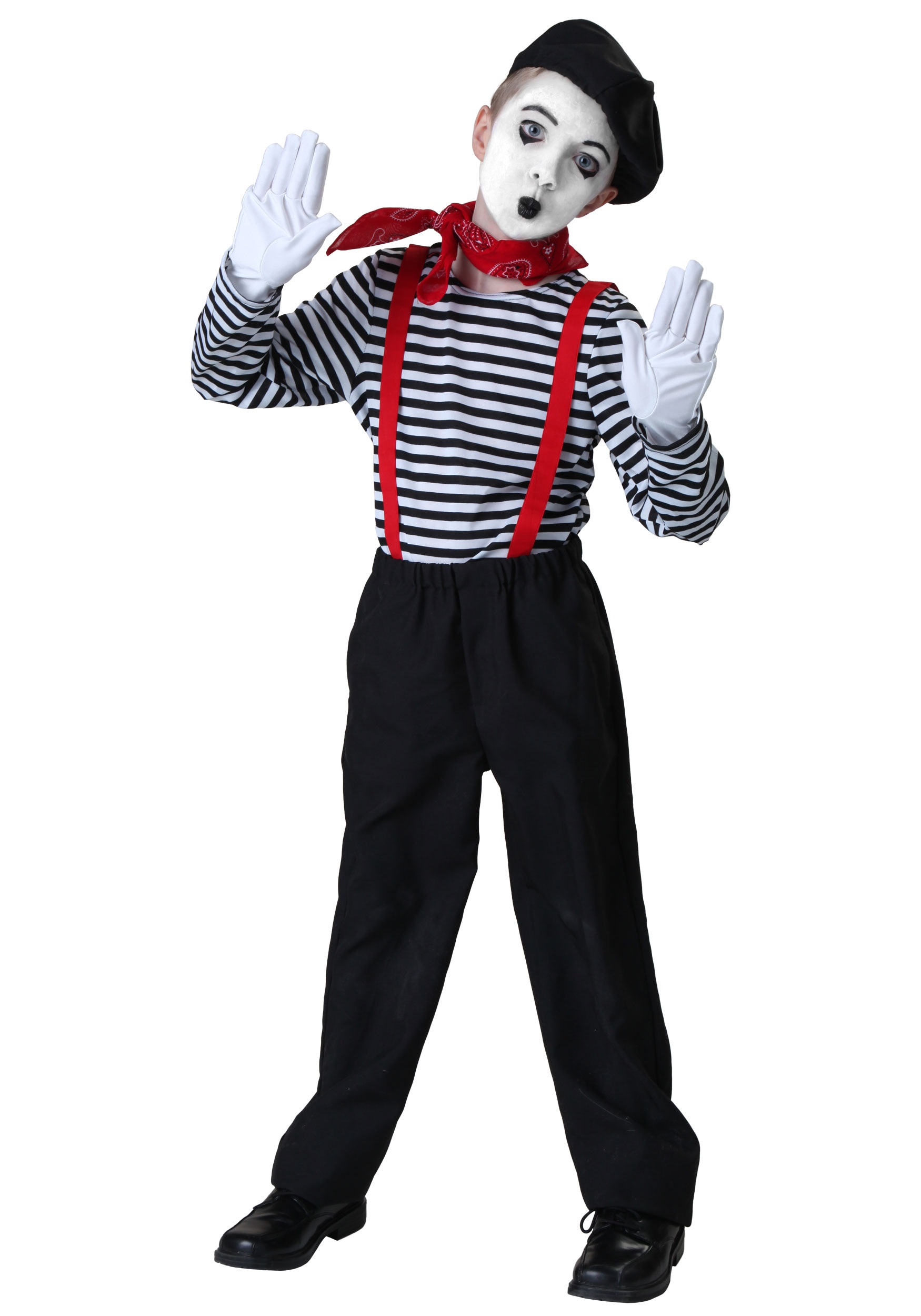 The night before I needed to have my costume ready, I did what any normal person would do. I Googled "mime costume easy and quick." I got a looot of image results … and realized I didn't have a majority of the supplies. Stores were closing in less than a hour, I was already wiped from nine hours of work, and to be honest, I wasn't down to spend tons of cash on something I would wear, what, once?
So I took one picture as inspo and started digging through my closets to see what I already had to make a costume as fast and as CHEAP as possible.
1. BLACK AND WHITE HORIZONTAL STRIPED TOP: Yup, I didn't have this. If you do, you're set for this one! What I did have, though, was a black-and-white striped dress. All I would have to do later would be layer my bottoms over the dress. Other options for you can include:
Take a white t-shirt and add the black stripes with permanent marker or fabric paint. Most dollar stores sell plain white shirts.
2. BLACK BOTTOMS: I chose to go with a black skirt I had. This was super easy to layer over my striped dress and really comfy to boot. BUT you can also go with solid black pants (jeans, leggings, etc) or shorts — anything black! Other ideas include: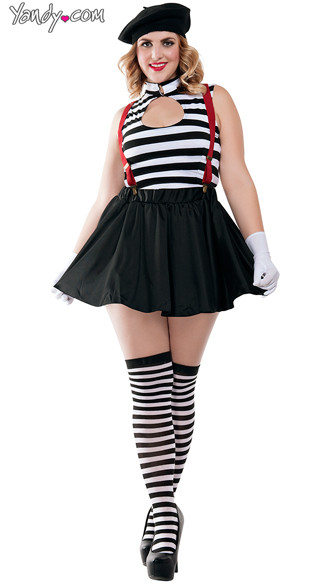 If you're wearing a skirt or shorts, consider patterned tights. This will not *decrease* your budget, but if you're not thinking money first, it can be a cute look.
Not into tights? You can also go for some knee-high socks. I found an old pair in my sister's closet (raiding other people's closets is always an option!) that were solid white and paired perfectly with my costume.
3. BLACK OR WHITE SHOES: This one should be easy enough. I have a pair of white Vans (I mean, white enough, if you ignore the dust and dirt). For this you can choose flats, sneakers, loafers, or heels, based on preference.
4. RED SUSPENDERS: Ookay, so I freaked trying to find some red suspenders. Why did I think this one would be the easiest? (You can also go for black, or white.) The dollar store I went to had absolutely no suspenders, but it did have dog leashes … and that's where I broke out the real DIY. If you can find a pair of suspenders, GO YOU! You can also use ribbons or cord/rope. But for my dog leash idea, check below:
Find two solid red/black/white dog leashes. Attach the hook side to the front of your bottom. Reach the leash over your shoulder to where it would cinch the waistband of your bottom. Cut. (You would be cutting off the loop where your hand normally holds the leash.)
Repeat with second leash.
Attach back of DIY suspender with safety pin.
Of course, you can cut off the hook and just safety pin both sides, but I found the hooks added a nice touch.
5. RED BOW TIE: This one is optional. And of course, I couldn't find a red bow tie either? I went with some red ribbon and tied a big, droopy bow around my neck so it was almost like a necklace. This contrasts nicely with the striped shirt, if you do decide to do it!
6. WHITE GLOVES: The camp where I worked had no air conditioning. And it was above thirty degrees with humidity. So I was like, "Um, no thanks," when I saw the gloves. I can't say I have ideas where to buy them, either. My best idea is an actual costume store, and I don't know how expensive those would be. If I did DIY some white gloves, they would literally be winter gloves, and that would not be a good look at all.
7. BLACK HAT: Another part of the look I skipped out on, but it's totally an option. I see a lot of bowler hats in the dollar store, so those might be easier to get your hands on than a beret. I opted to just tie my hair up because … summer. Hot.
---
That's the costume part finished! If you don't want to bother with any makeup, you can vamoose right here and now (though leaving a comment first is nice, too, haha). I'll tell you right here and now that I personally opted for some simple mime makeup because again … summer … hot. So to help you out, I looked up a good mime makeup look on YouTube, which is linked below. All credit goes to the original creator.
---
MIME MAKEUP
---
What are you going as for Halloween? Are you getting dressed up at all? Do you have parties to attend or do you just dole out candy now? Let's discuss in the comments below!