Here I am to present the long anticipated second part to the Co-Blogger Book Swap! Yes, yes, yes, a quick refresher for those who can no longer remember (it has been several weeks, as we all noticed) or a note to those new to the game:
This Co-Blogger Book Swap is a two-part feature where Mandy and Sha recommend several books to each other and then, from those books, choose one to read. This was all done in PART ONE, which you can read here. Now, in part two, we come back and review the books we chose and let you know: does our co-blogger know us well enough to rec a good book? Or was it all a huge flop?
---
MANDY
Between Shades of Grey by Ruta Sepetys
Review: This book was an intriguing and emotional look into a part of history that is rarely every touched. To be honest, I really didn't know much about the events that happened during this WWII timeframe that happened with Lithuania, and that is why this story is so important. You get to see the darkness and the trauma and the terror that Lithuanians faced and were forgotten about, and wow, my heart ached reading this. There was never any chance of happiness or brightness, but the strength and the determination was truly amazing that these characters displayed. I had a few issues with it that combined to knock down a star, but this story really is such an important one and I can see why it could be a classic in YA literature.
Rating: 4 crowns and an Ariel rating.
Good or Bad Rec?: Pretty good. It was a little lacking in parts, but overall, it was a very important book and it really helps me appreciate historical fiction much more…along with emotional books. Sha's goal was complete.
---
SHA
Six of Crows by Leigh Bardugo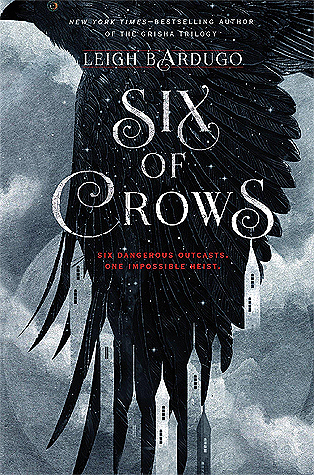 Review: I have seen Six of Crows included in more Book Tags than I can count (Mandy's included), flagged for best couple, favourite series, a can't miss book, and more. To say I went into this recommendation with high expectations is more than an understatement. The book started off with a punch (girl goes mad with magic powers?) and continued down a dark and twisting path. Each character (Kaz, Inej, Matthias, Jesper, Nina, and Wylan) unravels the history that brought them to the criminal task they are now undertaking. The dives into their past were my absolute favourite part of the book, and with each page Bardugo blurred their morals and questioned the actions of thieves, murderers, businessman, and devout religious followers. No one was right but somehow, no one was absolutely wrong? I loved it.
By the end of the book, the unlikely crew were all dear to me in their own way (particularly Nina and Inej, I live and die for this pair). Matthias may have to work on me a bit more. This first book in the Grisha trilogy was not heavy on romance, though Bardugo certainly set her groundwork. My biggest gripe with the book is … despite how much is put into the characters' backstories, little is done to further their current situations. The book ends abruptly (I didn't even know it was the ending at first!) with no clear direction on peoples' health, motivations (talking Jesper and Wylan here!), or intentions (Matthias flip flopped a bit too often for me to be 100% here). Do I wish this book had spent a bit more time on the *present* of our characters? Yeah. But nonetheless, I'm understanding some of this hype.
Rating: 4.5
Good or Bad Rec?: Good rec. You're getting better Mandy! Although you do know how I feel about ambiguous endings…
---
Do you trust others when they recommend a book? Who is your bestie when it comes to book recommendations? What was the last book recommendation you got, and was it a success or fail? Let's discuss!