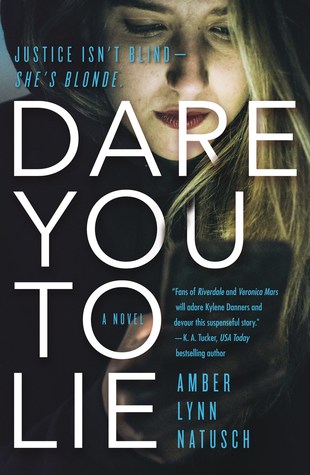 Title: Dare You to Lie
Author: Amber Lynn Natusch
Pages: 352
Released: September 4 2018
Publisher: Tor Teen
Format: Hardcover
Genre: Mystery
Goodreads Rating: 4.54 (of 35 ratings)
---
Buy Now



Book Princess Reviews is a professional review site that receives compensation through affiliate programs (Barnes & Noble and Book Depository). We receive a percentage of commission from each purchase you make after following links provided on our site. Our promise to you is to always disclose affiliate links/buttons.
---
SUMMARY
When her FBI agent father is framed for murder, Kylene is forced to move in with her grandfather, back to the small town that turned its back on her, and the boy who betrayed her.
All Ky cares about is clearing her father's name, but someone won't let her forget the photo scandal that drove her away two years ago. As the threats gain momentum, Ky finds an unlikely ally in the rookie FBI agent sent to keep an eye on her.
Determined to expose the town's hidden skeletons, Ky unwittingly thrusts herself into a much bigger plot. They thought she'd forgive and forget. They're about to learn they messed with the wrong girl.
---
REVIEW
Disclaimer: I received this ARC courtesy of Tor/Forge and NetGalley. I am grateful for the opportunity to review an ARC for my readers, but this will not influence my final rating. All opinions expressed in this review are my own and based solely on the book. The copy I am reviewing is an Uncorrected Digital Galley. 
I don't like to DNF a book, but I'm currently at 8% in Amber Lynn Natusch's Dare You to Lie and I really want to put this book down and also really far away.
The first chapter of the book was well-written and set up the plot very well. To be fair, the first chapter took about two minutes to read because it just consisted of Kylene hearing the judge pronounce her father guilty, but the entire mood of the chapter framed the book perfectly for a teen determined to clear her father's name.
Then chapter two started and I felt like I was reading this whole other book. First of all, Kylene has the most brash way of talking. She is aggressive and immediately identifies others as "mean girls" or "bullies." All her interactions with her peers in the pages I have read (excluding Tabby and Garrett, but I will get to them) are negative. Either they are verbally fighting and trading crude insults or she is throwing nasty looks. In one scene, Kylene actually trades insults with a teacher.
Kylene meets up with her old best friend, Garrett, in chapter two. The meeting is immediately made awkward (to me, anyway) when Garrett sizes up Kylene's chest and Ky responds with an offhand comment on how little he has changed. Garrett and Ky's friendship is played to be this comedic duo, where they frequently burst out laughing at each other's jokes and antics, but a lot of the jokes are very middle-school level … or not funny at all.
Also on her first day, Kylene meets Tabby, a new girl at the school. Their encounter has to be the most uncomfortable meeting of friends I have ever read. Tabby enters study hall, where a bully immediately asks her if the "carpets match the drapes." So ensues a huge verbal spar between Ky and the bully and then Tabby and the bully and then basically everyone where people are told they have small breasts, have crabs and lice, and are called illegal immigrants (because they come from Canada??).
If Ky's juvenile behaviour and aggressive speech is not frustrating enough, Natusch has the habit of creating overly dramatic scenarios for Kylene to "solve" to make her look heroic. Scenarios that I find are unnecessary and burdensome to the plot. For example, during her lunch hour, Kylene happens to stumble upon a car rocking suspiciously. She approaches and sees a guy trapping a girl inside. Then we have this dramatic fight between her and the guy (physical) and she rescues the trapped girl. Now I do not take physical or sexual abuse lightly. I do not believe Natusch threw in this scene for a joke either. However, there is little weight attached to the scene because of how comedic the fight is and how little actual and meaningful discussion takes place following the assault.
I'll repeat that I dislike DNF'ing books. For this reason, halfway through the review (aka, just now) I left to continue reading the book. However, I was only able to continue to 60% with major skimming and now need to officially announce this book is a DNF. I believe in giving a book every chance — if I DNF, I won't know if a character sees the error in a behaviour that I disliked. However, even at 60% Kylene is obnoxious and abrasive.
To update my previous statements, Kylene does follow-up on the girl whose boyfriend is abusive. But it's such a "saviour" dynamic where Kylene is shown as the all-knowing hero, there to rescue the girl (Amy) while Amy is completely clueless about what is happening and how to help herself.
Every other chapter either shows Kylene yelling at/insulting some one who either disagrees with her viewpoints or is classified as a "bully/mean girl" OR shows her physically assaulting someone (punching etc). I could not get behind any of her decisions, or her attitude. Besides her aggressiveness, Kylene constantly acted well below her years: she would lash out, make juvenile jokes and her plans to save her father were not always well thought out. In fact, most of the characters in the book lacked maturity.
---
RATING
I'm giving this book one crown, bearing in mind it is a DNF (my first in more than a year, sadly). I tried with this book, but there is little I enjoyed. Kylene is not a pleasant main character. Her supporting cast (Garrett and Tabby) do nothing but follow her lead in name-calling/juvenile behaviour. Many of the B-characters are categorized as "bullies/mean girls" and add nothing to the plot but needless drama. The mystery plot in the book is almost drowned out by Kylene's ongoing school drama. I would not recommend this book.
When was your last DNF? How far did you make it before you decided enough was enough? Let's discuss.