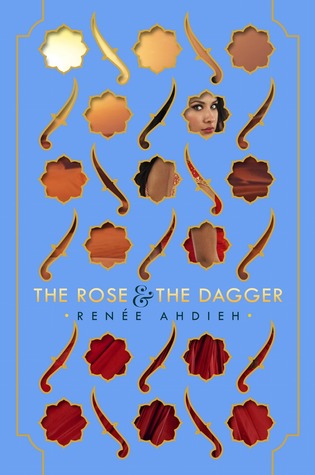 Title: The Rose & The Dagger (The Wrath & The Dawn #2)
Author: Renee Ahdieh
Pages: 416
Released: April 26 2016
Publisher: G. P. Putnam's Sons
Format: Hardcover
Genre: Fantasy, Romance
Goodreads Rating: 4.17 (of 40, 581 ratings)
---
SUMMARY
In a land on the brink of war, Shahrzad is forced from the arms of her beloved husband, the Caliph of Khorasan. She once thought Khalid a monster—a merciless killer of wives, responsible for immeasurable heartache and pain—but as she unraveled his secrets, she found instead an extraordinary man and a love she could not deny. Still, a curse threatens to keep Shazi and Khalid apart forever.
Now she's reunited with her family, who have found refuge in the desert, where a deadly force is gathering against Khalid—a force set on destroying his empire and commanded by Shazi's spurned childhood sweetheart. Trapped between loyalties to those she loves, the only thing Shazi can do is act. Using the burgeoning magic within her as a guide, she strikes out on her own to end both this terrible curse and the brewing war once and for all. But to do it, she must evade enemies of her own to stay alive.
---
REVIEW
Yet again I am not reading what I was supposed to read for this week, but I'm doing so with a new realization. I set myself up with a slew of books to read — ARCs, Choosedays, library books — and become so intimidated by the pile that I end up curled away in some corner doing anyway but reading. Then, when I finally coax myself towards a book, it's not anything stacked up on my to-read pile! I scare myself with such a big to-do pile that I forget how amazing those books while be and just end up seeing a daunting task that has to be accomplished. So, for a break, I decided to read something not assigned and just enjoy a good book.
And what a good book it was! I wanted to read the sequel (and final book in the series) to Wrath & Dawn for sooooo long, but it never matched up any of my Choosedays and of course it's not an ARC. Because I had no "valid reason" to review it on the blog, I just avoided reading it. Which is a terrible reason?
This book was everything I wanted and more. Shazi's relationship with Khalid became even stronger. She remained true to herself and didn't deep dive into any "wait, who am I??" questions that characters sometimes struggle with in book two. Instead, she dug in her toes and kept herself and everyone around her on the straight and narrow.
Ahdieh did not let up with the crazy twists in this sequel. If I thought that sometimes the POVs that were *not* Shazi could be a bit dull in book one, that was the opposite in this book. Everyone added so much action and intrigue to the plot that I never knew what to expect, but was also never overwhelmed.
I got emotional in this book. Like, I almost shed a tear at one point (and I'm a notorious no-cry Nellie). Sorry, I had to get alliterative! There is one scene in this book that tore me up and I'm just like, why did you have to do that Ahdieh? WHY?
I want to go on and on about the absolute sweetness that is the relationship between Khalid and Shazi though, because seriously, I was heart-eyeing that love all over the place…
…and then simultaneously kind of gagging any time Tariq walked on the scene. I'm sorry (no, why am I sorry?) but he is the embodiment of toxic masculinity and I don't know if he ever really LEARNED how problematic he is? And I wish that I could feel like he did because that would just make everything feel so nicely tied up at the end of the book. Tariq is given chance after chance after chance to own up to his faults and recognize how downright WRONG his decisions are … but he doesn't. He remains strong in his beliefs. And it doesn't make him a badly written character, it sadly makes him a realistic character that everyone else learns to navigate around.
---
RATING & VOTE FOR NEXT WEEK'S BOOK
Five crowns and a massive cheer for a series (well you know, duology) that actually DID THE THING and had me cheering all the way through.
NOW, what genre should I read for next week? Vote in the comments below!
What makes a retelling just right? Is it better to stick close to the original, or try to forge a new path? Let's discuss in the comments below!