Let's start off with a note from Mandy – and here goes a collective sigh because the note will probably be 20 pages long and have a thesis statement.
I've hit a…it's not really a blogging slump, but something like that? I'm feeling a bit overwhelmed with some things in my life right now, so I've kind of had a hard time with jumping into the blogging duties. My favorite part about blogging is the blogging community, but does anyone ever just cuddle into your little hermit hole and not want to peek out their head into the epic community?
Actual footage of me now: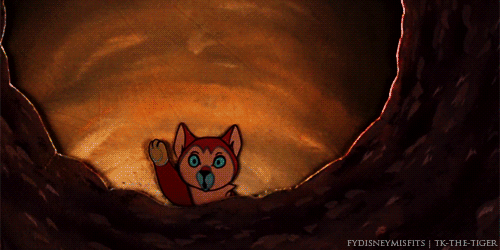 My blog hopping hasn't been swell, and comments/responding has hit a bit of delay. Poor, wonderful Kyera from Kyera's Library has been trying to get me to answer a simple question of hers for a while now about something epic that her amazing brain came up with (and I cannot wait for everyone to see what she cooked up), and this princess right here has been wrapped in a cocoon apparently. I should be back to normally scheduled programming hopefully soon, but I just wanted a disclaimer for why this princess is currently in hiding like I'm Anastasia. When I get out of the rabbit hole, I'll be here, ready to do some major blog hopping and finally answer your lovely comments.
Anyway, let's get to the tag!!! I would like to thank the lovely Jenna @ Bookmark Your Thoughts! Despite being a 90s kids, I have not watch many 90ss movies. The 90s Disney Princess movies is about as far as Mandy gets. However, this was such a cool tag, and Sha and I will be tackling this for some fun! Make sure to go check out Jenna's blog because not only is it mad pretty, she always has some great reviews, posts, and more! Make sure to check it out on the link above.
SHE'S ALL THAT
NAME A BOOK COUPLE THAT IS AN ODD PAIRING BUT THEY STILL FIT PERFECTLY
Mandy:  Well, I mean, a clear one is Cress and Thorne. They're a bit opposites with Cress's head up in clouds and Thorne, you know, a thief. But they are brillianttttttttttttttttt together.
Sha: I would have to go with Shahrzad and Kalid from The Wrath & the Dawn. Considering both enter into a union intending to kill the other … and still end up in a committed and caring relationship, yup, I'm down to considering this an odd pairing.
10 THINGS I HATE ABOUT YOU
A BOOK/SERIES THAT YOU HAVE A LOVE/HATE RELATIONSHIP WITH
Mandy: Lol, ALL of them??? It's honestly a miracle if I love an entire series. TLC is one of the few books that invokes it. A Court of Thorns and Roses is one of the biggest one that I have issues with. I loved the second one, but I fail so badly with absolutely every other one.
Sha: For this, To All the Boys I've Loved Before by Jenny Han. I adore the first book, but the second book lacked a real plot to me, and then I felt no real desire to pick up the third in the series. But I'll still recommend book one in a heartbeat!! Definitely some love/hate going on here for me.
CLUELESS
A CHARACTER THAT IS TOTALLY CLUELESS BUT YOU LOVE THEM ANYWAY
Mandy: Dayton from Undead Girl Gang! She was totally spacey but I loved her and her Gatorade.
Sha: Hahaha, usually when a character is clueless I feel like tossing the book across the room in frustration. Like, get with the plot, I see it, why don't you?? But I actually loved Madelyne Summers' cluelessness on the nerd/geek lifestyle in The Summer I Became a Nerd. She had me chuckling and rolling my eyes the whole way through!
Mandy: Me too, Sha, me too.
TITANIC
NAME A BOOK THAT MADE YOU CRY
Mandy: The last one was Grave Mercy because I got too emotional over my love for it.
Sha: I pretty much never cry over books? Largely because books just don't deliver cry-worthy scenes, but also I'm not that emotional of a person. I did shed tears (and shed again for every reread) when I read The Two Princesses of Bamarre by Gail Carson Levine. The ending ruins my heart every time.
AMERICAN PIE
A BOOK THAT MAKES YOU LAUGH
Mandy: It's Not Me, It's You by Stephanie Kate Strohm! It brings just so many fun, funnies, and feels.
Sha: Anything by Gordan Korman cramps me with laughter. He's a humour genius! But for one recommendation in particular, I'll go with No More Coins, Please. Think scam artist extreme, raising hundreds of thousands hosting fake events across the country … except he's like, twelve years old and under the care of two unsuspecting camp counselors.
CAN'T HARDLY WAIT
A BOOK WITH A CRAZY PARTY
Mandy: UM, UM, UM, I'M PANICKING. Speak Easy, Speak Love had some crazy speakeasy parties!
Sha: Crazy party? How is it I don't even read books with crazy parties, let alone go to crazy parties? I'll have to say Every Day by David Levithan. One chapter features a crazy party that leaves a "host body" trapped on the side of the road.
CRUEL INTENTIONS
NAME A CHARACTER YOU CAN NEVER FULLY TRUST
Mandy: The Darkling. I mean, his name is The Darkling. How much trust can you get there???
Sha: Um, how about every single character in Dangerous Girls by Abigail Haas? Even when the book ends I don't trust anyone. Haas took me for a serious ride!
DRIVE ME CRAZY
NAME YOUR FAVOURITE "BOY NEXT DOOR" OR "GIRL NEXT DOOR" COUPLE
Mandy: This is actually the only 90s movies I've seen in this tag. I loved me some Sabrina the Teenage Witch Melissa Joan Hart. The first one that comes to mind is A Short History of the Girl Next Door…perhaps because it's actually all in the name??? It gives you all the feels.
Sha: Wow, this is a serious struggle, considering I kind of avoid "__ next door" books like the plague. It's just really not my vibe! I did pick up an omnibus (collection of books by same author in one) for some summer reading one year that included three very contemp, very "___ next door"-esque books, so, I guess I'll say that one even though I can't quite remember the plots for any of them? A Funny Thing About Love by Erin Downing.
SCREAM
A BOOK WITH A MEMORABLE VILLAIN
Mandy: Levana! She was a complex villain with a epic look. I adore that veil with the crown look. It's perfection, and I need that to be my villain life as well. Plus, she caused me such stress in Winter with my babies. I shall never forgive or forget.
Sha: I adore villains that you actually kinda sorta love. So for me = The Keeper from Entwined by Heather Dixon. (Side note, I love love love this book and have recommended it to Mandy like a million times? And yet she DOES NOT LOVE.)
THE CRAFT
NAME A BOOK WITH WITCHES
Mandy: The Wicked Deep! It was a total mess, but it did have some good witchy moments. I liked the spooky vibe of the town that these crazy, drowning witches brought.
Sha: Jinx by Meg Cabot. Think modern day witches and a some mad deep true love vibes!
What do you think? What are some of your answers to these questions? Are you excited that Mandy and Sha tag teamed this book tag? Should we do it more? Let's discuss in the comments below!