Hello and welcome to the Princess Wars arena! Two walk in and only one walks– Wait, sorry, what's that? Mandy and Sha will not be battling out a review over one book today? Instead they're … I'm sorry, they're recommending books to each other in the hopes that they can satisfy each other's widely different tastes to then conclude in song and dance and explosions of flowers and confetti and happiness??
Huh. Alright then.
So it is that today is PART ONE of a two part series where your Book Princesses take turns recommending three books to each other. They must list reasons why they think these books are a perfect fit and how they are sure to win over the fellow blogger's heart. In part one, we will choose ~ONE BOOK~ from that list of three to read … and then you get to eagerly await our reviews and reactions in Part Two!
---
MANDY's Picks for SHA
The Star-Touched Queen by Roshani Chokshi
One of Sha's ultimate books is The Wrath and the Dawn by Renee Ahdieh, and when we first came up with the rec books idea, I immediately thought of this book. It has a lot of similar themes that Sha loved The Wrath. It has gorgeous prose; it is loosely based off a Persephone/Hades tale and rich in Indian mythology; and it does have a bit of a star-crossed romance that has a push and pull much like Shazi and Khalid.
Six of Crows by Leigh Bardugo
I was a little on the fence with this one, since it's kind of a darker tone than what I would normally see Sha picking up, but I mean, SOC is the book I push on everyoneeeeeeee and I really think Sha would enjoy. Fierce, amazing females like our dear Ismae from Grave Mercy; complicated antiheroes; some thrills; gorgeous prose; and complicated characters that keep you on the end of your seat. I think there could be some epicness involved.
Little Monsters by Kara Thomas
Sha and I have both been so hyped up for The Cheerleaders by her, and I want so desperately for Sha to read this book as well. It's a creepy town that you never know is if it's just straight crazy or paranormal along with characters that keep you guessing. Sha is such a big mystery lover, and this is one of the best YA mysteries that I read in a long time. I totally think she would enjoy.
---
SHA's Picks for MANDY
The Boy Next Door by Meg Cabot
I know Mandy is big on her contemp, and Cabot is usually as close as I get to contemporary. Mix in the funnies that The Boy Next Door brings, with the romance (it's v. adorbs!), I'm pretty sure Mandy will love this read. Also … the grandmother in this story seriously reminds me of Mandy's own grandmother? I'm thinking she'll get a kick out of that.
Between Shades of Gray by Ruta Sepetys
This is a serious risk, because how often does Mandy read serious topics and hist. fiction? (Not that she doesn't, but it's def not her number one recommended.) I know how much she loves fluff, but I'm ready to see her reaction to some serious moment writing. (And this book reallly got me in the serious moment feels.) Nevermind how good the writing is!
Fairest by Gail Carson Levine
My fave fantasy writer had to make this list! Do I absolutely ship the couple in this book? No. But I love the main character, the morals the story advances, and the twist Levine puts with this retelling of Snow White. And I think we all know how much Mandy loves her retellings?
---
FINAL DECISIONS
Mandy: I think I'm going to go with something different than my usual fallbacks and try something new. I've tried Ruta Sepetys's book, Out of the Easy before and loved it, so I think I might try Between Shades of Grey. Let's see how Mandy does when she gets deep.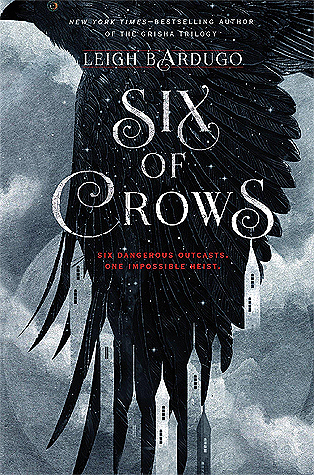 Sha: Um, um, um, I'm torn because Renée Ahdieh is indeed my queen and a book rec'd off that love? But also I think I have avoided reading Six of Crows for too long, and I only hear rave reviews. I'll be going with Six of Crows, perhaps mainly because my bookstore offers it a dollar cheaper than The Star Touched Queen.
---
Stay tuned for Part Two, where we review the books we have chosen!
Have you read any of these books? Do you think our recommendations are bound for success … or failure? Sound off in the comments below!