That's right! It's meeeeeeeeeee, back with how different genres have lied to me. Lots of things have lied to me. But Disney Princesses? As much as I love, adore, and am highkey obsessed with them? I totally think they have lied to me the most. So many lies. But I just love them all dearly. Shall we go over the ways these epic girls have lieddddddddddd to us all????
There for sure will be a part 2, and perhaps even a part 3???? Idk, this is your girl who is full on obsessed with these ladies, so I meannnnnnnnn.
Myth #1: Hair Goals
To me, Pocahontas has the most hair goals. I literally stare at her hair the entire movie and go, BUT HOW. HOW IS THIS LUSCIOUSNESS POSSIBLE. IT HAS BODY. IT HAS LIFE. IT HAS FLOWWWWWWWWWWWWW. Ugh. But it's not just Pocahontas. It's almost all of them. Ariel has the most lovely bounce. Rapunzel has long hair goals that are straight up MAGIC GOLD. And Tiana has master the art of the most perfect bun. I just wore a bun today and I had these weird little tufts that popped out and didn't nearly do the cute little curl things she gotten going on. But I mean, HONESTLY. I think this is the biggest lie that Disney has fed us. Unrealistic hair for dayssssssss when my hair does this half wave and half straight thing that just ruins EVERYTHING.
Myth #2: Animals Are Your Friends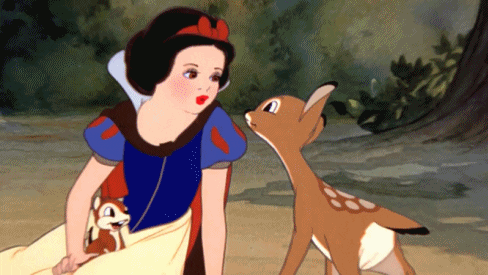 Animals are not my friends. They are Snow White, Cinderella, and Sleeping Beauty's friends, but they are not MY friends. I mean, I legit can't even get my one cat to let me pet him for more than a solid 45 seconds – if I'm blessed. I am not blessed often. But Disney Princesses attract cute little animals alllllllllllll the time. I mean, Tiana turned into a cute little animal and Merida's bros as well! Birds don't sew me dresses – well, I mean, they might if I didn't run away from them every time I spotted them. Birds are scary. And mice have never swept up my house. I once accidentally watered one outside and it raced away as I shrieked. SO IT'S A NO GO ON THE ANIMAL FRIENDS FOR THIS FAKE PRINCESS BECAUSE LIES.
Myth #3: Stepmothers are Evil
I mean, I've never had a stepmother. I only know like one or two people that actually have a stepmother. But they don't completely hate them? I mean, I'm sure there are terrible stepmothers, but I really don't think every single one of them are nefarious and off petting evil cats and cooking up straight up MURDEROUS apples. I mean, wow. I really need to know more people with stepmothers.
Myth #4: Green Glowy Things Are All Around And You Must Beware
Okay, have you ever even seen a lime green glowy thing???? I have never!! I don't think I've ever wore a lime green…wait, no, I have worn a lime green glowy outfit. Green – especially lime green – used to be my favorite color. But I mean, I think one of the biggest lies is peddling is that I would want to go to a glowing thing? I mean, if I saw what Aurora is seeing up there, I would be peacing out so fast. I mean, Maleficent would have to try a LOT harder, because I mean, HONESTLY. In no way is that tempting. And I mean, Belle with the glowing rose? I mean, I wouldn't be tempted to touch it – I would be worried about RADIOACTIVITY. I mean, what else glows????
Myth #5: Princes, princes, princes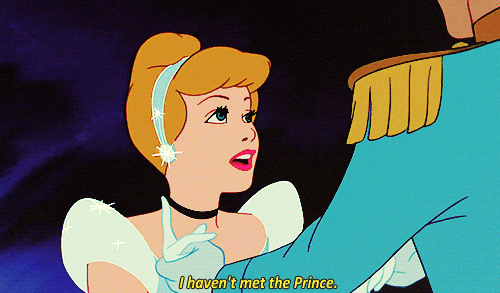 I mean, do you know any princes? I literally haven't met any royalty. I haven't even met any local town royalty. The closest I got was some epic queen writers, but I mean, these girls are literally finding princes left and right. They're finding them in woods, in the sea, in enchanted castles, IN THE WOODS, at some parties as a frog, on the battlefield, and probably again in the woods. But I mean, why are these princes so available? Literally the only princes I know by name is Prince Harry and Prince William, and idk, but I don't think they're very available????? Also, Disney Princes are all super charming and wholesome, and Prince Harry is cool and all but I'm pretty sure Prince Eric never played naked billiards at a hotel in Vegas??? (Totally see Naveen doing this while strumming his ukulele, though.)
Myth #6: The Woods, The Woods, The Woods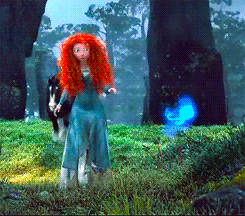 Okay, the woods really aren't a great game time for Snow White, but I mean, she still had some great times finding some men's houses, cleaning said house, and then chilling with furry friends. And YES she got poisoned with an apple in the said house in the woods, but she did get back to life with a kiss in the same WOODS. Almost every single Disney Princess movies involve woods. I can only think of Moana at the moment that doesn't involve them, because I mean, it's hard to have woods on a tropical island. Idk, about anyone else, but I actively avoid the woods. I have watched far too many Criminal Minds and read too many thrillers to know this is where you are 3000% likely to get murdered. And okay, sure, the woods can look pretty and weird people like Sha like to go on HIKES, but I mean, is the woods really where it is at??? Idk. If I ever met a man in the woods like Sleeping Beauty or found an enchanted castle like Belle or ran into a wisp like Merida, I would be soooooooooooooooooo out.
What do you think? How has Disney Princesses lied to you? Have they lied to you in these ways as well? Let's discuss in the comments below!