Prepare to get some spines tingled and hairs raised with Book Princess Reviews' Friday the 13th book recommendations! We've got selections that will boggle the mind, defy science, and outright spook you out your seat. Oh, yeah. It's that good (bad?).
Oh. Oh. Oh. And apparently there's going to be a SOLAR ECLIPSE this Friday the 13th? Darkness will officially fall upon the land on the most accursed day of the year, I don't know if I'm ready. At least I have these books to keep my brain occupied on other matters.
Click the book image to learn more.
---
The Spy who Haunted Me (Secret Histories #3) by Simon R. Green
Now, keep in mind I said these were *mind-trippy* reads. I picked Green's novel up at my local bookstore when I saw it on the sale table for $5. Enter me then reading a book where I had *no clue* what was happening from page one, and my confusion having nothing to do with the fact that I jumped in mid-series. The Spy Who Haunted Me is urban fantasy to the extreme. I now remember only something about a giant sea monster and a *very* odd ensemble cast. This book is mind-trippy for sure. 
---
2. Gone (Gone #1) by Michael Grant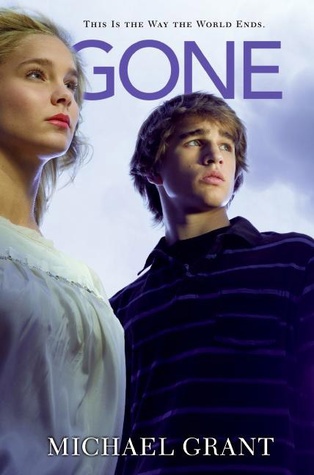 I read this series quite a while ago, but it has always stood out as one of the best YA series I've ever read. Likeable characters, believable villains, and teachable lessons entangled in some crazy plots. And the events at the beginning of the first book (which set everything in motion) are the kinds of things you would expect on a Friday the 13th: some downright spooky dealings. (Maybe it's time I did a re-read and dropped a review on the blog? Let me know in the comments below!)
---
3. Georgeous by Paul Rudnick
Do Friday the Thirteenth wishes exist? If they do, Rudnick's Gorgeous would grant a few of those, where you think you're getting something wonderful, but then everything turns out a little … twisted, shall we say? If you're interested, you can check out my review of Gorgeous right here. 
---
4. Swoon (Swoon #1) by Nina Malkin
Think possession, think ghost obsessed with the living, and you get a huge chunk of Swoon right there. I had the full on creeps with this book, though maybe not for the reasons the author intended? Who knows, but ghost-turned-human Sin is completely and utterly creeeeppyy. A good read the remind you why the spooks of this world must remain on the other side.
---
5. Shade (Shade #1) by Jeri Smith-Ready
More ghosts? Yes please! Shade challenges the idea that ghosts can only be seen by the "select few." I mean, imagine creepy spookiness every day of your life? This book series is a major fave of Mandy and I's, so if you put anything on your Friday the 13th TBR, it better be Shade!
---
Any recs you need to have now, like, RIGHT NOW? Are you a huge believer in Friday the 13th bad luck mojo? Comment below and let's discuss!