CLICK TO READ ME RAMBLE! (don't click if you want to skip to the book recs)

This list was originally posted in honour of Ramadan 2018. To recognize the month of spiritual reflection, I included information below. Read on to learn more.

Ramadan Mubarak! 

This Ramadan, Mandy and I decided to take a moment and brush up on our knowledge of one of the five pillars of Islam. We've both learned about the holy month in school and the broad concepts stand out — there's fasting, prayer, and spiritual reflection — but what did we really understand?

First of all, it took me a quick second to realize I couldn't just do a Google search on "when does Ramadan start?" The start (and end) of Ramadan are determined by the lunar calendar and the chances of seeing the moon. Science allows a guess at start/end dates (for example, it's definitely this week, and very probably May 16 or 17) but there is no way to declare the precise date more than a day ahead. Which, huh. This, I didn't learn in school. I can say it's certainly different from the concept of time I grew up with, where you need to know when everything will be all the time.

What I did know? The fasting. The first thing any teacher will say about Ramadan is fasting. Certainly, fasting is a huge component. But my teachers always failed to explain the complexities of fasting (although perhaps you're lucky, and your education missed this particular road bump). Let me share an example of what I mean. For two years, I was a teaching assistant at a school for second language learners. The students came from around the world and often the classroom had Muslim students. Come Ramadan, I would witness changes in the Muslim students' behaviour. Some students may not come to class (classes were four hours and held late at night, at the very end of fasting); some students would remain in class during break period, to avoid the cafeteria; some students would make more language mistakes. Now by no means am I saying these students were suffering. I would speak with them and heard stories about how rewarding Ramadan was, or how much they looked forwards to Eid. But until that point, I didn't know how fasting affected the individual: how it could tire their body out, affect their mental processes, but also sate them spiritually.

Since if I learned anything about Ramadan, and I really hope I did, the month is not just about fasting but about reflecting on the relationship with God and with other people. This is why the month emphasizes prayer (to connect with God) and charity (to connect with people). I really like how the charity aspect connects with the fasting: Muslims will support each other through the day and gather at sunset to break their fast.

Now please, please, if I made any glaring errors on my facts, be sure to dive in and correct me right quick. Or just share your own experiences / thoughts on Ramadan in the comments below.
Books with prominent Muslim side characters are included. This list is updated when new books are found. If any information is inaccurate, please inform me.
---
Books with Muslim Characters
---
The Forbidden Wish | 
Jessica Khoury
When Aladdin discovers Zahra's jinni lamp, Zahra is thrust back into a world she hasn't seen in hundreds of years—a world where magic is forbidden and Zahra's very existence is illegal. She must disguise herself to stay alive, using ancient shape-shifting magic, until her new master has selected his three wishes.
But when the King of the Jinn offers Zahra a chance to be free of her lamp forever, she seizes the opportunity—only to discover she is falling in love with Aladdin. When saving herself means betraying him, Zahra must decide once and for all: is winning her freedom worth losing her heart?
As time unravels and her enemies close in, Zahra finds herself suspended between danger and desire in this dazzling retelling of Aladdin from acclaimed author Jessica Khoury.
---
Does My Head Look Big in This? | 
Randa Abdel-Fattah
Sixteen-year-old Amal makes the decision to start wearing the hijab full-time and everyone has a reaction. Her parents, her teachers, her friends, people on the street. But she stands by her decision to embrace her faith and all that it is, even if it does make her a little different from everyone else.
Can she handle the taunts of "towel head," the prejudice of her classmates, and still attract the cutest boy in school? Brilliantly funny and poignant, Randa Abdel-Fattah's debut novel will strike a chord in all teenage readers, no matter what their beliefs.
---
Magnus Chase and the Gods of Asgard, series | 
Rick Riordan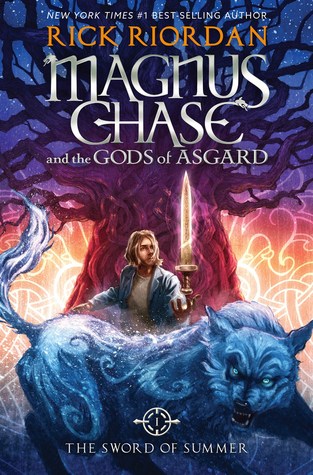 Magnus Chase has seen his share of trouble. Ever since that terrible night two years ago when his mother told him to run, he has lived alone on the streets of Boston, surviving by his wits, staying one step ahead of the police and the truant officers.
One day, Magnus learns that someone else is trying to track him down—his uncle Randolph, a man his mother had always warned him about. When Magnus tries to outmaneuver his uncle, he falls right into his clutches. Randolph starts rambling about Norse history and Magnus's birthright: a weapon that has been lost for thousands of years.
The more Randolph talks, the more puzzle pieces fall into place. Stories about the gods of Asgard, wolves, and Doomsday bubble up from Magnus's memory. But he doesn't have time to consider it all before a fire giant attacks the city, forcing him to choose between his own safety and the lives of hundreds of innocents. . . .
---
Ms. Marvel | G. Willow Wilson
Kamala Khan is an ordinary girl from Jersey City — until she's suddenly empowered with extraordinary gifts. But who truly is the new Ms. Marvel? Teenager? Muslim? Inhuman? Find out as she takes the Marvel Universe by storm! When Kamala discovers the dangers of her newfound powers, she unlocks a secret behind them, as well. Is Kamala ready to wield these immense new gifts? Or will the weight of the legacy before her be too much to bear? Kamala has no idea, either. But she's comin' for you, Jersey!
---
Saints and Misfits | 
S.K. Ali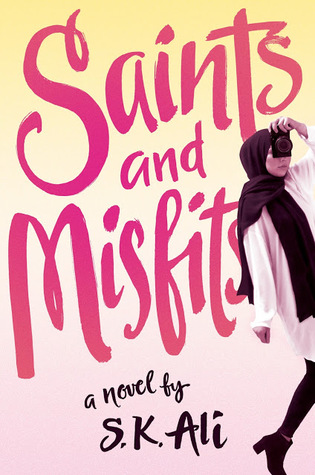 There are three kinds of people in my world:
1. Saints, those special people moving the world forward. Sometimes you glaze over them. Or, at least, I do. They're in your face so much, you can't see them, like how you can't see your nose.
2. Misfits, people who don't belong. Like me—the way I don't fit into Dad's brand-new family or in the leftover one composed of Mom and my older brother, Mama's-Boy-Muhammad.
Also, there's Jeremy and me. Misfits. Because although, alliteratively speaking, Janna and Jeremy sound good together, we don't go together. Same planet, different worlds.
But sometimes worlds collide and beautiful things happen, right?
3. Monsters. Well, monsters wearing saint masks, like in Flannery O'Connor's stories.
Like the monster at my mosque.
People think he's holy, untouchable, but nobody has seen under the mask.
Except me.
---
The Gauntlet | Karuna Riazi
A trio of friends from New York City find themselves trapped inside a mechanical board game that they must dismantle in order to save themselves and generations of other children in this action-packed debut that's a steampunk Jumanji with a Middle Eastern flair.
When twelve-year-old Farah and her two best friends get sucked into a mechanical board game called The Gauntlet of Blood and Sand—a puzzle game akin to a large Rubik's cube—they know it's up to them to defeat the game's diabolical architect in order to save themselves and those who are trapped inside, including her baby brother Ahmed. But first they have to figure out how.
Under the tutelage of a lizard guide named Henrietta Peel and an aeronaut Vijay, the Farah and her friends battle camel spiders, red scorpions, grease monkeys, and sand cats as they prepare to face off with the maniacal Lord Amari, the man behind the machine. Can they defeat Amari at his own game…or will they, like the children who came before them, become cogs in the machine?
---
Written in the Stars | Aisha Saeed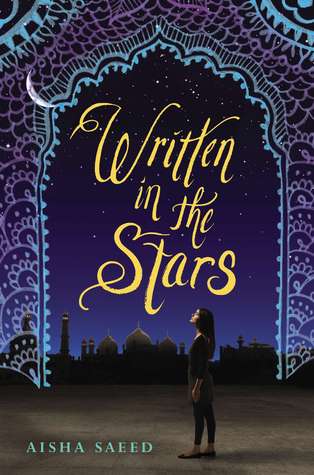 Naila's conservative immigrant parents have always said the same thing: She may choose what to study, how to wear her hair, and what to be when she grows up—but they will choose her husband. Following their cultural tradition, they will plan an arranged marriage for her. And until then, dating—even friendship with a boy—is forbidden. When Naila breaks their rule by falling in love with Saif, her parents are livid. Convinced she has forgotten who she truly is, they travel to Pakistan to visit relatives and explore their roots. But Naila's vacation turns into a nightmare when she learns that plans have changed—her parents have found her a husband and they want her to marry him, now! Despite her greatest efforts, Naila is aghast to find herself cut off from everything and everyone she once knew. Her only hope of escape is Saif . . . if he can find her before it's too late.
---
A Girl Like That | 
Tanaz Bhathena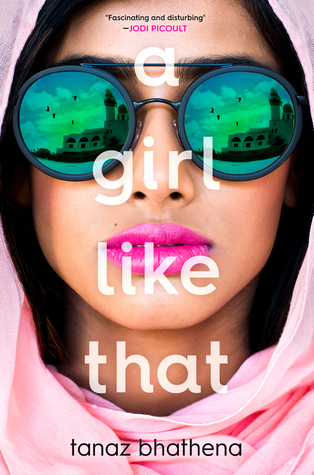 Sixteen-year-old Zarin Wadia is many things: a bright and vivacious student, an orphan, a risk taker. She's also the kind of girl that parents warn their kids to stay away from: a troublemaker whose many romances are the subject of endless gossip at school.  You don't want to get involved with a girl like that, they say. So how is it that eighteen-year-old Porus Dumasia has only ever had eyes for her? And how did Zarin and Porus end up dead in a car together, crashed on the side of a highway in Jeddah, Saudi Arabia? When the religious police arrive on the scene, everything everyone thought they knew about Zarin is questioned. And as her story is pieced together, told through multiple perspectives, it becomes clear that she was far more than just a girl like that.
---
Amina's Voice | Hena Khan
Amina has never been comfortable in the spotlight. She is happy just hanging out with her best friend, Soojin. Except now that she's in middle school everything feels different. Soojin is suddenly hanging out with Emily, one of the "cool" girls in the class, and even talking about changing her name to something more "American." Does Amina need to start changing too? Or hiding who she is to fit in? While Amina grapples with these questions, she is devastated when her local mosque is vandalized.
---
She Wore Red Trainers | Na'ima B. Robert
When Ali first meets Amirah, he notices everything about her—her hijab, her long eyelashes and her red trainers—in the time it takes to have one look, before lowering his gaze. And, although Ali is still coming to terms with the loss of his mother and exploring his identity as a Muslim, and although Amirah has sworn never to get married, they can't stop thinking about each other. Can Ali and Amirah ever have a halal "happily ever after"?
---
When Michael Met Mina | Randa Abdel-Fattah
When Michael meets Mina, they are at a rally for refugees – standing on opposite sides.
Mina fled Afghanistan with her mother via a refugee camp, a leaky boat and a detention centre.
Michael's parents have founded a new political party called Aussie Values.
They want to stop the boats.
Mina wants to stop the hate.
When Mina wins a scholarship to Michael's private school, their lives crash together blindingly.
---
Not the Girls You're Looking For | Aminah Mae Safi
Lulu Saad doesn't need your advice, thank you very much. She's got her three best friends and nothing can stop her from conquering the known world. Sure, for half a minute she thought she'd nearly drowned a cute guy at a party, but he was totally faking it. And fine, yes, she caused a scene during Ramadan. It's all under control. Ish.
Except maybe this time she's done a little more damage than she realizes. And if Lulu can't find her way out of this mess soon, she'll have to do more than repair friendships, family alliances, and wet clothing. She'll have to go looking for herself.
---
Love, Hate, & Other Filters | Samira Ahmed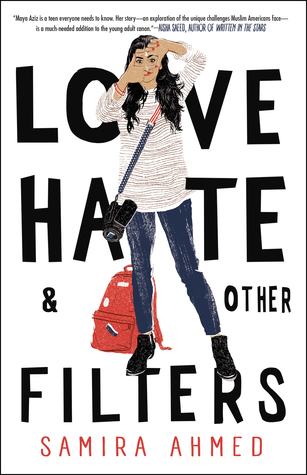 American-born seventeen-year-old Maya Aziz is torn between worlds. There's the proper one her parents expect for their good Indian daughter: attending a college close to their suburban Chicago home, and being paired off with an older Muslim boy her mom deems "suitable." And then there is the world of her dreams: going to film school and living in New York City—and maybe (just maybe) pursuing a boy she's known from afar since grade school, a boy who's finally falling into her orbit at school.
There's also the real world, beyond Maya's control. In the aftermath of a horrific crime perpetrated hundreds of miles away, her life is turned upside down. The community she's known since birth becomes unrecognizable; neighbors and classmates alike are consumed with fear, bigotry, and hatred. Ultimately, Maya must find the strength within to determine where she truly belongs.
---
Amal Unbound | Aisha Saeed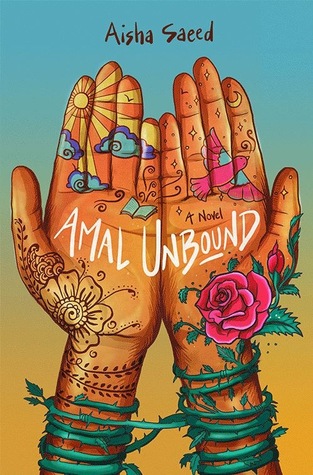 Life is quiet and ordinary in Amal's Pakistani village, but she had no complaints, and besides, she's busy pursuing her dream of becoming a teacher one day. Her dreams are temporarily dashed when—as the eldest daughter—she must stay home from school to take care of her siblings. Amal is upset, but she doesn't lose hope and finds ways to continue learning. Then the unimaginable happens—after an accidental run-in with the son of her village's corrupt landlord, Amal must work as his family's servant to pay off her own family's debt.
Life at the opulent Khan estate is full of heartbreak and struggle for Amal—especially when she inadvertently makes an enemy of a girl named Nabila. Most troubling, though, is Amal's growing awareness of the Khans' nefarious dealings. When it becomes clear just how far they will go to protect their interests, Amal realizes she will have to find a way to work with others if they are ever to exact change in a cruel status quo, and if Amal is ever to achieve her dreams.
---
A Very Large Expanse of Sea | Tahereh Mafi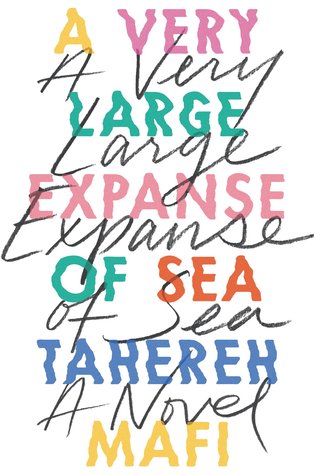 It's 2002, a year after 9/11. It's an extremely turbulent time politically, but especially so for someone like Shirin, a sixteen-year-old Muslim girl who's tired of being stereotyped.
Shirin is never surprised by how horrible people can be. She's tired of the rude stares, the degrading comments—even the physical violence—she endures as a result of her race, her religion, and the hijab she wears every day. So she's built up protective walls and refuses to let anyone close enough to hurt her. Instead, she drowns her frustrations in music and spends her afternoons break-dancing with her brother.
But then she meets Ocean James. He's the first person in forever who really seems to want to get to know Shirin. It terrifies her—they seem to come from two irreconcilable worlds—and Shirin has had her guard up for so long that she's not sure she'll ever be able to let it down.
---
If you have any books featuring Muslim characters, please recommend so I can add to the list!