Okay, are we SURPRISED this was coming? I mean, you haven't heard me talk/fangirl/CRY/scream about The X-Files for months upon months have you?? When Sha and I were talking about the prompts for this month, I knew that I had to do something X-Files related…and I thought I might crack open one of the X-Files based books that I found at a library sale…but imagine my surprise when this tag idea just POPPED into my head and I desperately knew it was so right.
The Rules:

Take out your fake FBI badge and answer the questions
You can link back to Book Princess Reviews (aka pingback to this post) if you wish, so I can fangirl all over your posts
Keep the alien love alive possibly and tag any and all X-Files fans you know…or just other people – either or?
Fox Mulder

Fox is known to have some "out there" beliefs, so name a book that you believe in despite everyone/ratings/reviews tell you perhaps isn't that great
Actually a lot of my favorites teeter on the 3.7/3.8 (perhaps even lower), which isn't super super great if you think about it. These Vicious Masks and The Big Empty are two books that are 3.6 average ratings, but I both love them dearly. FOREVER FIVE STARS. OR UNTIL MANDY FORGETS ABOUT THEM AGAIN AND KNOCKS THEM OFF THE FAVORITE SHELF.
Dana Scully

Just like the resident FBI skeptic, name a book that you're skeptical of (because of hype, sketchy cover, etc.)
The Raven Boys. I see literally so many people love, adore, cryyyyy about this series all the time (ahem, just like me and The X-Files), but I am just so scared to take it on. When the hype gets so intense, Mandy usually slowly backs away with those airplane wands warding it away from me because she knows she's about to be Princess Unpopular Opinion. Plus, I did read Maggie's first books and they were a no-go for moi. OMG. A werewolf book! I didn't even think about that for the tag a couple of weeks ago.
I Want to Believe

What book do you believe, just like the  famous tagline, will be your next 5 star/crown read off of your TBR?
Ohhhhhhhhhh, that's a tough one me. Five crowns are so rare for this mess of a book princess. I think I'm going to go with City of Ghosts by Victoria Schwab for suresies. It doesn't come out in August, so I'm clearly optimistic here. Schwab is just a brilliant writer and it involves ghost hunting (!!!!!!) TV show, Scotland, and more. I'm not sure I'm giving five crowns to that cover, though.
Aliens
Name a book that on your TBR that is from a genre that seems out from another book world to you but still sounds super good
As you may know, I tend to just chill in my YA lane, and I don't normally stray too far from that. Occasionally, maybe an adult mystery will happen, but my genre is firmly YA. I usually avoid classic books like a book plague, but after loving The Importance of Being Earnest by Oscar Wilde, I am quite eager and willing to try more of his work. An Ideal Husband is about a blackmail scheme, and I know Wilde will do something amazing with it.
The Lone Gunmen

Name a book that comes along with an epic team just like these three hacking men
Well, clearly TLC and The Dregs crew are #1 on the list, but I have to say after rereading The Clockwork Angel manga, their crew is pretty skilled and I would definitely want Tessa, Jem, Will, Charlotte, and Henry on my side.
Walter Skinner
Skinner is the boss that forever teeters on the edge of good and evil, so name a conflicting character for you (whether the character is just conflicted or you're conflicted about your feelings for them)
Iris from Now a Major Motion Picture! I totallllllllllllllllly got her at times, but other times, I totally wanted to shake the girl and say GET YOURSELF TOGETHER, GIRL. She was certainly conflicted as well with her love/hate to fantasy, her family, and the book that would change it all.
Cancer Man/ Cigarette Smoking Man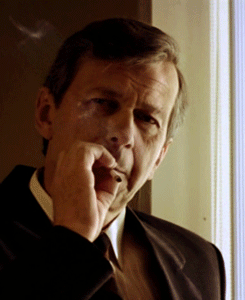 Name the worst book villain you can think of just like this smoking fiend who refuses to stay dead
Am….the A lady from A Court of Roses and Thorns. 100% one of the worst villains that I've seen out there. Know what else is evil? Trying to spell her name.
Join the FBI tag team!
Kate @ Meltingpotsandothercalamities / Rendz @ Reading with Rendz / Kyera @ Kyera's Library / Michaela @ Journey Into Books / Colleen @ Colleen's Conclusion / Sam @ Modern Witch's Bookshelf / Moira @ For The Lover of Books / icebreaker694 / Rebecca @ Bookishly Rebecca / Amanda @ MetalPhantasmReads / …you???
Okay, so if your name is above, it's because you're a super cool blogger whose I thought perhaps might enjoy a new blog tag??? However, that doesn't mean you enjoy the X-Files or even know what it's about other than Mandy is total fangirl trash and really needs to chill about it. Therefore, if you wish to do it, please do! However, if you're like, WHAT IS THIS NONSENSE, I DON'T WANT NO X-FILES, then just enjoy your name in pretty hyperlinked blue, and please ignore, lol. 😉
If your name is not above and enjoyed the prompts, I'm mentally tagging you. Can you feel it? That nonexistent tap on your shoulder? That was just me tagging you through the screen. And if you're an X-Files fan, PLEASE PLEASE PLEASE LET'S FANGIRL TOGETHER.
What do you think? What are some of your answers to this? Do you love The X-Files? Let's discuss in the comments below!
UN Human Right #18
18. Freedom of Thought. We all have the right to believe in what we want to believe, to have a religion, or to change it if we want.
Lol, and Mulder certainly believes what he wants to believe…and I'm sadly not quite there with him in his deep beliefs, but I could get down with some of the logic. Scully definitely believes what she wants to non-believes, and she does have deep religious beliefs. I can't think of a better believing example duo.
Join Book Princess Reviews in the April #30daysofHumanRightsBPR Blog Challenge! Participate with blog posts inspired by the UN Human Rights or Insta/Twitter pics and quotes w/ human rights themes. Find out more here!